BENTON HARBOR — Efforts to get free bottled water to Benton Harbor residents are being ramped up by the state, with 2,200 cases being distributed Friday in a little over an hour at God's Household of Faith.
"They were lined up everywhere by 12 o'clock," said the Rev. Edward Pinkney, president of the Benton Harbor Community Water Council.
Volunteers started passing out water at 2 p.m. and planned to continue for four hours, but had to turn people away when supplies ran out shortly after 3 p.m.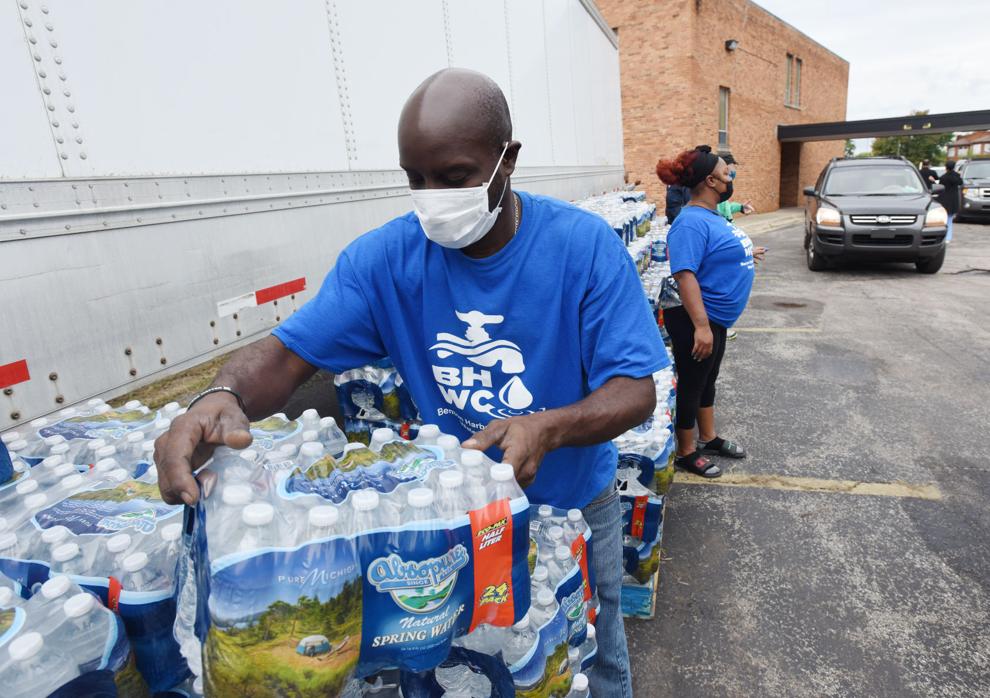 Pinkney said each family member was given four cases of water, with a cap of 12 cases per household. But he said he was concerned that not everyone in line was a city resident. He said he also wants to reach people who have no transportation or may be homebound.
"On Monday, we're going to go door-to-door," Pinkney said. "We want to make sure everyone in Benton Harbor has clean water to drink."
State officials told him they will deliver four to five semi-trucks of bottled water to his site at 275 Pipestone St. on Monday. He said his volunteers plan to deliver a semi-truck of water door-to-door each day next week.
Pinkney said he has plenty of volunteers for Monday and Tuesday, but needs volunteers who have pick-up trucks on Wednesday and Thursday.
Anyone who would like to volunteer can call him at 269-369-8257.
State advisory
Benton Harbor has been under a state advisory for higher-that-acceptable levels of lead in some of its drinking water since the fall of 2018.
For almost three years, the state has been passing out free water filters and cartridges to residents through the Berrien County Health Department to remove the lead.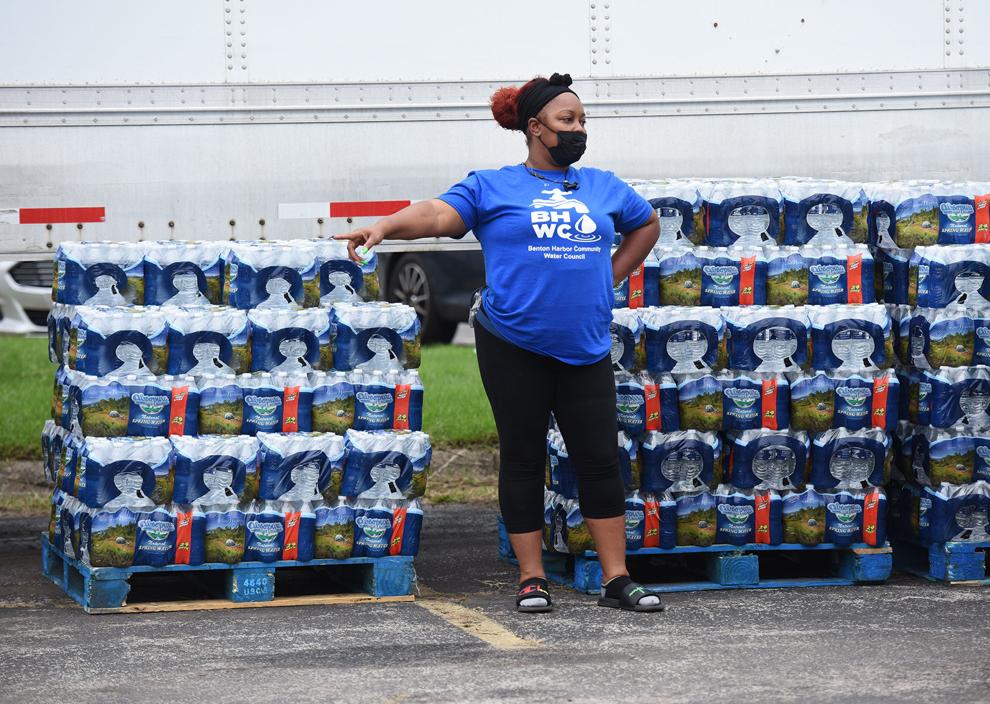 Elizabeth Hertel, director of the Michigan Department of Health and Human Services, said Thursday the state has recently started testing the filters to see if they are as effective as previously thought. Until the test results come back, she said city residents are urged to use bottled water for drinking, cooking, brushing teeth and mixing with powdered baby formula.
She said she was uncertain when the test results will be ready. She spoke with The Herald-Palladium after a Thursday news conference in Benton Harbor with Lt. Gov. Garlin Gilchrist II.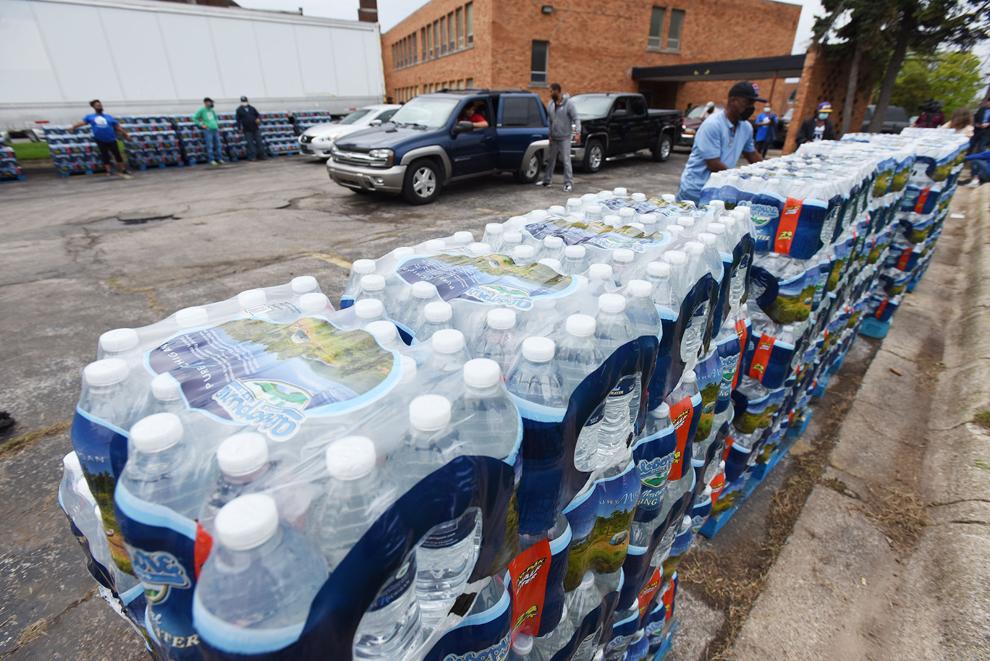 Gilchrist announced during the news conference that the state is committed to helping the city replace all lead water service lines in the next 18 months.
Until that is completed, he said the state will send 20 semi-trucks carrying 35,000 cases of bottled water every week to the city starting Monday.
Bottled water
Free bottled water can be picked up in Benton Harbor throughout this weekend and next week at various locations. Dates and locations include:
Today
10 a.m. to noon at Family Dollar, 481 Pipestone St.
Noon to 2 p.m. at Ebenezer Baptist Church, 214 E. Britain Ave.
Sunday
11 a.m. to 2 p.m. at Fairplain Presbyterian Church, 210 W. Napier Ave.
4-7 p.m. at Brotherhood of All Nations, 1286 Monroe St.
Monday
11 a.m. to 1 p.m. at Abundant Life Church of God, 693 Columbus Ave.
Tuesday
11 a.m. to 1 p.m. at Abundant Life Church of God, 693 Columbus Ave.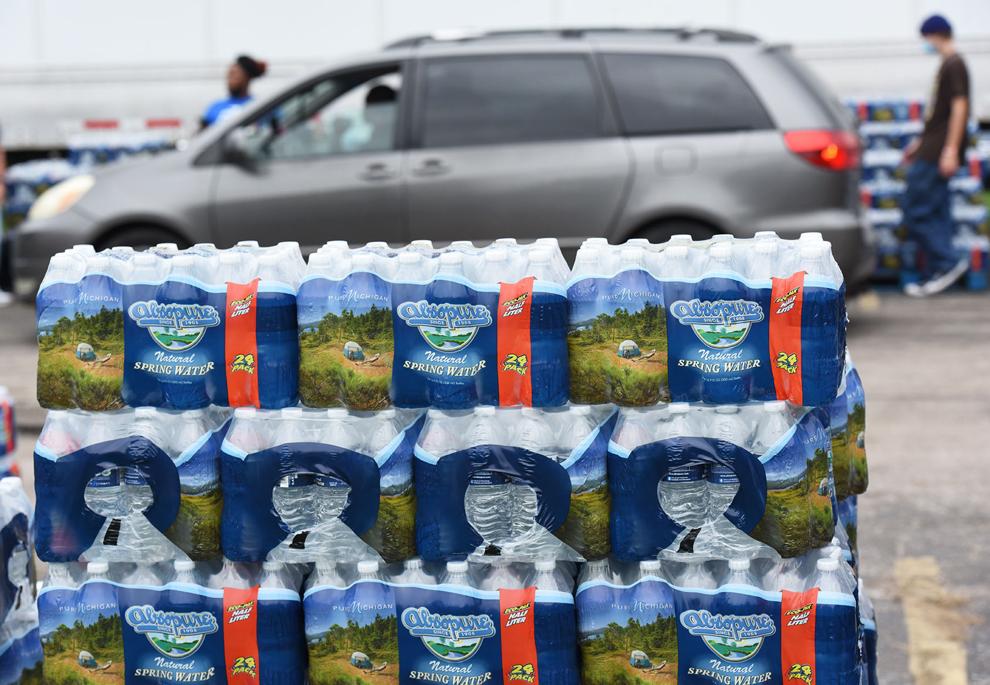 Additional dates and locations for bottled water pick up will be added to make sure community needs are met. Information will be posted on Michigan.gov/MiLeadSafe.
To arrange water delivery, call 211 which is available 24 hours a day, seven days a week. Residents can also call the Berrien County Health Department water hotline at 800-815-5485, from 8:30 a.m. to 5 p.m. Monday through Friday, to schedule drop-offs.
For questions about lead, MDHHS can be reached at 866-691-5323, from 8 a.m. to 5 p.m. Monday through Friday.