BENTON HARBOR — Nobody's Home may have been the name of the music festival, but organizer Wilson Chandler's hometown showed up.
From 2 to 10 p.m. on Saturday, the Dwight P. Mitchell City Center Park in Benton Harbor became a concert venue for some national names in hip-hop. Rick Ross, G Herbo and others took to the stage.
"It's hard to see a finished product when you're trying to show somebody a vision," Chandler said. "I think now people can see it."
Despite some rain later in the evening, spirits remained high, and spots near the front of the stage became harder to find.
The Benton Harbor native and former NBA player said 9,000 reservations were made for the free event. The music festival was a celebration of Chandler's upcoming marijuana dispensary, Nobody's Home Provisional Center.
The store, which is at 90 W. Main St., will open within 30 days, said Dan Pettigrew, co-founder of Nobody's Home. The company is finishing up licensing requirements with the state of Michigan.
The dispensary operates with The Village as its parent company, a cannabis company founded by former NBA player Al Harrington. Harrington also co-founded the cannabis brand Viola with Pettigrew, in honor of Harrington's grandmother.
"(Chandler) just wants to bring a world-class dispensary to the city of Benton Harbor, something that would be comparable to anything else in the United States," Pettigrew said. "So, we're excited about this. We think this event represents that mindset. It's a first-class event, an incredible team put it together, and it's second to none."
Nobody's Home did not sell marijuana at the concert.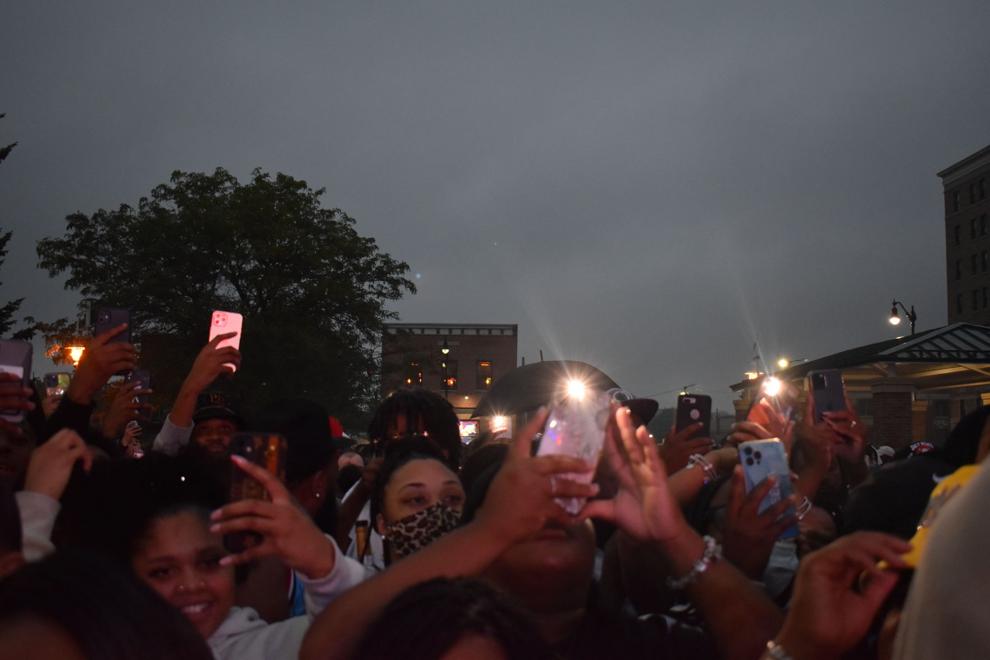 Local businesses and restaurants were working at the concert, alongside those national names. Lark's Girls Bar-B-Que and Eastown Cereal Cafe were serving food out of trucks in the park.
"This is big. I see local security firms hired for the event; I see Taylor Rental putting tents up, so it's feeding into Southwest Michigan," said Mayor Marcus Muhammad. "It's feeding into the city of Benton Harbor."
The crowd was a mix of residents and visitors, but residents said they were excited to see Benton Harbor host a large-scale event.
"It's good for the revenue, and it brings the people out," said Rodney Johnson, who was born and raised in Benton Harbor. He came with his wife, Linda.
"It brings the people together," Linda said.
"It puts us on the map for something that's more positive," said resident Pecolia Dismuke.