BENTON HARBOR — Berrien County Commissioner Chokwe Pitchford said every time someone in his community dies from violence, a piece of his heart breaks.
That's why he said he's not backing down from leading an effort to secure a grant for programs aimed at preventing and reducing violent crime.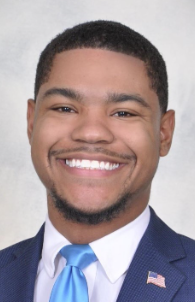 "For me, it's not political. It's personal," Pitchford, 23, said in an interview Friday.
Following a lengthy discussion that at times became heated, the Berrien County board voted April 27 to table a proposal to apply for a federal grant aimed at preventing and reducing violent crime in communities.
The Berrien County Health Department was seeking approval of an application for a $2 million grant from the U.S. Department of Justice.
Following comments from the public and discussion among commissioners, Board Chairman Mac Elliott suggested the board table the matter, which the board did.
While that proposal has been put on a shelf, Pitchford said he has been working with a local organization to pursue the grant. He said he is 99 percent certain that will happen. However, he declined to name the organization, saying they will make an announcement in a week or two once a grant application is submitted. Because the organization is not a county entity, Pitchford said it will not require county board approval.
"I don't think the county board is interested in the grant going through the county, but there is another way," he said.
Mark Totten, U.S. attorney for the Western District of Michigan, addressed the Berrien County Committee of the Whole last week, prior to the board's regular meeting.
He said there is a serious uptick in violent crimes across the state, and out of 412 municipalities, two of the top five in the state are in Berrien County. He listed Benton Harbor and Benton Township as areas of great concern.
Citizens who spoke against the grant application said they are concerned about control over the money, and about people's Second Amendment right to bear arms.
However, many of the residents who addressed the board, speaking against the grant application, are from municipalities other than Benton Harbor and Benton Township.
Berrien County Sheriff Paul Bailey said he wanted to dispute claims that the grant program is aimed at taking away guns from law-abiding citizens.
"This has nothing to do with taking gun rights away. I would not support that," the sheriff said.
At this week's county board meeting, three residents expressed disappointment that the board had not approved the grant application last week. County Clerk Sharon Tyler said other county residents have echoed that sentiment in emails to her office.
Pitchford said Friday he began leading the initiative after the county sheriff, prosecutor, health officer, Benton Harbor Mayor Marcus Muhammad, Benton Township Supervisor Cathy Yates and Niles Mayor Nick Shelton came together and said a community violence prevention initiative is much needed in the community.
Pitchford said he began working with Totten's office in January. He said after the county board took no action, he was contacted by Michigan Gov. Gretchen Whitmer's office about state grants that are available for violence prevention.
"The county said this was not the place for it (the grant), but I don't think it's time to stop trying to reduce community violence," Pitchford said. "Benton Harbor has the highest homicide rate in the state, and Benton Township is third."
He said Berrien County as a whole has an array of issues, including suicide by handguns, homicides and children getting their hands on guns.
"How do we get to these young people before the gun gets into their hands? It used to be 'It takes a village.' We need to get back to that," Pitchford said. "We're not going to arrest our way out of the community violence we're seeing. There is a desire across the community to see this happen."
He said the county board's inaction on the matter has not caused him to lose hope.
"Perhaps a community organization might do better at what I'm trying to do," he said. "This is not about gun control. This would be the largest investment in deterrence that I have ever seen."
Pitchford said a young woman was recently shot and killed outside the window at his apartment in Benton Township.
"I called 911, and I had to watch them carry her body away. I'm leading with my heart," he said.