BENTON HARBOR — Benton Harbor residents have a new way to get free, clean drinking water.
The Water Box was unveiled Wednesday at the Benton Harbor Housing Commission by 501CTHREE, a nonprofit based in California, and Elkay Plumbing, a Chicago-area company that focuses on providing bottle-filling stations to companies and schools.
"We're providing the capability to distribute as much water as they need to to the residents," said Jaron Rothkop, director of operations for 501CTHREE. "It filters the lead and other contaminants out of the water. ... This is meant to clean and distribute a lot of water safely."
Benton Harbor residents have been receiving free bottled water from the state since October, when state officials recommended that residents not use the city's tap water for cooking, drinking, brushing teeth, rinsing foods and mixing powdered infant formula due to elevated levels of lead.
Residents are expected to use bottled water for up to 18 months, while the state and city expect to have all of the lead water service lines replaced in that timeframe.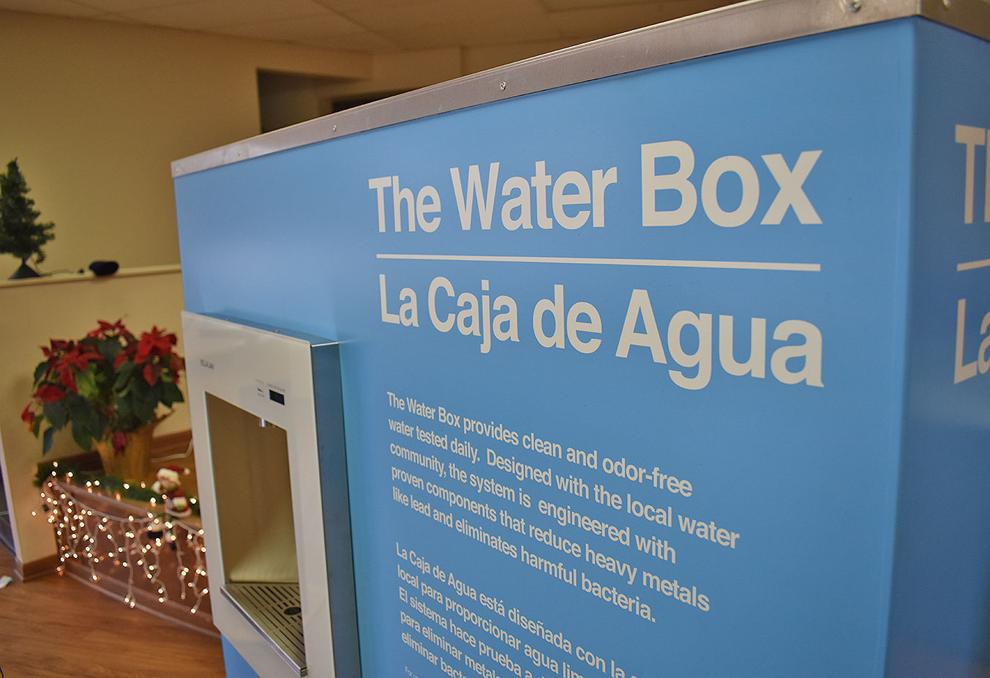 Rothkop said the problem with using that much bottled water is it creates a lot of plastic waste.
He said the Water Box project was started in 2018 in Flint in response to that city's water crisis. Rothkop said Flint community organizations were looking for other ways to distribute water.
"They were finding it hard to maintain a supply of single-use plastic bottles of water and also wanted to do something about all of the waste that creates," he said.
Rothkop said his company's engineers worked with Flint community members to come up with a better way to get clean water to communities with contaminated water and the Water Box was developed.
Residents using a Water Box receive the water in 5 gallon, 2 ½ gallon or 1 gallon, reusable containers. Rothkop said they need to find transportation to the Water Box site because they haven't implemented a delivery system yet.
He said there are four Water Boxes in Flint. Benton Harbor's Water Box is the fifth one in Michigan and 17th one in the United States.
Benton Harbor's Water Box, which is stationed at the Benton Harbor Housing Commission at 721 Nate Wells Sr. Drive, has the city's latitude and longitude coordinates on its side.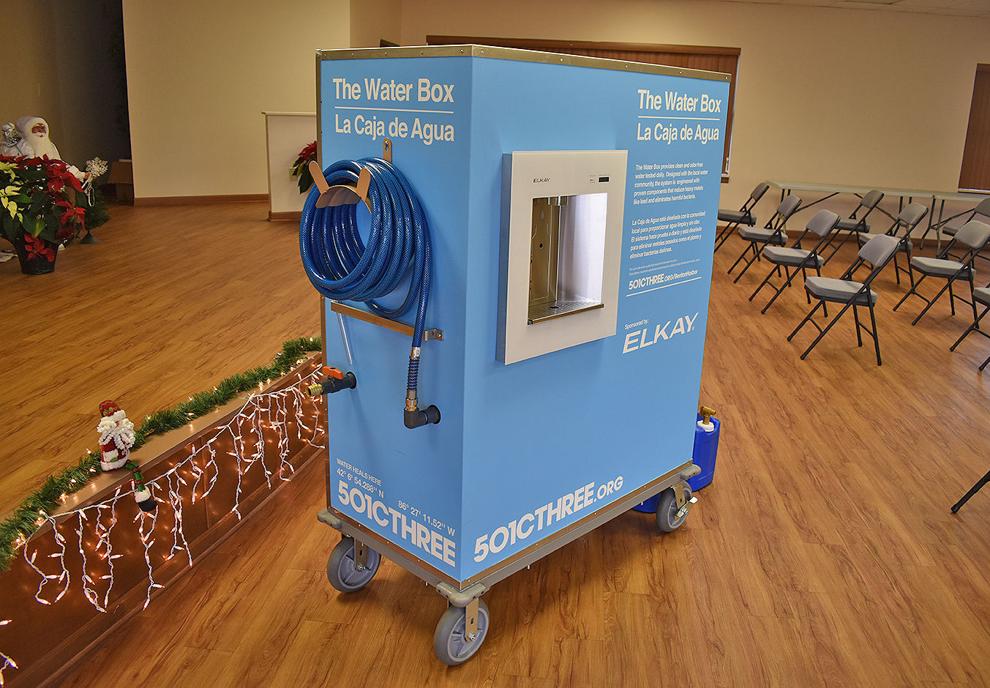 Rothkop said his nonprofit is providing the city's housing commission with everything it needs to run the program, including training their staff on how to test the water daily to make sure the box is working properly. In addition, he said his nonprofit will reimburse the housing commission for the cost of the water it uses to filter through the Water Box.
Sheila Hill, executive director of the Benton Harbor Housing Commission, said residents will be able to pick up water from the Water Box from 9 a.m. to 5 p.m. Mondays through Wednesdays, and 9 a.m. to 4 p.m. on Thursdays.
To date, it is estimated the Water Boxes have distributed almost 40,000 gallons of water and replaced more than 300,000 single-use water bottles.
This is the first Water Box that Elkay has sponsored.
"At Elkay, our mission is to put cleaner, healthier water within everyone's reach," Ted Hamilton, president of Elkay Plumbing, said in a news release. "Knowing that this community has been impacted by contaminated water for quite some time, Elkay is proud to help support Benton Harbor through the 501CTHREE partnership by bringing healthier hydration and contributing to a cleaner environment with the implementation of the Water Box for its residents."
501CTHREE was co-founded by Jaden Smith and Drew FitzGerald, executive director of the nonprofit.