CASSOPOLIS — Gov. Gretchen Whitmer's recent renaming of the Lewis Cass Building in Lansing has led to members of the Lewis Cass Intermediate School District Board of Education taking a second look at the man the district is named after.
Cass was appointed as the territorial governor to Michigan before it became a state in 1813 and remained in that role until 1831, when he accepted an appointment as secretary of war in President Andrew Jackson's cabinet. He was later a U.S. senator, representing Michigan from 1845 to 1857, with a break in 1848 when he unsuccessfully ran for president.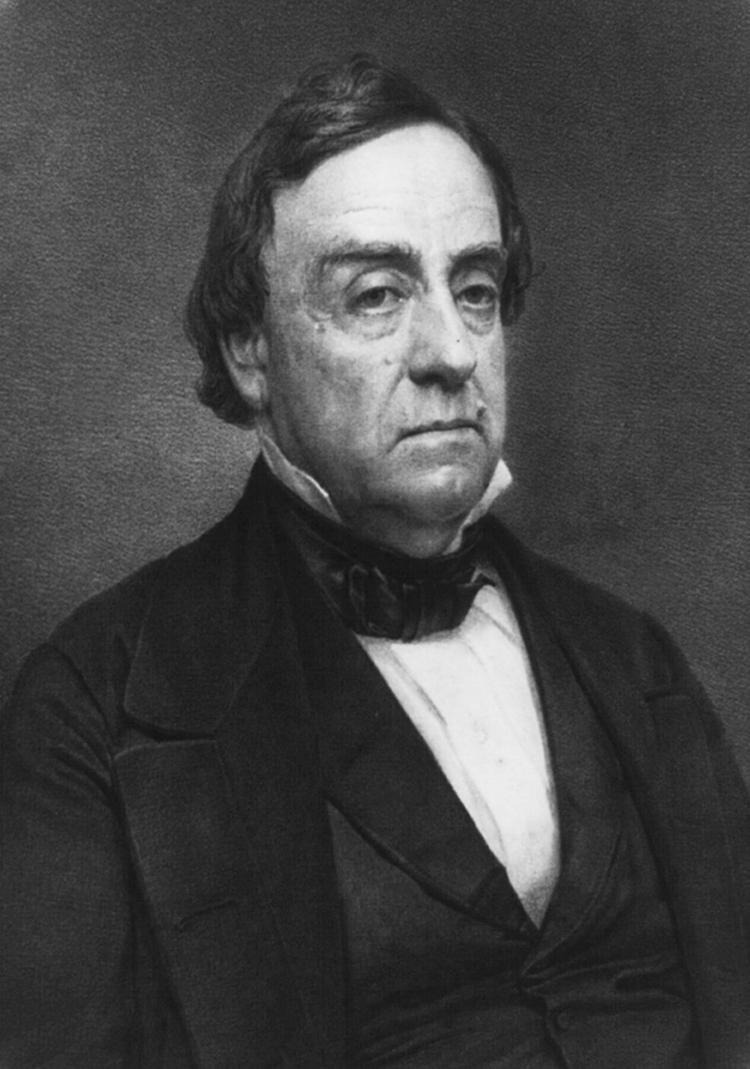 The June 30 news release from the governor's office pointed out that Cass played an important role in Michigan's and the nation's early history.
"But Governor Whitmer recognizes that the names we elevate express our values: to the workers who enter those halls every day and the public who those workers serve," it stated. "Cass owned a slave; defended a system that would permit the expansion of slavery; and implemented a policy that forcibly removed Native communities from their tribal lands. Today's order is a small, but meaningful step forward as we seek to better express our shared values."
Kevin Anderson, president of the Lewis Cass ISD Board of Education, said he only knew that Cass was one of Michigan's early territorial governors until Whitmer renamed the state-owned building in Lansing to be called the Elliott-Larsen Building.
"With the governor's action, it brought to light some things that we're going to have to discuss as a board," said Anderson, who is also city manager of Dowagiac.
Board members are expected to discuss the district's name during their next meeting at 10 a.m. Wednesday, which will be done virtually due to the COVID-19 pandemic.
Anderson said the public is welcome to join the meeting. Information on how to join can be found on the district's website at www.lewiscassisd.org.
The Lewis Cass ISD isn't the only local entity named after Cass. Cass County and Cassopolis, the county seat, were also named to honor him.
Commissioner Roseanne Marchetti, chairwoman of the Cass County Board of Commissioners, said they have no plans to discuss the county's name, but she added that could change.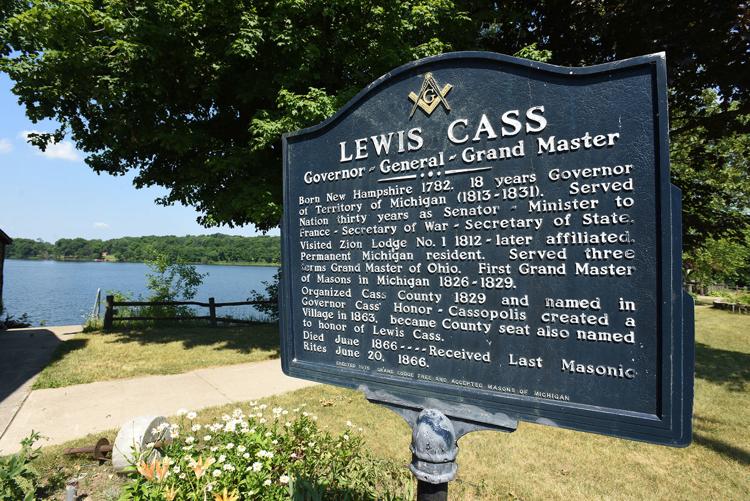 Indian Removal Act
Cass has often been called Michigan's "founding father." His achievements are recounted on the Lewis Cass ISD website, which highlights his 56 years as a diplomat and statesman.
What's missing from this record, of course, are the darker aspects of his time in office that reflect the collective mindset of American government – and general Western civilization thought – in the first half of the 19th century.
While he was secretary of war, Cass was in charge of implementing the Indian Removal Act, which was passed by the U.S. Congress and signed into law in 1830, said Professor Michael Witgen at University of Michigan in Ann Arbor, where he is the director of Native American studies.
The act called for moving Native Americans to lands west of the Mississippi River so white settlers could overtake the land.
But Witgen said many of the tribes didn't want to move, which led to tens of thousands of Native Americans being force marched from their lands in Georgia, Alabama, North Carolina, Florida and Tennessee between 1831 and 1877, in what has become known collectively as the Trail of Tears.
Closer to Michigan, hundreds of Potawatomi were forced from their lands in Indiana, Illinois, Missouri and Kansas in what is now called the Potawatomi Trail of Death.
It is estimated that at least one in 10 Native Americans died during the marches.
Witgen said Native Americans were, for the most part, forced off of fertile land and resettled onto land that was significantly less desirable.
"Lewis Cass was, basically, the architect of Indian removal, which is essentially ethnic cleansing," said Witgen, a member of the Red Cliff Band of Lake Superior Ojibwe. "... That's not a person that I would want to have a school named after."
When Cass was Michigan's territorial governor, the territory stretched across what is now Wisconsin and into Minnesota.
Witgen said that as a territorial governor, Cass was very skilled at negotiating treaties with the Native Americans that removed them from the land, which was the reason Jackson chose him as his secretary of war.
Even though they were called negotiations, Witgen said Native Americans weren't given a choice.
"Part of the problem was Lewis Cass was a 19th century white man and he could not recognize that ... the Native American culture was legitimate or worth preserving," he said.
He said Native Americans weren't adequately compensated for the land they lost. He said the government would pay the Native Americans 11 cents per acre and then sell the land to white settlers for $1 per acre.
To compound the problem, he said Native Americans usually wouldn't even get the full 11 cents per acre. He said white creditors would take most of the money, saying the Native Americans owed it to them.
"He's basically the person sitting at the top of this pyramid scheme designed to rob Native people of their wealth and land," Witgen said.
Witgen said Cass also was a strong advocate for popular sovereignty – the idea that states should decide if they want to have slavery as they were added to the Union.
"He was a fixture in a number of things that I think we would regard now as being pretty horrific," he said.
Lewis Cass statue
A statue honoring Cass was donated in 1889 to the National Statuary Hall Collection in Washington, D.C., by the Michigan Legislature as one of the two statues representing notable people in the state.
U.S. Sens. Debbie Stabenow and Gary Peters have now joined other members of the Michigan Democratic Congressional Delegation to call for the statue of Cass to be removed from the collection.
"As Michiganders, we respect our state's history while acknowledging that our past has many painful chapters," said Stabenow and Peters in a joint news release on July 2. "We owe it to ourselves, and future generations, to constantly pursue a more inclusive society, where all Michiganders feel welcome and respected. We believe that when it comes to statues on display in the U.S. Capitol, they should represent the best of our state. Our State Legislature should act to replace the statue of Lewis Cass."
If the statue of Cass is removed, this wouldn't be the first time Michigan lawmakers replaced one of its statues.
The statue of Zachariah Chandler was replaced in 2011 with one of former U.S. President Gerald Ford. Chandler was a former Detroit mayor and U.S. senator. His statue is now in the atrium of Constitution Hall in Lansing.
Peters and Stabenow, along with U.S. Sen. Todd Young of Indiana, also introduced legislation in February "Acknowledging the reprehensible policy of the United States regarding the forced relocation of the Potawatomi people from their homeland east of the Mississippi River to Kansas and Oklahoma and the devastating hardships the Potawatomi people endured during the march west, known as the 'Potawatomi Trail of Death.'"
This legislation is pending in the senate's Indian Affairs Committee.
John M. Berrien
Lewis Cass wasn't the only member of President Jackson's cabinet whose life's work and conduct doesn't hold up so well, when scrutinized under the modern view of what is right and wrong.
For example, John M. Berrien, President Jackson's attorney general – and the man Berrien County was named for – was a Southern slave-holder from Georgia. There are actually 10 counties in Michigan named after Jackson and nine members of his cabinet. These counties are known, not surprisingly, as Michigan's "cabinet counties." These men run the gamut in achievement and ideological thought, and it's just a quirk of fate that two of the three counties in this corner of the state were named after men of what most would now consider questionable character.
In Berrien County, there is little now to note who John M. Berrien was. Perhaps his Southern philosophy rooted in racism explains why that is.