ST. JOSEPH — What began as a regular assignment to cover the Krasl Art Fair in St. Joseph for a local community newspaper turned into a daunting experience for Nicholas Gunn.
Last weekend, Gunn was covering the art fair as a reporter for The Benton Spirit. The St. Joseph Township resident said everyone was kind and helpful as he was interviewing artists and taking pictures of them with their work on Sunday – which marked the last day of the fair. However, that changed when he came to the booth of Gug Underwater, which was owned by Chris Gug, a Florida artist who specializes in underwater photography.
What happened next led to calls to the police and a subsequent investigation.
Gunn, 18, said he was getting ready to take a photo of Gug, who was on a step stool and talking with a customer about his art.
"Before I took it, he looks down at me and tells me to stop," said Gunn, who was named Mr. Benton Harbor earlier this year.
Gunn said he told Gug he had permission from Krasl to take photos of the art fair for The Benton Spirit. He said Gug told him he needed to get someone from Krasl to confirm that he was a reporter before he would talk with him.
When contacted by phone Thursday, Gug alleged Gunn was focusing his camera solely on his artwork.
"Not of the people around my booth. Not of the shoppers. Just zooming in. And while he was doing it, he was eyeing me and kind of giving a smirk," Gug said. "I said, 'Hey man. This is how we make our living. Please don't photograph copyrighted photographer's work.' Because he didn't have a cell phone camera. He had a high-powered SLR camera. ... Intellectual property theft is a huge problem at art shows."
At this point, Gunn said Gug had been speaking to him in an "abrupt manner" – but hadn't called him any names or yelled at him.
"He was being rude, but reasonable at the same time," Gunn said.
Gunn said it took him about an hour to return to Gug's booth after finding a Krasl volunteer, who verified he had permission to cover the art fair as a reporter.
On his way back, Gunn said he continued to interview artists and take their photos, along with helping a woman who was having trouble using her cell phone to read a QR code.
Gunn said he confirmed to Gug that Krasl officials told him he was allowed to take photos during the art fair because it was open to the public.
"He's like, 'No, no, stop. If you take pictures, it's going to get ugly. Leave,'" Gunn said. "I'm thinking, 'I haven't even taken a picture of his art yet, and he's telling me to leave.' I'm like, this guy's being rude to me. I'm not just going to leave. He's not from our area and I'm from here."
Gunn said he had his camera out, but wasn't taking pictures.
"He's in my face, he's hitting my camera, he's yelling, telling me to stop," Gunn said.
Gunn, who is Black, alleged that Gug, a white man, continued to yell, called him the N-word and told people that he was stealing.
"Then more artists come around, and they're all cussing at me," Gunn said, alleging that another white man called him the N-word. "They're pushing up against me, acting like they're trying to fight me. I start backing up like I'm leaving."
Police assistance
Gug said he never used a racial slur toward Gunn and neither did any of the other artists who came to his defense.
By the time Gunn returned to the booth, Gug said the art show was over.
"All the artists are tearing down their booths, packing up their artwork and supplies, etc, and I saw him, again, standing outside in front of my tent, carefully composing and zooming in on one of my images, my photographs on the outside of my booth. And he's got this smirk, this smile, looking right at me while he's doing it," Gug said.
Gug said he just wanted Gunn to leave so he could pack up and go home.
"Now, it's just straight harassment and antagonization," Gug said. "... He knows yes, it's public property. But the smirk on his face is the most telling thing. His smile and his look toward me. And I keep getting a little bit louder and I say, 'Leave. Come on, man, just leave. Stop doing this.'"
Before the other artists came over to help, Gug alleged that Gunn pushed his camera into him without making "skin contact" and whispered, "Do it. Do it. Hit me. Do it."
"That's the moment that I knew I needed police assistance," Gug said.
He said he called out in a loud voice that he needed police officers.
"Within a few moments, this young junior safety officer type of guy came over," Gug said. "I say to him, 'We need to get police officers over here right now. This is escalating out of control and if we don't get real officers over here, problems are going to happen. We need help getting this guy off the scene. Please make him leave.'"
Gug said he was shocked when the officer told him that Gunn was on public property, so he couldn't do anything. At this point, Gug said six to eight other artists were yelling, asking the officer to make Gunn leave. Gug said he decided to call 911 not on Gunn, but on the officer because he wasn't doing anything.
Two to three other officers showed up shortly after this, and Gug said he told the 911 operator he no longer needed help.
"My assumption was that the officers were then going to clearly read the situation and escort Mr. Gunn off the site and it would all be over and we could all pack up and go home, but to my amazement, the officers all start telling me the same thing," Gug said. "... They start telling me he's on public property and he can do what he wants."
Gug said he realized the officers knew Gunn and were shaking his hand.
When asked about Gug's allegations, Gunn said he never whispered to Gug that he should hit him. Gunn said he hardly spoke during the July 10 incident.
He said he started recording the incident with his camera shortly after the first police officer arrived. Gunn said he didn't feel comfortable recording what was happening before that because the artists were allegedly trying to circle around him.
A 12-minute video of the incident can be found on Gunn's YouTube page, called Nick Eats.
Gunn said the artists continued to yell at him after he went across the street to get into his car and leave.
The aftermath
Steve Neubecker, director of the St. Joseph Public Safety Department, said earlier this week that he couldn't comment on the investigation because he was present during the incident.
In a texted statement Friday, Neubecker said the report is expected to be done next week.
On Monday, the Krasl Art Center posted a statement on its website which read: "Krasl Art Center is furious about racist actions by a small number of out of town artists participating in the 2022 Krasl Art Fair on the Bluff. Racism and hate will not be tolerated. We have met with the individual who was the target of the racism, and are working with him and community leaders. The artists involved will not be permitted to return."
Gunn said he declined to file a police report against the artists.
However, Julia Gourley Donahue, executive director of the Krasl, confirmed the art center asked police to conduct an investigation, but declined to comment further.
St. Joseph Mayor Laura Goos said she didn't see the incident, but has watched the video.
"I've said and I will continue to say that I'm just amazed at Nick's grace and poise under the face of really very rude individuals," she said. "... He's a very young man. I know I would not have had that kind of poise and grace. I probably would have reacted by leaving the area, but he had the courage to stand up for himself. Not in a rude way at all, but in a standing, being calm kind of way."
She said people need to treat each other with dignity and respect, even when they have disagreements. Instead, she said the video shows adults treating Gunn in a very rude way.
After speaking with Gunn, Goos said he told her that he remained by the artist's booth not because he wanted to take photos, but because he was standing up for the city.
"He was like, 'This is where I belong,'" she said. "I feel very much the same, whether I'm in St. Joseph or I'm in Benton Harbor. And that's how I want everyone to feel, that is where you belong."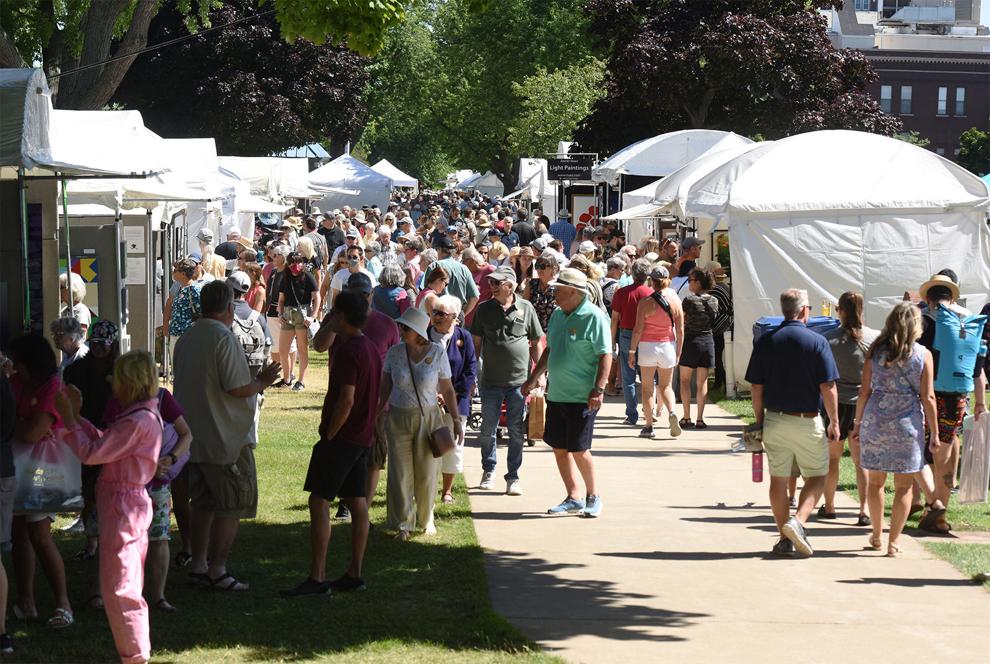 When she was told Gug repeatedly said Gunn was smirking, Goos said she knows Gunn well enough to know that when he gets nervous, he smiles.
"When he gets emotional, he tends to cover it with a small laugh to move forward and get past it," she said. "... That's a very normal response. Sometimes we as humans break out in a nervous laugh or a weird giggle. I know I do. It's hard to sometimes control it."
While he declined to file a police report, Gunn said he wants Gug to apologize not just to himself, but to the cities and St. Joseph and Benton Harbor and the art center. Gunn said Krasl should also warn other art fairs about Gug's behavior.
"He saw that I was alone and I was probably the only African American in ... that area," Gunn said. "He thought that he could bully me and that everyone else would join him and pretty much pressure me into leaving."
Gug's wife, Suzanne Bushnell – who was not at the show – said their business is getting threatening phone calls and emails from people calling them racists. She claimed Gunn has called for Gug to be banned from art fairs for a year.
"They are threatening to track us down if we're at art shows," she said.
Bushnell said her husband's actions were not racially motivated, adding that she and her husband previously took part in Black Lives Matter marches and have donated money to the NAACP.
"We understand the optics of a white man calling the police on a Black man," she said. "We are people who don't want those things to happen."
Gunn said he still feels shaken by the incident.
He usually takes photos on Wednesdays at the Benton Harbor Farmer's Market. However, this week he opted not to.
"I still feel unsure about it," Gunn said. "I still feel that this might happen again, but it might be worse."