ST. JOSEPH — It felt like heaven.
That's how David Clayton sums up his emotional state the day he walked out of prison eight months ago.
Clayton, now 44, had committed a murder in 1994 at age 17, and thought he was going to die in prison. Since being released, Clayton refers to his second chance as the best gift ever.
Now, he's making the most of it as he continues to navigate the world outside of prison.
Clayton, living in Benton Harbor at the time, shot and killed 17-year-old Samuel Merriweather on Aug. 31, 1994. The shooting was determined to be gang-related. A Berrien County Trial Court jury found Clayton guilty of first-degree murder, and on March 13, 1995, he was handed Michigan's mandatory sentence of life without parole.
But in 2012, in the case of Miller vs. Alabama, the U.S. Supreme Court ruled the automatic life without parole sentence for a juvenile is unconstitutional, and that judges should be given the discretion to sentence a juvenile killer to a term of years.
The high court said the brain of a child is not fully developed and family background, relative maturity, the ability to change and other factors should be considered when sentencing a juvenile. In 2016, the Supreme Court made the ruling retroactive, so old cases were dusted off and the nation's 2,510 juvenile-lifers would have the possibility of a second chance.
The Michigan Department of Corrections reports 242 of the state's 364 juvenile-lifers have been resentenced to a term of years and of those, 151 have been released. Among those who were released, only one has reoffended, the MDOC reported.
Most, like Clayton, are doing well on parole.
When the Supreme Court ruled mandatory life without parole for a juvenile to be unconstitutional, prosecutors were given the chance to file motions seeking to resentence the juvenile killers to life without parole. Then-Berrien County Prosecutor Michael Sepic did that in Berrien's 12 juvenile-lifer cases.
After further review, Sepic later withdrew the motion in Clayton's case and two others.
'I wanted to give back'
On June 7, 2018, Berrien County Trial Court Judge Scott Schofield, now retired, resentenced Clayton to 30-60 years. With credit for time served and credit for good time in prison, he became eligible for parole in April of this year.
In a phone interview from his home in California, Clayton said he was paroled April 27, and walked out of prison three days later.
He will be on parole until April 27, 2023, and is living with his mother and stepfather.
"They have been there for me this whole time," he said. "They've provided me with a home, food and transportation. I didn't work for the first three to four months because they wanted me to get acclimated to life outside of prison, and they didn't want me to get frustrated."
He said he is now working full-time as a warehouse receiver at Hoonigan, a motor sports company, and was promoted to the position of a lead on his shift.
"My parents are OK with me staying here," he said. "They don't want me to fall on my face. I don't have a problem with working my way up. I'm in this for the long haul."
Prior to getting a job, Clayton said he volunteered at a community organization that distributes food and other help to the needy.
"I wanted to give back to the community, even if it's not the same community I impacted negatively," he said.
Clayton said he's remorseful, and his road to redemption began in prison.
"There are a lot of young people coming into prison, and I mentored them, trying to show them there is a better way," he said. "I talked to a lot of guys over the years, and I believe I impacted guys in positive ways."
Clayton said he began mentoring young prisoners before he ever learned he could have a chance at release.
"I had come to the realization that I was going to die in prison. I'm very remorseful, not just because I got caught. God had something for me, and mentally, it made me stronger," he said. "I can't change what happened, but it clicked for me pretty quickly that behavior in prison matters. I've stopped blaming others. I wanted to change for myself – even if I was going to die behind bars."
The factors
Before resentencing Clayton to a term of years, Judge Schofield noted that it was hard to imagine a home environment worse than the one in which Clayton grew up.
The judge said Clayton had an abusive father and an alcoholic stepmother who took him without his mother's permission, and brought him to Benton Harbor, where he looked to older males in the community for love, support, guidance, protection and security.
At age 12, he joined the Gangster Disciples, and they used him to their own advantage, the judge said.
Sofia Nelson of the State Appellate Defender Office, has represented several of Michigan's juvenile-lifers, including Clayton. She called him, "Proof that the U.S. Supreme Court was correct."
"A person can do terrible things as a child, and do great things in society as an adult," she said. "These cases are incredibly emotional. It's incredibly rewarding seeing these defendants get an opportunity to reunite with their families. And it's heartbreaking when the court doesn't make that decision. My clients have taught me a lot about hope and resilience."
Sepic has retired, but as the former county prosecutor, he was significantly involved in all the juvenile-lifer cases.
In a recent interview with The Herald-Palladium, Sepic said lawyers in the State Appellate Defender Office thought he should not have filed motions to uphold the life without parole sentences for all of Berrien County's juvenile-lifers.
"But I thought we should. There was no formula to figure this out," he said. "This was a completely new dynamic, and we had to let the judges figure out where these cases fell."
Before withdrawing his motion in Clayton's case and two others, Sepic said he consulted with murder victims' families, when they could be located.
"Of those we were able to contact, they accepted our thoughts on the cases," he said.
Clayton in court
At his resentencing hearing earlier this year, Clayton told Judge Schofield that in 1999, while in prison, he renounced his gang affiliation – at risk to himself.
"I thought they were my friends, and I thought they cared about me. They weren't, and they didn't," Clayton told The HP in a recent interview.
He began tutoring and mentoring young prisoners and since 2004 had the lowest possible security risk score a prisoner can have.
At the resentencing hearing, a cousin of Merriweather, Clayton's victim, told the judge that although her family had suffered, she felt empathy for Clayton, given the environment some kids were growing up in the year of the murder – which she referred to as one of the most deadly years ever in Benton Harbor.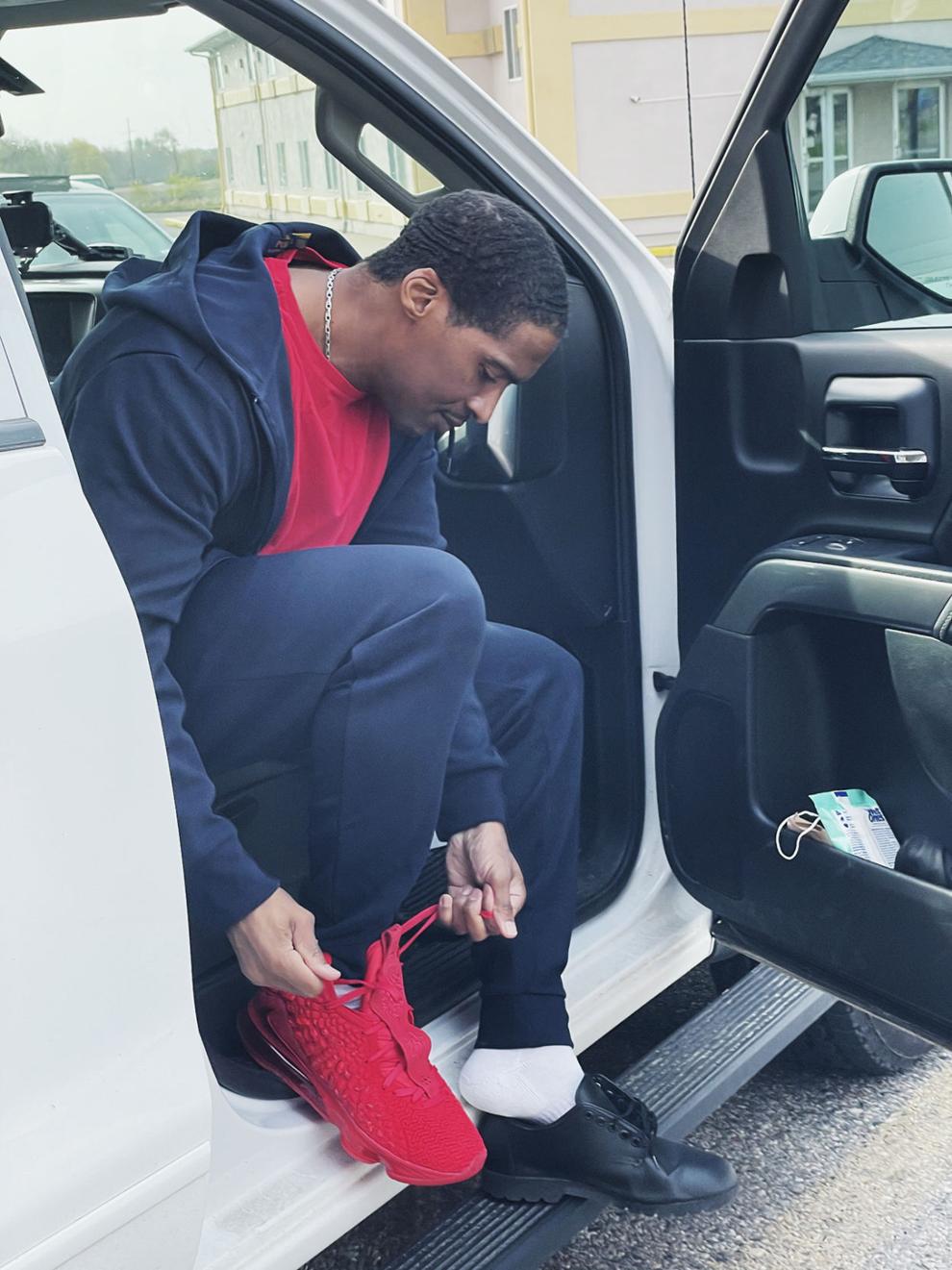 "I'm sorry this happened to you," she told Clayton. "Your family being crappy, my family being crappy ... This was horrible, but it wasn't all you, and I want you to know that."
Regarding Nelson's comment that the Supreme Court got it right, Sepic said, "The Supreme Court also got it right that there is room for life without parole."
In two of Berrien County's juvenile-lifer cases, judges have upheld the sentence of life without parole. They are Efran Paredes Jr., who on March 8, 1989, shot and killed the night manager at the store where they both worked; and Tommy Richards, who in 1987 kidnapped, raped and killed a 10-year-old girl.
Miller hearings
If a prosecutor files a motion to uphold the life without parole sentence in the case of a juvenile, testimony is taken in what is called a Miller hearing, to determine the defendant's fate.
At the Miller hearing for Richards, prosecutors played a recording of a phone call from prison in which Richards told a girlfriend, "I'm going to say whatever I have to say to get out."
Prison officials testified about his many misconduct reports over the years, including illegal sexual encounters with a visitor.
In Paredes' case, he's never admitted to the killing of Richard Teztlaff at the Roger's Vineland supermarket in St. Joseph Township, maintaining over the years that he was set up by others. But a Berrien County jury disagreed, finding him guilty of the killing.
Factors a judge must consider during a Miller hearing, besides the facts of the crime, are things such as the defendant's age and relative maturity at the time of the killing, family background, prior criminal record and a demonstration of remorsefulness and an ability to change.
Sepic noted that Paredes had never admitted to killing Teztlaff, and, "How can you be sorry for something that you say you didn't do?"
He also said Paredes had done well in school, had a job and a healthy childhood, and was mature beyond his years when he committed murder.
Regarding the Supreme Court's ruling that life without parole should only be given to the "rare" juvenile who is determined not to be capable of change, Sepic noted that of the 36 juveniles who were charged with some form of murder between 1980 and 2016, just 12 were tried and convicted of first-degree murder and the other 24 got plea deals or were found guilty of lesser charges.
Of the 12 convicted of first-degree murder, just two have been resentenced to life without parole.
"The 36 between 1980 and 2016 is one a year, and we made the decision early on to treat 24 of the 36 in a more lenient light, and of the remaining 12, just two of 36 have life without parole," Sepic said.