Clerks and election workers came prepared Tuesday as thousands of Southwest Michigan voters flooded polling stations for the presidential primary.
Tuesday's election provided a handful of new hurdles for local municipalities, which included a bevy of absentee ballots, an increase in same-day voter registration, a keen sense of the coronavirus and a mishap that caused damage to a polling station.
Among the changes local clerks have given special attention to – not just Tuesday, but throughout the days leading up to the primary – were absentee ballots.
In the past two weeks, Lincoln Township received about 1,700 absentee ballots and spoiled 80 of them for Tuesday's election. Lincoln Clerk Stacy Loar-Porter said the absentee ballot number wasn't out of the ordinary, and she anticipates closer to 2,500 for the November general election.
Early voting was made easier thanks to the passage of the Promote the Vote state constitutional amendment in November 2018. All registered voters in Michigan are now allowed to vote using an absentee ballot for any reason.
According to the Secretary of State's office, the final spoiled ballot count for Michigan voters is 36,574.
Royalton Township Clerk William Foust said he couldn't recall previous elections being this consistently slow throughout the day.
Foust said he attributed the pace of in-person voting to the substantial increase of absentee voters for the township.
"At the start of an Election Day, there is normally a line forming out the door," Foust said. "We really started promoting absentee voting leading up to this primary and it seemed to take with residents."
Between the township's two precincts, Royalton produced about 600 absentee ballots for Tuesday's election. Foust said that was about twice the amount compared to the previous presidential primary in 2016.
Lincoln Township's election workers began counting absentee ballots at 7 a.m. Tuesday.
"Legally, they can start opening and processing at 7 a.m. when the polls open," Loar-Porter said. "But they can't leave until 8 p.m. because people can still turn in AB ballots by then."
For the city of St. Joseph, Clerk Denise Westfall said they had a "quiet and steady day."
The city saw its absentee voters double compared to the previous primary election. Westfall said the city had about 975 absentee ballots by 3 p.m. Tuesday.
Westfall reported the city had 57 spoiled ballots among its voters.
"It was just very busy this past week," she said. "There were a lot of new registrations too. We had three same-day registrations on Election Day. They each took about five minutes to complete."
Lincoln Township had about six residents seeking same-day registrations on Tuesday. Loar-Porter said the majority have been voters in the 18-25 age demographic.
Michigan's 2018 amendment also led to voters being allowed to vote the same day they register. Before the proposal was passed, people had to register at least 30 days ahead of Election Day in order to vote.
On Tuesday, the Secretary of State reported 7,198 Michiganders took advantage of same-day registration on Tuesday alone.
Loar-Porter said they've been flooded by questions this year regarding the primary and new voter laws, which she said has been invigorating to see.
"We've probably had more today than any other time," Loar-Porter said in relation to same-day registrations. "We had a couple come in last week. But a lot of them had just moved from somewhere else. I think people are more aware of it than before."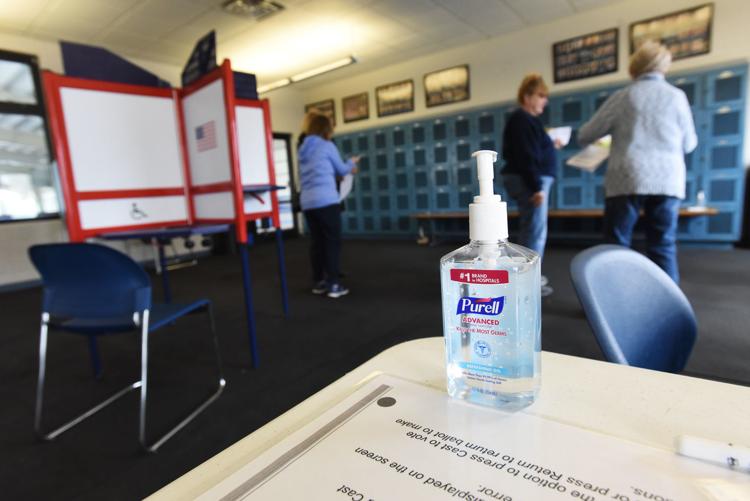 Virus concerns
With the global spread of COVID-19, commonly referred to as the coronavirus virus, municipalities across Berrien, Cass and Van Buren countries took preemptive actions.
As a precaution, polling stations stocked up on hand sanitizer, wipes and medical gloves.
At St. Joseph's polling station, Westfall said they made sure hand sanitizer was available and workers wiped down tables and voting booths every couple of hours.
Foust said he was surprised no voters took advantage of the township's Purell station at the front door. One of the greeters at a Royalton polling station – charged with handling voter driver's licenses – was given surgical gloves for the day.
"Everything's been really smooth," Foust said. "All the clerks were sending emails back and forth leading up to today (Tuesday)."
When it came to reassuring the public about coronavirus, Loar-Porter said they mostly stuck to what the township has done in every election.
"In our precinct kits for the last 10 years, we've always used Lysol wipes and hand sanitizer," she said. "We were a little worried about election workers being fearful to work and being exposed."
For the most part, Loar-Porter said workers were comfortable in their work setting Tuesday.
"I heard some workers at other municipalities requested masks," she said. "We had one person who has an autoimmune disease, so we switched her with somebody. She's working on the (absentee) counting board so she's not exposed to the public."
The absentee counting board was stationed at Lincoln Township's library, were election workers were sequestered in a room away from the public.
Loar-Porter said workers noticed a couple of people entered the township's precincts wearing face masks Tuesday.
"It's been a little slower than I expected," she said. "I don't know if it's because of that (fear of the coronavirus) or the amount of absentee ballots."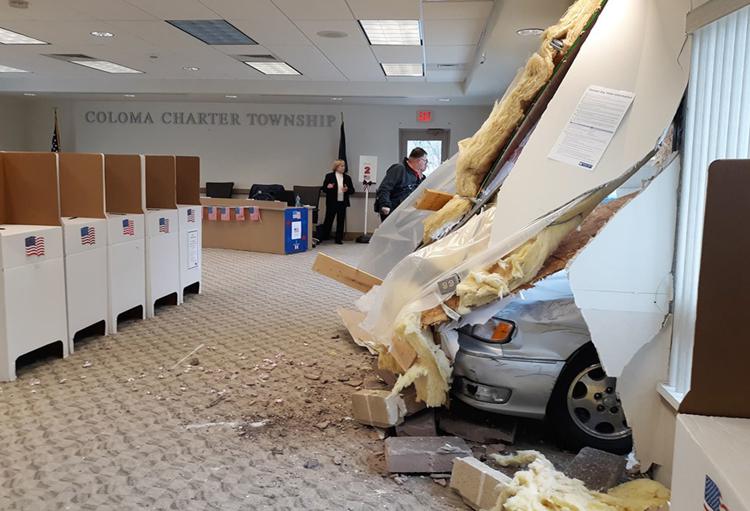 A crash course in voting
Among the stranger things to happen Tuesday occurred at Coloma Township Hall.
Shortly before 12:30 p.m., a car was accidentally driven into the side of the township hall, which was serving as a polling station for two precincts.
There were more than 30 people inside the building at the time, but Police Chief Wes Smigielski said no one was hurt. He said the driver of the car is also OK.
The car came to a stop a few feet from some of the voting booths, while the majority of the car remained outside the municipal building.
Smigielski said the driver was pulling up to vote and went to brake, but instead stepped on the accelerator. The car ran over the curb and rammed through the polling station.
The Coloma Township Police Department, along with township board members, building and grounds personnel, North Berrien Fire and Rescue personnel and Coloma Public Works employees, were able to get the area cleaned up and secure.
"We cleared the room for about 45 minutes to make sure everyone was safe," Smigielski said. "The vehicle was pulled out of the building and towed away."
With a hole in the side of the building, workers strung up a tarp and began boarding up the opening.
The polling station was out of commission for less than an hour, and then voters were allowed back in at 1:20 p.m., Smigielski said.
Ironically, this is the second time a vehicle was driven through Coloma Township Hall.
In 2010, a Cadillac crashed into the building in a similar spot. According to Herald-Palladium archives, the impact knocked bricks off the outside wall of the building on Paw Paw Lake Road and pushed in part of a wall inside the board room.
Smigielski said there have been discussions about putting up barriers near the building.