ST. JOSEPH — Remembering those who have passed away doesn't always have to be a somber occasion.
That's why the Mexican holiday El Dia de los Muertos, or Day of the Dead, is celebrated each year from Oct. 31 to Nov. 2.
"It's a large event, and it's very heartwarming," Gloria Ender said. "It sounds morbid, but it's actually very special."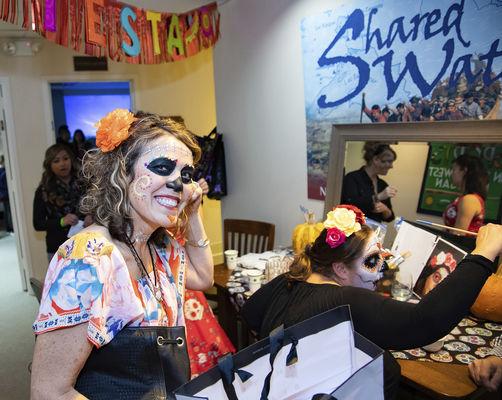 Ender, who owns Freedom Finishing in Benton Township, is one of the organizers for the second annual local Celebrando el Dia de los Muertos event Friday at The Heritage Museum and Cultural Center.
The event is co-hosted by the museum and the Southwest Michigan Symphony Orchestra.
SMSO Executive Director Sue Kellogg said she and the former executive director of the museum were discussing collaborative events they could put on, and celebrating Day of the Dead came to their minds.
"It fit together with culture, family and bringing people into the museum that haven't been there before," Kellogg said. "We didn't know much about it, so we reached out to Gloria Ender, and she just jumped right on board and taught us. She's really the engine behind the event."
Ender, who moved to the United States from Mexico when she was 6 years old, remembers the grand celebration of life and death that took place each year.
"It's an emotional time for our culture with stories and fun events," she said. "They even think the spirits might visit, so some stay the night in the cemetery to see if they'll visit or be touched by them."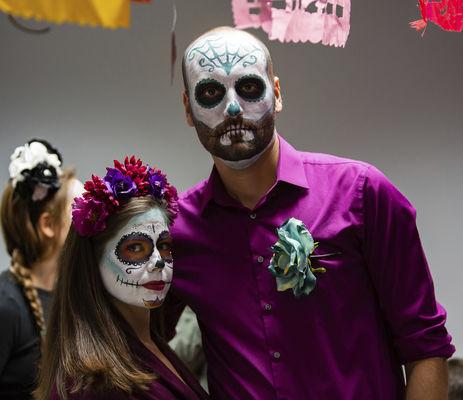 The event Friday will include an on-site "cemetery," where attendees can place photos of their loved ones. Lory's Place, a grief support organization, is volunteering to be in that area to speak with people about loss. 
Ender said this is her favorite part of the holiday and the event.
"I have an ofrenda altar for my lost loved ones," she said. "It includes pictures of my lost ones, candles, their favorite food and flowers. It brings a piece of their spirit into mine."
The event is family friendly, and will include crafts, face painting and a screening of "Coco."
Brian Carroll, executive director at The Heritage Museum, said the name of the holiday sounds "kind of spooky," but it's really all about family.
"Our mission, which is built into our name, is culture," he said. "Hosting celebrations like this for the Latino culture is educational, and a really good time for kids and adults. It's great that it really brings different groups from the community together."
Friday's event will include authentic Mexican cuisine, specialty beverages and fresh-pressed cider.
Dancers from I Heart Spanish will perform a variety of traditional dances from Mexico, and a mariachi band will perform ranchera music.
Ender said many Hispanic families will dress up with painted faces, certain clothes and much color.
"Please know that every color, flower, monarch, shell, food, skull, candle, picture, music, represents a certain symbol," she said, "and in the Day of the Dead celebration there is so much more than just another fiesta."
Ender said she's excited to bring her heritage to the community.
"I hope attendees take away that it's a good thing, and it's not Halloween. It's not morbid. It's a wonderful cultural event cherished by many, and it's a good feeling, a spiritual feeling," she said. "We unite together with music, food and togetherness."