ST. JOSEPH — A new, exclusive choral community is being created in Southwest Michigan.
"These are phenomenal musicians," said Jonathan Miller, co-conductor and founder of the Sounds Good Choir. "When you have a non-auditioned choir of older adults, you don't always know what you're going to get. Every choir learns at different paces, and it's just been so nice. These are very strong singers, they read quickly, they have good ears, and they retain what they've learned very well."
The Sounds Good Choir rehearses weekly at the Area Agency on Aging's Campus for Creative Aging in preparation for a free public concert in August.
The group of people – 55 and older – are from around Southwest Michigan and northern Indiana. There are nine other Sounds Good Choirs around the Chicago area.
Southwest Michigan's choir is co-conducted by Ren Baldwin, former choral director for St. Joseph Public Schools. Baldwin and Miller each lead half of the rehearsals.
Miller and his wife, Sandy, who live in a Chicago suburb, created the choir in 2016, after a very difficult 2015.
"I was working in music publishing," Miller said. "Sandy's mother died in May of 2015, my father died three weeks later, then our cat died, then my father's wife died, and then the day after the Christmas party, I was downsized."
Miller, who has spent most of his life in the music business and has conducted a professional choir, Chicago a cappella, for 27 years, decided he wanted to get back into conducting as much as he could. So he brought a choir for older adults to Chicago.
"I also write, arrange and compose music, and I had written what I call one of my wacky Christmas carols, where I took the words from 'Jingle Bells' and the 'Hallelujah' chorus and switched them," he said. "And it kind of became a minor hit, and the folks at an older adults choir in D.C., Encore, bought 800 copies of that piece of music, so I knew about them."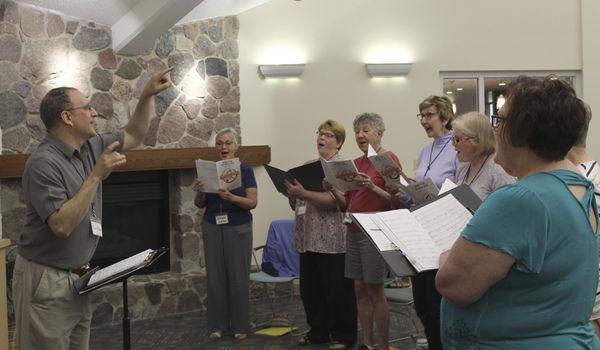 By the fall of 2016, they had 200 singers in six choirs in Chicago. The group started as an affiliate of Encore, then broke out on their own, with their own nonprofit board, last year.
Gloria Bowman, one of the choir members who used to live and work in Chicago but now lives in Southwest Michigan, suggested Miller to the Area Agency on Aging in St. Joseph when they were looking for programming for the new Campus for Creative Aging.
"For us, it's sort of an unusual hybrid because the agency is doing some of the stuff and so are we," Miller said. "We're sharing the load, which has made it easier for us. We are clearly filling a need, and we're just really, really happy to get to do this here."
Amy Nichols, the campus coordinator, said the feedback about the choir has been overwhelming positive.
"From an aging perspective, just to have people be out and about: here's your social interaction for the week, and maybe they haven't been out in a week," Nichols said. "Some of these people are very involved, make so mistake, but there are some that only come out for this, and to see that interaction is truly a gift when I come by and see their rehearsals on Fridays."
She said interaction is critical for older adults and what pushes them to come to rehearsal.
"They know the group is going to miss them if they're not there," she said. "And that's the community."
The repertoire for this summer's chorus includes hits of the '50s and '60s by artists like Elvis, Otis Redding and The Beatles.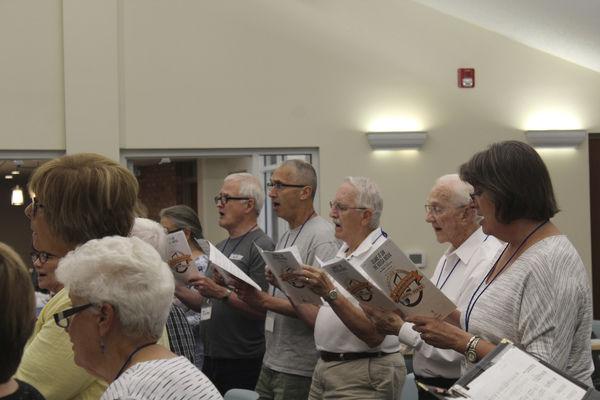 "We always do rock 'n' roll in the summer," Miller said. "We'll have a live, four-piece band that Ren has put together, and Beth Gray-Roll is our pianist."
In the summer, the groups do a three-part chorus, with soprano, alto and a combined tenor/bass part.
"It makes it a little simpler and easier to teach and master," Miller said.
The fall and spring offer a little bit more of a challenge.
Miller said he also heads up a choir for people with early stage dementia and their caregivers called Good Memories Choir, though a chapter of that hasn't made it to Southwest Michigan yet.
"And they're singing the same music as Sounds Good is singing," he said. "We really want all our choirs to be a place where people feel welcome sort of wherever they are. Part of our job is to make people comfortable and aware. We're all on the journey together."