Not long ago, I decided to take a historic culinary journey, traveling to places where Abraham Lincoln once ate. The road trip took me to Old Talbott Tavern, which opened in 1779, in Bardstown, Ky.
At the time, a large number of taverns lined the rudimentary roads crisscrossing America. They made up the perfect trifecta for travelers – beds, food and strong spirits.
Lincoln was too young to partake of the spirits, though I imagine his father, Thomas, who some said was overly fond of drink, did. He was from Kentucky after all, the place where limestone water is said to make the finest bourbon.
A land dispute brought Thomas Lincoln and his family to Bardstown. They stayed at Old Talbott Tavern, which is just across the street from the courthouse, while their case was being tried.
"Abraham Lincoln was about 5 years old when he stayed here," says Deanna Kelley, whose husband's family has owned the tavern for decades. "It's kind of crazy to think that he used to be here, in this very building."
Very few of these old stagecoach stops remain. Old Talbott Tavern is considered one of the oldest taverns in continuous operation in the U.S., and the oldest stagecoach stop west of the Allegheny Mountains.
Described as an exceptionally rare example of Flemish bond stonework, there's an old English feel to the tavern with its thick walls, deeply inset windows, original timbered ceiling and wide doorways. One can easily see how a young Lincoln, said to have worn a "one-piece long linsey shirt," would have fit in.
"The doors are wide like that because women had to get through them with their hoop skirts," Kelley says.
Women in wide skirts – always a fire hazard – also cooked over the two large fireplaces that flank the sides of the door leading into a second dining area.
"They would have served a lot of game back then," Kelley says when I ask what the Lincoln family might have eaten back then. "It would be what might have been shot that day. We don't have game on the menu anymore. It's gotten too hard to get."
In other words, don't expect to find a menu of fried squirrel, partridge, venison and raccoon, which Lincoln was said to favor. But if you want to dine like Abe, there are several dishes – cooked in the kitchen, not over the open fire – like Kentucky burgoo, a thick stew of vegetables and meats, biscuits, grits and slow-cooked pot roast.
In Lincoln's day, the burgoo would have had a variety of wild game tossed in. It really is a mess of whatever's available.
Now, the tavern keeps it pretty tame.
Chicken was fried in large, cast-iron skillets, and Kelley says they fry their chicken the same way. But, no, she tells me, they're not the same skillets.
There's so much history here. The tavern was Gen. George Rogers Clark's headquarters during the Revolutionary War. Other famous guests include Henry Clay, Andrew Jackson, William Henry Harrison and Aaron Burr.
The Lincoln family, which lost their trial for the family farm and moved to Indiana, stayed in the tavern's front upstairs room. Lodging is still available in that room.
Diners also can enjoy the early 1800s Colonial Room, where Queen Marie of Romania had tea in 1926.
Exiled King Louis Philippe stayed here, and there were murals of him painted on the wall. One night, Jesse James had a little too much of that Kentucky bourbon and fired his pistols at the paintings. We don't know if that was because he was anti-monarchy or just too drunk to know better. Oh, and by the way, James is said to still haunt the tavern, but seems to have put down his guns.
One of the tavern's famous dishes is Chicken Philippe, named after Phillippe, who stayed at the tavern on Oct. 17, 1797.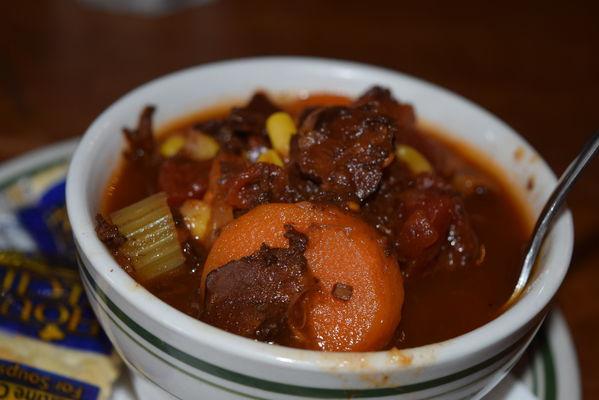 Burgoo
2 pounds boneless beef chuck roast
2 pounds pork loin chops, trimmed
1 dressed rabbit (optional)
2 cups frozen whole kernel corn
1 cup frozen baby lima bean
1 cup frozen English peas
1 (32-ounce) bottle ketchup
1 (10-ounce) bottle Worcestershire sauce
Add the first five ingredients to a very large stockpot, and bring to a boil.
Cover, lower heat, and simmer for 1 hour, or until meats are tender.
Remove the meats from the stockpot, and reserve the liquid. Skin, bone and shed the meat. Return the meat to the stockpot.
Chop the next six ingredients, and shred the cabbage. Add these and the remaining ingredients to the stockpot. Cook over low heat, stirring frequently, for 4 hours.
Old Talbott Tavern Pie
1 tablespoon grated orange rind
2 tablespoons lemon juice, fresh, frozen or canned
While pie shell bakes, mix the sugar, flour and salt in the top of a double boiler. Stir in the water smoothly, and cook over direct heat for 5 minutes, stirring constantly.
Beat the egg yolks slightly, mix with the filling gradually, and cook over boiling water about 5 minutes longer, or until very thick.
Remove from the heat. Add both fruit juices and orange rind. Chill and pour into a cool, baked pie shell.
To make meringue: Mix the egg whites, sugar and water in the top of a double boiler.
Beat with a rotary beater until thoroughly mixed. Place over boiling water, and cook for 1 minute, beating constantly. Remove from heat, and continue beating until meringue stands in peaks.
Pile over pie filling lightly, and decorate with orange sections and coconut, if you'd like.
Old Talbott Tavern Chicken Philippe
2 bone-in chicken breast halves
Flour, for dredging, seasoned with salt and pepper
2 to 3 teaspoons red wine vinegar
1 to 2 tablespoons Burgundy wine
Dredge the chicken in the seasoned flour. In a skillet, braise the chicken in lard until the flour is browned.
Place in an ovenproof pan, sprinkle with Worcestershire sauce and poultry seasonings, and top with the bay leaf and wine vinegar.
Cover and bake at 350 degrees for 15 minutes. Uncover, remove from the oven, and flame with brandy.
Return to the oven when the flame is out, and cook for 5 minutes more.
Just before serving, ladle Burgundy wine on top. Serve atop wild rice.
Old Talbott Tavern Corn Fritters
1/4 cup canned whole kernel corn, drained
In a bowl, mix the flour, sugar, egg, corn and milk, using just enough milk to moisten. The batter should be stiff.
Drop by the tablespoons into the 325-degree oil, and fry to a golden brown. Roll in the powdered sugar. Serve warm.
Jane Ammeson can be contacted via email at janeammeson@gmail.com or by writing to Focus, The Herald-Palladium, P.O. Box 128, St. Joseph, MI 49085.