The 1893 World's Columbian Exposition brought 27 million people to Chicago, which was no small feat given the general lack of personal transportation at the time.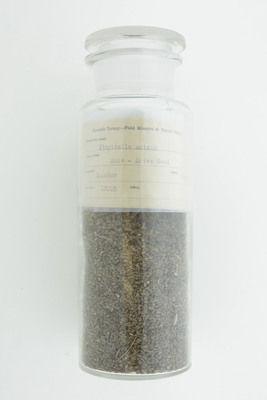 The crowds came to see all the newest inventions, like the Ferris wheel, the zipper, Cracker Jack, diet carbonated soda, Aunt Jemima syrup and pancake mix, and Wrigley's Juicy Fruit gum.
It was at the expo that Pabst Select won the Blue Ribbon in the beer competition, and hence forth became known as Pabst Blue Ribbon beer.
But there were other attractions less awe-inspiring or recognizable, but just as important, if not more so.
Fifteen hundred botanicals – a term used to describe seeds, berries, roots, fruits, herbs and spices – were brought from around the world to the Field Columbian Museum (now the Field Museum). Among the 40 million objects belonging to the museum – only 1 percent of which are on display – a majority of these botanicals remain.
Megan Williams, director of business enterprises for the museum, started a beverage program around seven years ago in celebration of the museum's 125th anniversary. Her idea was to use some of these botanicals to connect the museum's past to its present.
"I am not a researcher here," Williams says, "though I used to teach environmental science. I joined the Field Museum as an account manager, and then took over the restaurant. I wanted to create a sense of community, a place for people to sit and talk. And what better place for that than a bar?"
Combining the communal ambiance of a bar with the history of the museum was one of the reasons Williams started the beverage program.
"I wanted to educate people through taste and smell, to be able to taste or smell something that has a historic significance," she says.
Williams described it as an opportunity to bring people together who love spirits and learning.
"It's not just putting a museum label on something, though there's a legitimacy in that," she continues, noting she's worked with brewers and wine makers as well in developing Field-branded drinks. "But we wanted to take it another step further, working with people who have a passion and understand the museum's language and mission."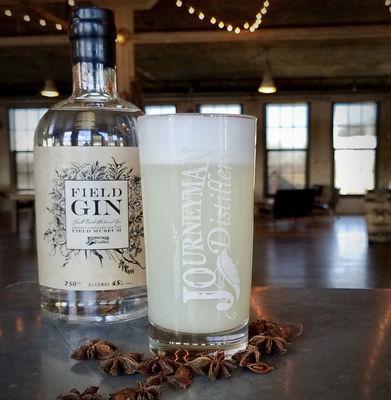 Help from Journeyman
Contacting Journeyman Distillery in Three Oaks, she invited Matt McClain, Journeyman's lead distiller, and owners Bill and Johanna Weller to look at the botanicals.
"The first spirit we talked about was rye, that ended up as the last one made," Williams says. "We asked questions such as, what would work well in making gin, (and) what could out of these 1,500 botanicals. And where could we source them."
McClain spent several months researching the botanicals at the museum to determine their history as well as their current availability.
"I found that a lot of them were not considered safe, or even poisonous," he says. "Standards were different back then."
From there, he and Bill Weller chose those they thought would be a good fit for the spirits they wanted to create.
The first product they created was their Field vodka using Bloody Butcher Corn, an heirloom variety often used for making bourbon. The vodka then served as a base for the next distilled spirit, their Field Gin.
"We wanted to make a global gin," McClain says. "So we were pulling species from around the world. We narrowed it down to around 50."
But once they had the botanicals and began developing recipes, they had to cross off a few from the list.
"A lot of botanicals that look and taste good don't work when you put them in alcohol. Others that I wanted to use were hard to get, or arrived too late. I still have agave in the cooler," McClain says, noting they used other criteria in the selection process, too. "Bill (Weller) and I wanted the gin to be lavender focused. Obviously, gin also has to have a heavy juniper taste as well. We wanted the gin to have tropical undertones and had to figure out those as well."
They were down to 27, including lavender and juniper berries as well as prickly ash, anise, mango, ginger, coconut palm sugar, pineapple, papaya, valerian root, cinnamon, coriander, horehound, star fruit and charoli nuts.
For their Field Rye Whiskey, they tried several types of figs, which McClain describes as the world's oldest sweeteners, finally deciding Black Mission figs worked the best. The figs were macerated, or soaked, in alcohol for three months, a process that brought out subtle and all-natural flavors of bananas, sweet melons and strawberries.
"It's an incredible whiskey," McClain says. "It has heavy caramel notes and soft marshmallow-like palate."
Bottles of the Field distilled spirits are available for sale. For those who would like to learn more about their taste, they're also used in some of the cocktails served at the Staymaker, Journey's restaurant.
The following recipes are courtesy of the Journeyman Distillery.
Journeyman Fig Old Fashioned
1/4 ounce Journeyman Bourbon Maple Syrup
Dash of Journeyman Barrel-Aged Balsamic Vinegar
Stir ingredients together, and pour into a glass over ice. Garnish with dehydrated orange wheel.
Field Vodka Gimlet
Shake the ingredients well, and strain them into a tall glass over ice. Garnish with a fresh lime wheel.
Field Gin Fizz
1/2 ounce pear simple syrup
1 ounce aquafaba, or egg white
Combine ingredients, and dry shake before adding ice to the shaker. Wet shake until froth has built up. Strain into a Collins glass, and top with soda. Garnish with star anise.