Some people share a love of sports. For others, it's a political cause that riles them up.
But for many in Southwest Michigan, it seems, collecting beach glass and rocks is a unifying activity.
A recent post on The Herald-Palladium's Facebook page seeking people who enjoy collecting beachside items garnered 200 comments and more than 60 messages and emails.
Kaleigh Fowler of St. Joseph was the first, followed by Lyndi Shepardson and her sister, Cathy Sutton.
"My sister and I go to Lake Michigan all the time! She looks for rocks and I look for beach glass," Shepardson wrote.
Darryk Williamson and his girlfriend, Amanda VanHorn of Bangor, said they met while looking for beach glass in December.
Becky Davis of South Haven said her family has been collecting beach glass since 1955, when her great-grandparents purchased a summer cottage in Covert along the beach.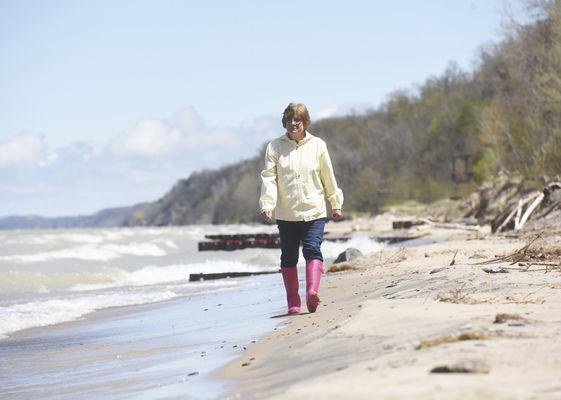 'What the lake gives me'
Bette Mallen of Stevensville described herself in an email as a beach glass "addict."
"I married Eric 38 years ago, moved here and we had a beach," she said. "I was a teacher, so weekends and summers I would look for beach glass."
Since retiring in 2012 – and now that the beach near her Stevensville home has eroded – she spends most of her days on the beach at Rocky Gap County Park.
"I just love picking up glass, fossils and curious things," Mallen said. "I have hundreds of hair barrettes, and I've always picked up trash. The trash I pick up is indescribable, a lot of it comes from boats: straws, tampon applicators and cigarillo tips by the millions."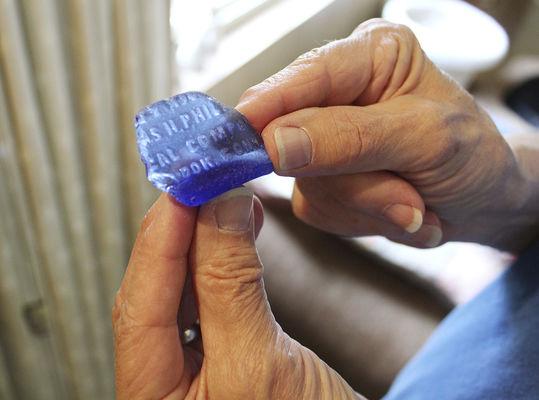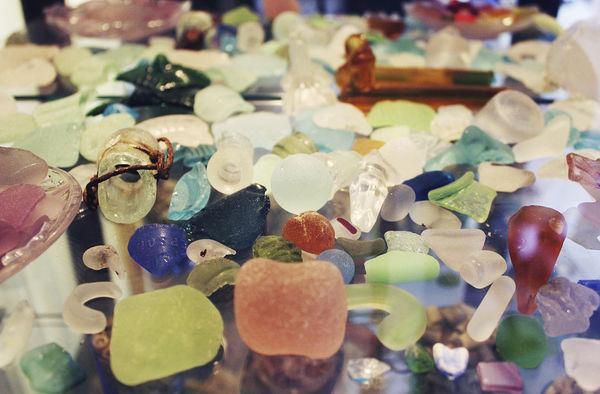 In her home is a ceiling-high display case full of her favorite treasures, along with other bottles and bins sitting around full of beach glass.
"The pink piece of glass that looks like a marshmallow is my most unusual find," Mallen said. "Eric actually found that. But I love finding the little tiles because those are from the houses that have gone over into the lake. I have a lot of those. I find a lot of pottery shards. A lot of those come from the old ferries. I find old silver spoons that are monogrammed, fishing lures."
She said after a big storm comes through is a good time to look for the glass, and what makes her good at finding stuff is practice.
"Other people walk over stuff," she said. "There are people that go and take little things and dig, but I figure if it's there, I'll see it, if it's not, I'm not worrying about it."
Mallen adorns tall pink boots when she's out on the beach, causing many other frequent beachcombers to recognize her.
"People don't recognize me, they recognize my boots," she said.
For Christmas her husband bought her a pair of duck-hunting waders so she can one day again start searching the beach near their home.
"Some people are only there for driftwood, some people are only there for rocks," Mallen said. "Some are there for flat black rocks. They have different things they like and make. So different people sometimes are laser focused, while I just go see what the lake gives me, what her mood is."
Looking for things on the beach is also her exercise. She averages about 3 miles every morning.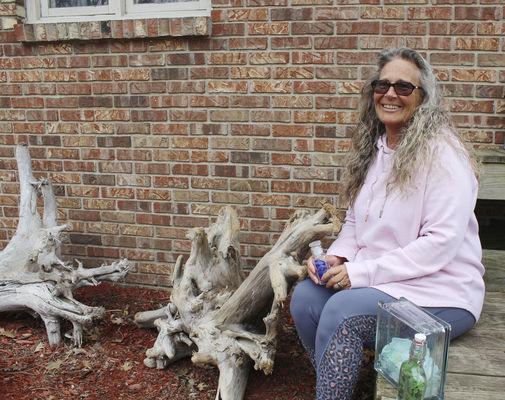 'It's always better by the lake'
Lori Wroblewski of Hagar Township started walking on the beach in 2014 as a form of exercise, too – and because it's peaceful.
"I don't know why I collect beach glass," she said. "I think it just gives me something to do. And it's relaxing. No matter what stress is going on, it's always better by the lake, and it's better than just sitting."
Wroblewski said she likes to collect anything on the beach she can find.
"I like the glass, but I'm always looking for Petoskey stones and other fossils," she said. "I like finding other little stuff, too, like these Army dudes. It's so weird. As well as little pieces of drift wood, and we've got some bigger pieces in our backyard."
Wroblewski has glass bottles, sorted by color, filled with beach glass all over her home.
"I like all of them," she said. "I like the glass that glows under the black light. The blue is hard to find, but the red is really rare. I've only got about four pieces of red."
Finding them is all about the patterns, she said.
"Like, on a cloudy day, it's kind of hard to see," Wroblewski said. "When the sun is out, it'll kind of catch your eye right away. The stuff that's dry is kind of frosted, and it's not easy to see, but when it's wet, you can see it really well, especially the colored ones."
She combs the shore from Warren Dunes State Park to Allegan County beaches, and she knows which beaches offer which treasures.
"I've not come across any dead bodies yet," she said. "I do suspect one day I will come across something. I was out wandering the day they found the lady at Warren Dunes, and I go down there, too. You never know."
Wroblewski has started making crafts out of her beach glass finds, like little bowls and Christmas ornaments.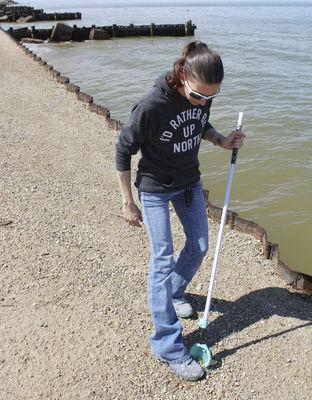 From trash to cash
Some beachcombers, like Bailey Gruss, have created full businesses from their collecting and crafting.
"Everything I make I've found, or one of my family members have found," she said. "I have an Etsy shop, and I sets up tables at area makers fairs."
Though making things from beach glass is a recent venture for the St. Joseph native, looking for and collecting beach glass has been a lifelong hobby.
"I'd look for it on the beach with my mom and just absolutely have loved doing it and have just continued on doing it," Gruss said. "It's just for the thrill. I love finding the really unique and cool pieces, and it's not even just the beach glass. I love Indian beads, Petoskey stones, Leland blues and stones with cool markings on them or shapes."
Gruss said even back surgery in July couldn't stop her from it.
"It's hard for me to bend down, but beach glass hunting has been a part of my life forever, and it's like, I have to find a way to do it," she said.
So you'll find her on the beach with her "scooper," which she crafted from one of her son's old beach toys, gorilla tape, hockey tape and a dollar store broom handle.
"I find the pieces, scoop it up, and so even though I can't bend down to get the glass like I used to, at least I can still do my passion," she said.
She said being at the beach is relaxing for her, and she goes almost everyday.
During the week, she picks between about four beaches near St. Joseph, and then on the weekends she travels farther – to places like South Haven and Saugatuck.
For Gruss, the pieces of glass just pop out to her.
"It's all with practice and just kind of going out and kind of knowing what to look for. It's got a certain gleam to it," she said.
She's found about every color of beach glass there is to find except black. She's found one pink piece, which is shaped kind of like a heart, that was actually featured in a beach-combing magazine.
Gruss said the beachcombing community is large – and even international.
A local Facebook group, Lake Michigan Beach Glass and Rock Collectors, connects the local community.
"I met a lady twice this week named Elizabeth who drives from an hour away to look for beach glass," Gruss said. "And she's on that site, and I'm like, 'I've known you from the site for almost a year now. I feel like I've known you.' It was really cool to meet her."
Searching for the lake's heart
Sara Clemm von Hohenberg and her daughter, Adia, 9, travel from Ann Arbor to the beaches of Lake Michigan frequently to collect beach stones and glass.
"I grew up in the area, graduated from Hartford (High School) and everyone still lives in Dowagiac," said Clemm von Hohenberg, whose maiden name is Foster.
She said, every year, the family takes a trip to a new spot along the lake. The first year they found a rock shaped like a heart.
"We kept looking for them because Adia thought it was cool," Clemm von Hohenberg said. "We spent all last summer collecting heart rocks for a sign in our home that says, 'Love Comes in All Shapes and Sizes.'"
Then, Adia decided she wanted to collect rocks so her whole class at school could make family trees out of them.
"She picked rocks that she thought looked like her family," Clemm von Hohenberg said. "And then the students gave them to their parents for Christmas gifts."
Adia said she looks for rocks that speak to her. She likes ones with patterns or ones with flecks of something in them.
"It's inspiring because you never know what rock you'll find," Adia said.
A walk along the waterline
Thomas Capps of South Haven said he's always enjoyed collecting rocks.
"I never found much beach glass," he said, "then I started working at Covert Township Park and just being there and going after work to look for it, I got into it. Then, I started going beach to beach, and have gone all over now."
It varies on weather, but you can find the mid-20s swim coach and grounds and maintenance worker for South Haven Public Schools at a beach two or three times a week looking for beach glass.
"Normally, it's the waterline where I look. I don't dig or anything, though I know some people do. I'm just a walker," he said. "Then depending, sometimes if you can see it, they'll be another waterline mark that'll be dry from when the waves were pushing it up and I like to look there, too."
A calm day after a rough one is the best time to look for treasures, according to Capps.
He said he keeps his Lake Michigan beach glass around his home in shells that he's collected from Florida beaches. He has found pieces of all colors, including one rare yellow this year, and an elusive red piece at a small private beach north of town.
"Sometimes a trip might last 30 minutes, or two hours, you never know," he said. "I see it as a meditation, you're out listening to the waves, walking with some kind of purpose and you're doing one thing."