BENTON HARBOR — Just because a show hasn't been on Broadway, doesn't mean it can't dazzle its audiences.
That's how the Children's Music Workshop cast and crew feel about "Children of Eden Jr.," which will be staged this weekend at The Mendel Center Mainstage Theatre.
"Just because it's not well known, it's definitely a show that you don't want to miss. It's a show that is meaningful," Director Jen Bomar said. "I love every song in this show, and the older I've gotten, I have kids now, the themes of the show really resonate more with me at this point in my life."
"Children of Eden" was written by Stephen Schwartz, who also wrote "Godspell," "Pippin" and "Wicked."
"I was reading an article about him, and he said that 'Children of Eden' was his favorite show that's he's done," Bomar said. "I thought that was crazy because he's done shows that are so much more well known. But he said, it's his favorite because when audiences would leave they were so touched with the performance. I feel like that's good theater, when you can touch someone's heart like that."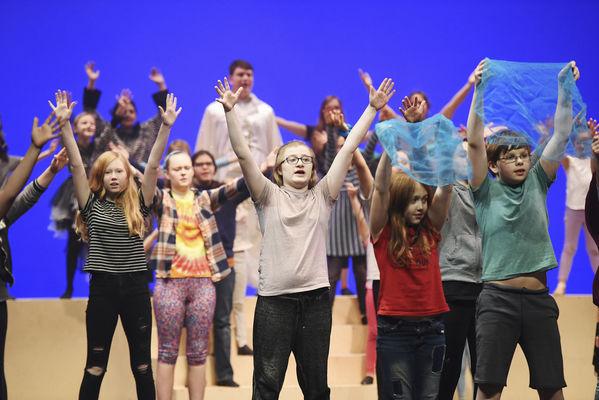 The roughly 60-person CMW cast has been working the last couple of months to put together the musical based on the story of Genesis.
Bomar, who began working with CMW in 2011, has directed numerous summer workshops and productions, including "Disney's Aladdin Jr.," "Music Man Jr.," "Disney's Beauty and the Beast Jr." and "Disney's Mary Poppins."
She said working with the kids is great, it just takes some organization and a sense of humor.
"This is a smaller number than I've worked with before," Bomar said. "It's fun because some of them are veterans and some are brand new. The ones that are brand new go from being a little more timid at the beginning of the rehearsal process and then when the show comes, they've made all these new friends and they have all this self-confidence they've gained that you get to see in them."
One of the veteran performers is Will Turner, who plays Adam in the first act and Japheth, the third son of Noah, in the second.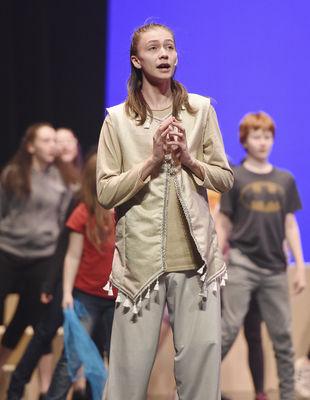 Will, who is 16 and attends Lakeshore High School, said he didn't know the show well, but decided to audition anyway.
"I've been doing CMW for a while and always just got into the rhythm of doing it," he said.
Will said this show has been a perfect balance of easy and hard for him, and his favorite part is his solo, "A World Without You."
"Mostly because it's my solo and I love solos, but also because it shows a turning point in my character's progression that he actually decides to make a decision for once," he said.
Bomar said that theme – making choices – is one of her favorites.
"You can always choose to make the positive choice," she said. "One of the lyrics is 'There is no journey that's come so far that you can't stop and change direction.' It's just a beautiful show with these themes that are timeless."
Summer Fast, 14, who plays Eve, said the show is also about people breaking a cycle of mistakes.
Summer, who attends Bridgman High School, said she has enjoyed playing a part like Eve where she can show a variety of emotion.
"It's just a fun part to play because of how different Eve is during different parts of her life," she said.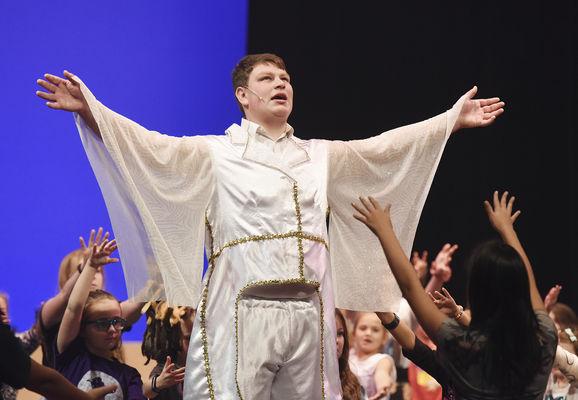 JD Hall, 18, gets to portray the big man upstairs.
"CMW has always been a big part of my life since about three years ago, so I'm always looking forward to the next production," he said. "I auditioned and was going to be happy with whatever I got. I read the cast list, and I didn't expect to get the role of Father, but it's exciting."
He said it has definitely been challenging to portray such a big character, but he's been having a great time.
At the other end of the age spectrum is Eva Olson, 7, who is playing a hedgehog in Act 1 and a snake in Act 2.
"It's fun, and kind of tiring," she said.
Eva said she loves to sing and dance, and has been in other CMW productions: "Cinderella," "Singing in the Rain Jr." and "101 Dalmatians."
She said she loves the whole show, but her favorite song is "Let There Be" – the song JD opens the show with as God.
"That is like my main song and generalizes my character," he said.
JD, who is homeschooled, said his favorite part of the show is his duet with Noah during the second act.
"It's the hardest part, and the harmonies really get to me, but it's really fun to get to sing that," he said.
Summer and Bomar said their favorite part of the show is the song "Children of Eden." It's the last song of the first act, where almost the whole cast is on stage.
Will said he hopes people look at the show as more than just the Bible stories it tells.
"It talks more about the unity of others, and that people sometimes make mistakes," he said, "and making others pay for the consequences of a single person ends up being worse than what it needs to be."