Elizabeth Minchilli, who has lived in Italy for 25 years, has created a way for all of us to experience the country's special food events.
She shows us, in her latest cookbook, "The Italian Table: Creating Festive Meals for Family and Friends," how to replicate Italian food culture in chapters like Sunday Lunch in Emilia-Romagna, Farm to Sicilian Table, Panini Party in Umbria, and A Table by the Sea in Positano.
Because Minchilli's background and interests also include style and architecture, she tells us not only what to drink and eat but also how to create the tablescape as well.
As an example, her Pizza by the Slice in Rome calls for "for the authentic pizzeria al taglia vibe, use plastic or – more sustainable – paper."
Minchilli, who is from St. Louis but moved to Rome with her parents when she was 12, developed a passion for the all things Italy – she even married an Italian man and, in her words, had an Italian baby, an Italian house and an Italian dog.
"That was after I returned as a graduate student to study Renaissance garden architecture in Florence," Minchilli says when I talk to her via Skype to Rome.
As we talk, I discover I already have one of her books, "Villas on the Italian Lakes," that someone gave me years ago. I still leaf through it to marvel at all the wonderful photos.
Minchilli is one of those people who seems to do it all, she's written nine books (including "Restoring a Home in Italy"), takes all her own photos, writes an award-winning website (www.elizabethminchilli.com), developed the Eat Italy app, offers food tours to culinary destinations, and posts on social media.
She tells me her love for food began when she was given one of those easy-bake ovens as a kid.
"I became the cook of the family," she says.
"The Italian Table" is her ninth book.
"I'm really happy about it," she says. "This is really the book where I can bring everything together – the food, the people who make the plates, what is surrounding us, the whole experience."
She was motivated to write the book after being questioned regularly about Italian food and dining. To showcase that, she decided to highlight 12 dinners – photographing and writing about them in real time, as they were being planned, cooked and served.
"I wanted people to know how Italians really eat, and I decided to do that by meals in different areas and then narrowed it down by going deeper into how it all comes together," she says. "I set it up so you can go through the cookbook and decide what you like."
She's also included a time table and what to do before and after guests arrive. And there are ways to lessen the cooking load for the more intensive, elaborate dinners.
"Food is about being social and sharing," Minchilli says. "A lot of people are scared to have people over, and so I wanted to take fear out of the equation. That's why I give people a game plan by telling people when to shop, when they should set the table, and also how far ahead to do things so there's less to do at the last minute. It reduces the stress and fear, and makes it more approachable."
The following recipes are from "The Italian Table":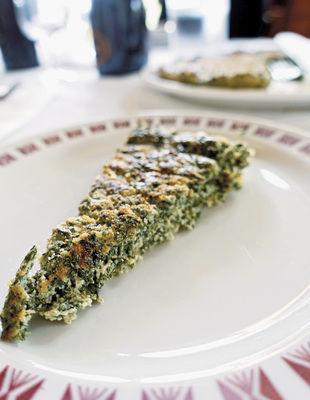 Torta di Spinachi
(Spinach Tart)
About 2 pounds spinach or other greens
4 ounces Parmigiano-Reggiano, grated
1 tablespoon marjoram leaves, or 1/2 teaspoon dried
4 tablespoons unsalted butter
Place the greens in a pot with about an inch of water, and cook over medium heat for about 10 minutes, until wilted. Drain.
When cool enough to handle, form the greens into a ball, and squeeze out every drop of moisture. You should have about 1 cup. Roughly chop the greens and set aside.
About an hour before you are going to bake the tart, place the ricotta in a fine sieve and drain it over a bowl to remove the excess whey.
Heat the oven to 350 degrees. Line the bottom of a 9-inch round cake pan with parchment paper.
Put the chopped greens in a clean bowl with the drained ricotta, whole egg, egg yolk, milk, 3 tablespoons of the olive oil, 3/4 cup of the Parmigiano, the marjoram, butter, salt and pepper. Mix well with a fork.
Pour the mixture into the pan, leveling off the top with the back of a spoon. Cover with the remaining olive oil and Parmigiano.
Bake for 50 minutes, until the tart begins to brown and is well set. Remove from the oven and let cool for 10 minutes. Loosen the sides with a knife and, using an offset spatula, turn it out onto a serving platter. Serve.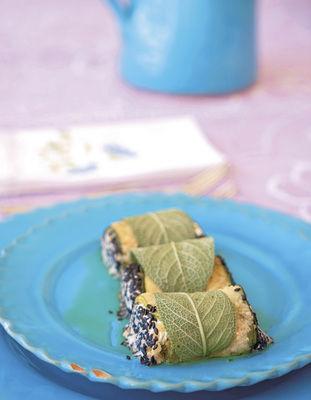 Rotolini di Zucchini con Ricotta
(Ricotta-Stuffed Zucchini)
4 medium zucchini, trimmed
2 tablespoons extra-virgin olive oil, plus more for drizzling
1 bunch mint, leaves only
Fresh sage or basil leaves, for garnish
Heat the oven to 350 degrees.
Using a sharp knife or mandoline, cut the zucchini lengthwise into 1/8-inch-thick ribbons. (You should end up with at least 12 full-length, unbroken ribbons.)
Place the zucchini in one layer on one or two baking sheets. Season them with 1 tablespoon of the olive oil, half of the mint, and salt to taste, and bake them for about 10 minutes, until just tender.
Remove from the oven and let cool completely.
In the meantime, place the ricotta in a medium bowl with the remaining tablespoon of olive oil and the rest of the mint, roughly chopped. Using a fork, whip it until smooth and creamy.
Place about 2 tablespoons of the ricotta mixture on each strip of zucchini and roll it up.
Place the poppy seeds in a shallow bowl. Dip both flat ends of the rolls in the poppy seeds, coating the ricotta.
To serve, place two or three rolls on individual plates. Garnish each roll by placing a sage or basil leaf on top and tucking the ends in so that it follows the curve of the roll.
Drizzle with your best extra-virgin olive oil, and serve.
Radicchio with Pancetta and Parmigiano
4 heads radicchio di Treviso, leaves separated
30 thin slices of pancetta, about 1/2 pound
Sea salt and black pepper
8 walnuts, shelled and roughly chopped
4 ounces Parmigiano-Reggiano, grated
Heat oven to 325 degrees.
Line a baking sheet with parchment paper and lay the radicchio leaves on top. If some of the inner leaves are very small, you can put two together to make a larger base.
Fry half the pancetta in a nonstick skillet over medium heat until it has released its fat a bit. Don't let it burn.
You won't need any oil, as the pancetta should be pretty fatty. This may need to be done in a few batches. Each batch should take only a few minutes.
Season the radicchio with salt and pepper, and drizzle with olive oil.
Distribute the cooked pancetta on top of each leaf, then add the chopped nuts and sprinkle with the Parmigiano.
Wrap each stuffed leaf with a slice of uncooked pancetta. Bake for about 20 minutes, until pancetta around the outside is cooked and beginning to sizzle. Serve immediately.
Jane Ammeson can be contacted via email at janeammeson@gmail.com or by writing to Focus, The Herald-Palladium, P.O. Box 128, St. Joseph, MI 49085.