ST. JOSEPH — While Marty and Wendy Golob say Twin City Players has always been like one big family, the final show of TCP's 2018-19 Mainstage Season truly encapsulates that family-feel.
"The Addams Family: A New Musical Comedy" opens Friday night for a 12-date run that ends June 30.
"There's the family on stage, the family backstage and the family in the audience," Wendy Golob said. "It really transcends all of those elements, and I think that's what drew us to it. It rings true with what we like to do."
Co-directors, and husband and wife, Wendy and Marty Golob fell in love with "The Addams Family" when they saw it in Chicago before it hit Broadway. They said they knew they needed to stage the musical one day.
"It's kind of a blend of the television series, the movie and new stuff to freshen it up," Wendy Golob said. "The basic premise is multiple love stories. The main one being that Wednesday has grown up and has fallen in love with a very normal boy, Lucas. They have gotten secretly engaged, and tonight is the night the parents are going to meet."
She said Lucas doesn't really know what he's getting into. The show is about what happens when all of these people get together, and how it changes their relationships.
"And mayhem ensues," Marty Golob added. "It's really about the relationships. The four couples, but then the inner play between the brother/sister, the mother/daughter, the father/daughter."
He said a touching moment in the show is when Gomez Addams sings a song about his daughter, Wednesday, growing up and going away.
"Ours is getting married next year, and she's playing that role, and I sit there getting choked up watching the song," Marty Golob said.
"There should not be a dry eye in the place when they do that," Wendy Golob added.
Janine Golob, who plays Wednesday, said watching TV Land growing up and seeing the show in Chicago with her parents really inspired her to audition.
"It's been a while since I've been on stage," she said. "So I thought, I like the people here, I like the story, what's the worst thing that could happen?"
"Your sister is your mother," Juliet Golob chimed in.
Juliet Golob, Janine's sister, plays Morticia Addams, Wednesday's mother.
Juliet Golob said when she auditioned, she was actually more interested in playing Wednesday.
"I didn't think of Morticia as being an option, but when they offered it to me, I was super excited because she's obviously been one of my huge role models in life," she said. "Like her and Gomez's relationship should be a role model for everyone. Just being able to embody that onstage and being that role model has made me very happy."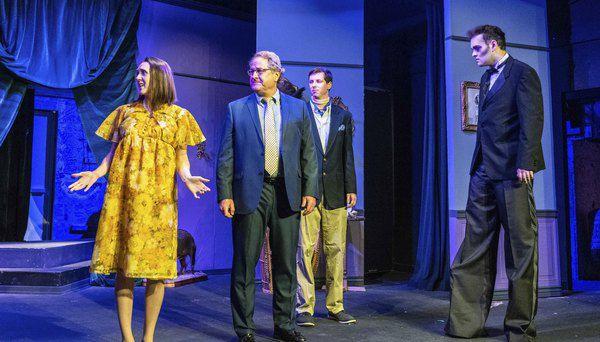 Marty Golob said besides his wife and three children being in the show – his son, John Golob, portrays Pugsley – there's Dave La Fleur, who plays Uncle Fester, and his wife and daughter, along with two families of five and a husband-and-wife duo.
"We've been here so long. It's a norm here. If you're here, your kids are playing in the aisles," he said. "And the audience becomes part of that family for the two hours that they're here."
Marty Golob said there really hasn't been anything difficult about staging this show.
"I wish it were tricky," he said. "The right people showed up to audition, and they figured out how to fit all that has to happen onto the tiny Twin City Players stage."
Wendy Golob said what's going to be interesting about the production is that audience members are going to expect a certain look to the cast members.
"That's the curse of doing a show that everybody knows," she said. "We aren't necessarily going to give them all of the typical caricatures because the people we found to do some of the parts are the right character for it. They might not visually look like it, but they will take you there immediately."
For example, Fester isn't short, round or bald.
"But you'll know it's Fester because Dave La Fleur, who plays Fester, has become the character," Marty Golob said. "And we have such a tall cast that we had to put our Lurch on 16 inch stilts so he looked imposingly tall to everybody."
Josh Bennett, who plays Lurch, said he tried out for the role not thinking he would get it.
"There were plenty more tall guys in this cast – Jacob – but I really like the role of Lurch for comedic value," he said. "I won't give too much away, but it just fit my voice, and once I figured out I'd be 'brought up' as the character, I thought that was very fun."
Jacob Holmes, who plays Lucas, said he's on the play-reading committee for TCP and has been excited about this show for a long time.
"The characters are just absolutely off the wall, and you throw in this totally straight-laced family into the mix, and that's just a recipe for hilariousness," he said. "One thing I really like about this show is, as I was examining it for us to do here, it was at the same time exactly what I expected, but there were also moments where it subverted my expectations."
He said it's a great opportunity to have a lot of fun on stage.
"And I think that's why we all do what we do here. We just want to have a good time," Holmes said.
The cast members were mum about what their absolute favorite part of the show is because it's just so funny, they said.
Holmes said his favorite part is the Act 1 finale.
"Both the families are gathered at the dinner table and are playing a game where the participants are pretty much forced to reveal their deepest darkest secrets, and everything goes about as wrong as you'd expect," he said. "Just so much happens, I feel like I have to go through that scene so many times to get used to not laughing on stage because it's so funny."
Assisting the directors are tech director Scott Bradford, choreographer Jana Tahtinen and costumer Julie Smiy.
Other cast members include: Jim Richards, Ariel Higgins, David Goodyear, Caitlin Sampsell, Mike Cooke, John Crumb, Dennis Higdon, Ellen Higdon, Beth La Fleur, Helena L., Allen Pille, John Rogers, Faith Schroeder-Smith, Annibelle C., Caelyn C., Emberly T., Madison C., Riley Cole and Wendy Tarantino.