ST. JOSEPH — For artists and spouses Jon Hook and Andrea Peterson, it's important to talk about the environment.
"Any sort of conversation around the world we live in is a good one," Peterson said.
The La Porte, Ind., duo was in St. Joseph on Tuesday installing their works, "Inhaling the Universe," at the Krasl Art Center. The exhibition will be on display Friday through Sept. 29.
"We wrote a proposal to the Krasl, and we were accepted," Peterson said. "We wanted to create an exhibit where we were collaborating with, and inspired by, the environment to create the works. ... We wanted to have these larger statements to really try to bring people in to talk about what's really happening in our environment, or just the love for it and profound beauty."
"Inhaling the Universe" includes drawings, sculpture, cyanotype and custom prints – all exploring the passage of time and life cycles in the natural world.
Hook said he and Peterson use different processes for their pieces, but they still feed off each other.
"I've got to take plant ash and wood ash and wash it in a bucket of water to get the alkalinity out of it," Hook said. "When that ash settles, that water is a pH 11, and Andrea can use that to cook fiber. And she's making paper from plants, I'm burning those similar plants to make glaze. So there's a lot of symbiosis going on. We're both kind of working with everything around us."
He said right now they've been fighting over the use of some straw bales.
The two have their studios next to each other, so they can work together creatively, too.
Peterson said it's common for her to ask Hook to look at something of hers to let her know what he thinks.
"We're each other's critiquer and respond to each other very quickly because we have that other person, and we respect their opinion, and each other's work," she said. "We understand each other's work to a certain extent because we both have the same underlying love for the same things."
One of those things is the environment. Using the environment to create "Inhaling the Universe" was something for which the couple had to do a lot of planning. For example, they had to wait until certain plants grew to a particular height.
"With these logs, there's a timing that goes on with them being outside and being rained on to the point that they're dry or even aged enough," Peterson said. "Just physical tech things that when you start planning the works – things have to happen outside or partially outside – you're working with whatever the outside gives you: sun, rain, snow, hail."
The exhibition dwells on all topics of the environment.
"Like understanding how a milkweed plant grows, to toxic pools in our country, to even things that happen, like all the water we've had recently," Peterson said. "What would we do in their shoes, or how does this function? How can we think about this, and how do we think about this? I think there's so many stories out there that come to play as we review where we live and how we think about where we live as a place." 
Hook said it's also about how all of it's interconnected.
Some of his pieces are about mushrooms.
"I'm really fascinated that the mushrooms are a fruit body that's part of a huge network that's all invisible," he said. "It travels for miles all over. It has a life force, where when something decays, another grows. It keeps it moving."
Peterson said what she wants people to see and engage in things in a different way at their exhibit.
"We want people to explore like we explore the woods, and move through the wonderment of the natural world," she said. "And maybe have a little bit of a different relationship with the place they call home, or where they live or the plants in their backyard. Or even if it's a window box off their apartment patio. There's a relationship with the plants and soil and the sun and the rain. All of that is important."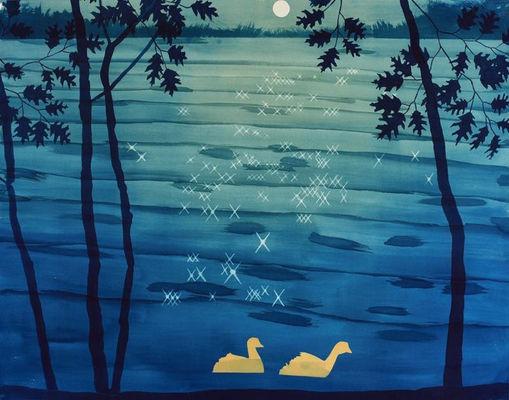 In the artlab
Artist Casey Roberts will be featured in the KAC's artlab gallery during the same time.
An Indianapolis-based artist, he uses a photographic process called cyanotype to create ethereal images of wildlife and landscapes. This Civil War-era process renders a vibrant blue image when developed in sunlight.
Roberts' work represents nature's subtle way of dealing with human interactions.
He paints with this light-sensitive medium directly on paper or canvas. With everyday items, such as baking soda, bleach and peroxide, Roberts achieves a range of colors and textures through controlled chemical reactions. The process is repeated, adding many layers until the image is fully realized, often finishing with watercolor painting or collage.
"My work is synonymous with a fairy tale; the paintings are dark, yet humorous," Roberts said. "Animals play a leading role, and the work blends together to form a narrative. There's a moral of the story, one that hints at humans' relationship with nature with a knowing wink. There is an intuitive wisdom in nature."