ST. JOSEPH — Some artists approach their artwork with a plan. For others, their work creates itself. For most, however, it's a combination of the two.
Those different creative styles all will be recognized in the Box Factory for the Arts' "Series 5 Art Exhibition," which opens Friday. The exhibition features the works of Susan Teague, Erica Roberts, Marcy Mitchell, Jennifer Zona and Turtel Onli.
Teague said her exhibit, "Goddesses Galore: You and Me Sister," celebrates the contemporary woman, validating her spectacular humanness as a champion in her everyday story, and recognizing her core essence as a universal goddess.
In started around 2010, with a huge box of tissue paper from a friend.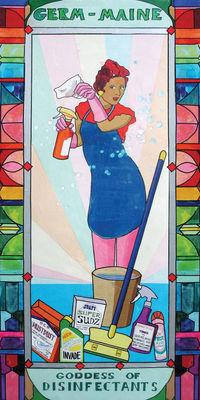 "I didn't know what to do with it," she said. "Until one day I was playing around with it and found out it layers really well and looks like it could be a stain glass window or paint."
So she took one of her old pieces and redid it in tissue paper. She ended up making seven more goddesses.
She came up with Dye-Anna: The Goddess of Gray Hair, Germ-Maine: The Goddess of Disinfectants, Robin: The Goddess of Bird Lovers, and others.
Ripley's Believe It Or Not museum in Orlando, Fla., liked her pieces so much they bought all of them.
"Years went by and they were so popular I thought I'd make more and write a book about them," Teague said. "We don't always know the end story of what we're creating and why we're doing it because it always has multiple levels."
She said even though she was making these fun pieces, something on the inside was going much deeper.
"It was telling a story about women I hadn't discovered yet," Teague said. "It was telling a story of the roles women have played in the past and present. How that has changed? How she in her own right as a divine feminine is a champion in her own story."
She said she wants women to recognize that from her pieces and see the beauty and strength of where they came from.
Twelve of the goddesses in her exhibition are new ones she's created since March. Four others she recreated from the one's Ripley's purchased.
Teague shares the Robert R. Williams Gallery with Roberts of St. Joseph. Roberts and Teague decided their works fit together well because they both explore feminine power.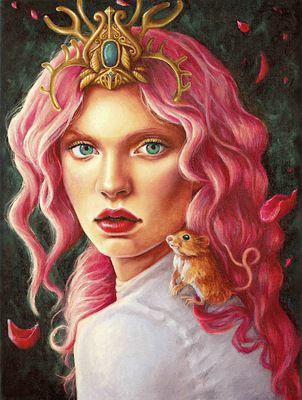 "I always hope people feel empowered when they see my work," Roberts said. "So a lot of my pieces and characters have a confident air, and so I'm hoping people can project themselves into the characters that I've painted, and they can also feel that strength and feel themselves overcoming what the characters have overcome."
Roberts incorporates saturated, bold tones using oils and dichroic glass glazes to paint confident women and their spirit animals.
"My pieces all fit sort of a fantastical style," she said. "My sister is a writer, and my entire life I've really looked up to her a lot. She writes mostly fantasy stories and together we have just been into the genre. So I realized after a while, a lot of my pieces fit the structure of 'The Heroine's Journey.'"
She said the book, by Maureen Murdock, breaks down story structure, and her claim is the heroine's journey is inherently different than the heroes journey because women are inherently different than men.
"If you take a female character and try to drop it into the same archetypal story of 'the Hero,' it doesn't work, and there are glaring issues with that," Roberts said. "And I feel like a lot of the time women feel like they're that female character that has been dropped into a male's story and things aren't working, and there's a lot of dissonance in that."
She said her pieces are individually their own story of a heroine's journey, but also all fit together.
"A heroine always has a happy ending, so I want everyone to see that they can make their own happy ending and take on whatever life's challenges are," she said.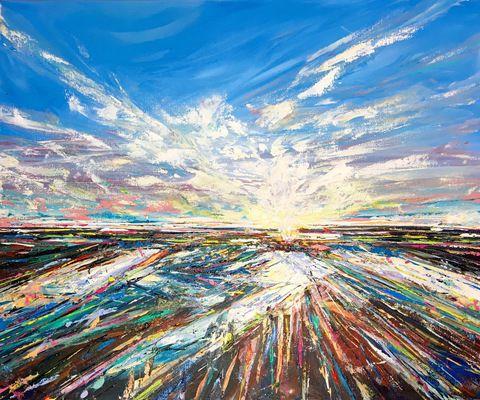 Downstairs at the Box, Mitchell's landscapes hang in the Riverwalk Gallery. Her exhibition, "Liminal Spaces," focuses on the spaces in between.
"I have an imagination," she said. "When I see the light change from the clouds over the lake or the fields, and see the shimmer in that split second where the colors seems to change, I try to capture the movement and the light shifting with each piece."
Mitchell said some of her pieces are based on reference photos and others she uses her imagination.
"Each one tells a story," she said. "And each time I paint, I let it evolve organically. Every time I have a concept in my head, the paint in my hand decides to do something completely different. So I've just learned to go with it and let it evolve as it will."
Mitchell, who grew up in Watervliet and Lawrence and now lives in Dowagiac, draws inspiration from places she's been, including the four years she lived in Scotland.
She said she tries to put her style into each piece, but she realizes that not everyone likes the colors that "wake you up."
"So I try to incorporate different color schemes. It's also a challenge to change my pallet, push the boundaries," Mitchell said. "I just intuitively grab paints, put them on the palettes and see what I can come up with."
Mitchell shares the Riverwalk Gallery with Zona of Berrien Springs.
Zona's exhibit "The Birth of Chaos" is a grouping of objects that are all made with clay and inspired by her passion for women's health.
While working on her artwork for the exhibition and finding many pieces developing into the shape of an egg, Zona found herself being influenced by current actions in a number of states working to pass abortion bans.
"I guess I am a 'feminist artist' because I care about women's health," she said. "I do not believe that these old white men have any rights making laws about women's bodies. Where and why are there not laws on men's reproductive rights?"
Part of her body of work for this exhibition also focuses on her feelings regarding the national debate on gun control and school safety, inspired by the 20-year anniversary of the mass shooting at Columbine High School.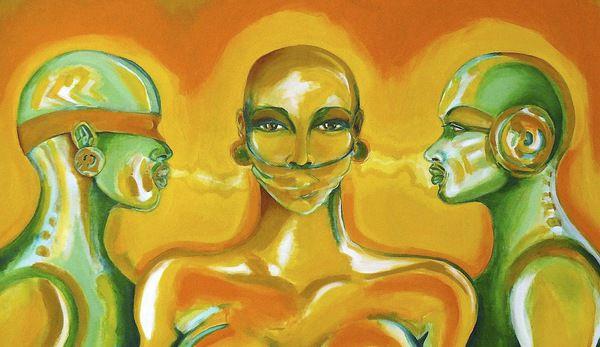 The Heartha Whitlow Gallery features the artwork of Chicago's Onli.
Onli is a creative artist whose career has touched on a variety of disciplines in fine and applied visual art. He has been an art therapist, educator and illustrator. He also has distinguished himself in painting, drawing, illustration, publishing, fashion and multimedia production.
He is known for having coined the term "Rhythmistic" in the 1970s to interpret his stylizations, which fuse primitive and futuristic concepts.
Onli's exhibition, "Rhythmistic Smorgasbord," features artwork from various bodies of work he has created over the years.
"My practice is as such that I tend to generate a stream of art focused around a central theme," he said. "Though largely figurative with non-objective expressive abstractions, the themes are 'No Evils,' 'The Health Giving Watermelon,' 'The Metaphysical' and 'The Illustrative Narrative.' My hope is to connect the viewer to aspects of my practice that is future-primitive in nature while open to appreciation and dialog along traditional and nontraditional pathways."