ST. JOSEPH — Aaron Harris, owner of Molino Tortilleria with his wife, Christie, wants to have a conversation about tortillas. But not just any tortillas.
He doesn't like the ones you can buy in the supermarket, or the ones you might find in Mexican restaurants.
He wants to go back to the old-fashioned way of making tortillas. For him, that means importing non-GMO heritage corn varieties from milpas – small farms in Oaxaca, Mexico.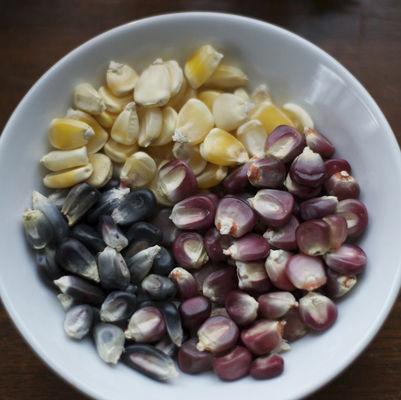 The end results are the Harrises blue corn tortillas made from heirloom Blue Bolita Corn, red corn tortillas from Bolita Belatove corn and yellow corn tortillas using Ollotillo Armarillo corn, which they sell them at the St. Joseph farmers market on Saturdays.
The tortillas are somewhat thicker than most people might be used to, and the taste is rich, flavorful and slightly chewy.
"It's the difference between fresh-squeezed orange juice and orange juice from concentrate," Aaron says. Or between store-bought white bread and artisan baguettes.
They import the corn kernels through Masienda, which visits the milpas and contracts with the farmers. Then, they make their tortillas by hand with the help of Ethan Estes, Christie's 14-year-old son.
"The corn is already dried, sorted, packaged, comes in sealed bags, so it's fresh," Aaron says. "When we get the corn, we use a process called nixtamalization, where we cook the kernels and then soak them overnight in a solution called cal, which is powdered lime minerals.
"When you cook the corn," he says, "it kills 98 percent of the toxins that are in the corn, and infuses it with many vitamins and minerals, and releases trapped niacin. A lot of people call it the original super food because tortillas made like this contain an almost complete amount of nutrients.
"After soaking, we wash the kernels to remove their shells and grind them using real volcanic stones," Aaron says.
The result produces masa. It's mixed with water to make a thick dough, chunks of which are flattened and pressed – again by hand – to create tortillas. Masa also can be used for tamales, sopes and tortilla chips.
"Nixtamal corn has many health benefits when compared to untreated corn," Aaron says. "It removes toxins, imparts calcium, activates amino acids and vitamin B3 while also freeing trapped niacin found naturally in the corn, allowing our bodies to absorb the nutrients more readily."
Aaron grew up in Detroit and then lived in Chicago for 10 years. There, he was a consultant in the screen printing industry, working with companies to learn techniques and improve efficiencies. It's a job he says he was good at, but he didn't feel passionate about what he was doing.
"As a husband and father, I wanted to provide," he says. He and his wife also have a 4-year-old. "And so, when my wife, who is gluten intolerant, told me she was tired of cooking, I told her I'd take over for a week."
Going back to the kitchen rekindled his love of cooking and many memories.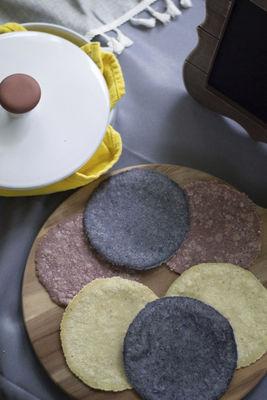 "I started to realize that food was always the center of it," says Aaron, who learned to cook from his Mexican grandmother. "You can just feel it when someone puts their heart and soul in the food. My mother was like that. She cooked with my grandmother, and even though she wasn't Mexican, people in our family said she was the best Mexican cook among us. When I started to cook, it really clicked. I wanted to make my wife the best taco ever, and where does that start? With tortillas."
There was a problem, though. He looked around for local tortillerias (a tortilla bakery that makes fresh tortillas) and there were none outside of Grand Rapids and Chicago.
"I'm a maker, so I decided to read about how to make a traditional corn tortilla, and was lucky to stumble upon Masienda and nixtamalization," he says. "Most mass-produced tortillas sold in this country are made using a hybrid method that dries the corn and grinds it into a powder in order to extend the shelf life, making transporting and selling the product to mass markets easier. But the loss of nutritious elements and flavors was too great for us to ignore."
Soon they were grinding the imported heritage corn on a hand mill to make their own tortillas, working to perfect fresh corn tortillas like the ones available all over Mexico.
From there, with the encouragement of friends who loved the taste, the couple opened their business on May 25.
Each week, they make Mexican-inspired pastries, such as conchas (a Mexican sweet bread) and polvorones (Mexican wedding cakes). And, of course, tortillas.
They make 1,000 by hand, and sort them into packs of 10 for the market – usually selling out before the end of the day. That's why they have a preorder form, so customers can be sure they'll get some.
Currently, the Harrises are planning to open a brick-and-mortar tortilleria in the Benton Harbor Arts District, and hope to have a little café there, too. They're still working on the lease, but if all goes well, the couple hopes to be open by mid to late fall.
In the meantime, they're trying to keep up with demand and work with local farmers and the state on growing corn specifically for tortillas, hoping to establish an all-Michigan-made non-GMO tortilla.
They also are partnering with local restaurants and food trucks. At Water & Wheat Cafe in Coloma, they joined a class on cooking jackfruit, supplying fresh tortillas for their vegan version of an Al Pastor Taco, which every attendee receives.
They team with Lake & Farmer food truck to bring farm-fresh tacos to locations and events throughout Southwest Michigan.
They joined up with The Sovengard, a farm-to-table restaurant in Grand Rapids, during its "Late Night Street Food Series," featuring street foods from Mexico. They supplied masa for tamales, and pressed fresh tortillas for the event.
The family doesn't just make tortillas, they eat them with almost every meal. There's scrambled eggs wrapped in tortillas most mornings. For lunch, veggie tacos are filled with whatever is fresh and on hand, such as chopped zucchini, asparagus and peppers, sautéed and seasoned.
At dinner time, Aaron might braise a chicken to shred for a filling, and he says he makes a very good braised Brussels sprouts-and-bacon taco.
"The only ingredients in our tortilla are water, corn and a trace of lime," he says. "They're very clean and pure just, like the Mezo-Americans made it millenniums ago."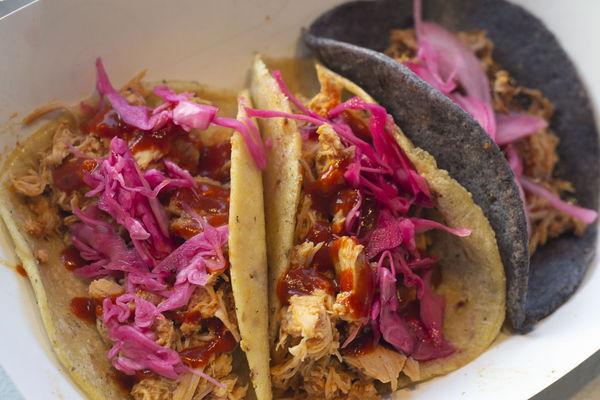 Easy Grilled Chicken Tacos
1 pound boneless, skinless chicken thighs
2 tablespoons orange juice
1 tablespoon chipotle chili powder
1/4 teaspoon black pepper 
Marinate the chicken in garlic, juices, olive oil, spices and salt for 3-24 hours. The longer the better.
Remove the chicken from the marinate and discard the liquid.
Grill on medium high, on a grill or pan, for about 6-7 minutes on each side, or until internal temperature reaches 165 degrees.
Let chicken rest for 10 minutes before chopping. Serve on warm corn tortillas with cilantro, white onion and lime juice.
– Recipe from Aaron Harris
Jackfruit Al Pastor Tacos
1 (8-ounce) can young brined jackfruit
1 medium yellow onion, sliced
1/2 teaspoon dried oregano
1/4 teaspoon black pepper
1 teaspoon ancho chili powder
1 chipotle in adobo, chopped, about 1 1/2 tablespoons
1 teaspoon crushed garlic (1 large garlic clove)
1/3 cup pineapple tidbits in juice
In a frying pan, sauté the jackfruit and onions in oil and dried spices (except for salt).
Blend or mince chipotles and garlic, and add them to fry pan. Add pineapple, lime, salt and pear syrup. Let simmer and stew for 30 minutes. Serve hot in warm corn tortilla.
– Recipe from Water & Wheat Cafe Chef/Owner Josh Musinski