Brittany Williams has been up since 4:30 a.m., but when I talk to her on the phone late in the afternoon, she sounds as perky as can be.
It's not bad for a woman with three children who runs a weight loss business and has just written her fifth cookbook, "Instant Loss, Eat Real, Lose Weight: How I Lost 125 Pounds – Includes 100+ Recipes."
It's even more impressive because two years ago, Williams, a stay-at-home mom who was schooling her children, weighed 260 pounds.
"It was a paradigm shift for me because I used to be a serial dieter," Williams says. "My parents would take me to Weight Watchers, they would try to bribe me with pets and all sorts of things, but it never lasted. I wanted to lose weight, but I figured that I can eat this or that and diet tomorrow."
As most of us know, that really doesn't work. But it was her plan, and she was sticking to it, even as the numbers on her scale continued to rise.
"I was consuming like 3,000 calories a night and sending my husband out for fast food," she says, noting she'd binge on food while binge-watching TV.
She might have continued on this path for longer, but then she learned her daughter had an inflammatory autoimmune disease.
"I started researching and trying to find ways to help her," Williams says. "And I started her and the other children on a special diet. They were so young. It was easy to do."
But she didn't change what she ate and instead hid her food choices from her children. That is, until she was busted, and her oldest found her hidden junk food stash.
"I realized I was taking care of my daughter's health, but I wouldn't take care of myself," she says. "I accepted eating badly for myself, but I wouldn't do that for my kids. It made me realize that I had to love myself as I do my kids and not be reckless with my health."
This time, Williams stuck with her decision. She began making healthy dinners every night, not just for her family but for herself, too – no more processed food.
"I had been spending too much time on social media and watching re-runs of 'Friends,'" she says.
Williams didn't do away with all her social media habits. She began creating healthy recipes, and posting them on Facebook along with how much weight she was losing.
"I randomly decided to start sharing my recipes on Facebook, and I soon had 20,000 followers," she says.
She also was cueing in on another up-and-coming trend: the Instant Pot. She says she started using it when Instant Pot only had 15 Facebook followers online, and her recipes were a hug success.
Before long, she had 200,000 followers on Facebook. However, because of how Facebook is configured, her followers couldn't always locate her recipes, and they asked her to start a blog. So she did.
Asked if it was hard to come up with new recipes all the time, Williams says it wasn't. She also writes songs, and like her music, the recipes just come to her.
Within three months of using the Instant Pot, she had lost 46 pounds – not by dieting, just by eliminating processed food. She also was spending just $150 a week on food to feed her family of five.
"When I first started the blog, I had 52,000 people on the website that first day," Williams says.
And it just continued to grow, ratcheting her life to crazy heights. Her husband, an electrical engineer, worked for a defense contractor and was often gone for a week or two at a time. So Williams was home 24/7 with three kids, cooking dinners and working on her blog. She'd put them to bed at 7 p.m. and worked from then until 3:30 a.m.
"Then I'd sleep until 6:30 a.m., and then get up and start the day all over again," she says. "I was also working on a cookbook. After six months I told my husband something has to give – my job or your job. He said, 'If we have three months more with you earning more than me, then I'll stay home with the kids.'"
And that's what they're doing now. Williams says her husband enjoys his time with the children, and also helps her with her business, which includes more than 91,000 Instagram followers, 100,000 blog followers and more than 50,000 Facebook followers.
It isn't always easy going, though. There's a weight gain here and there, but then she gets back in the groove.
"I think there were two main things that keep me on track," she says. "I'm making an investment in my future and keeping myself healthy for my family. It's like paying bills, I don't want to pay that mortgage, but I know I have to. The same with food. Also, I know now that I need to stick to it. I used to wait until I was motivated, but you can't do that because no one is motivated all the time."
The following recipes are courtesy of the just-released "Instant Loss, Eat Real, Lose Weight":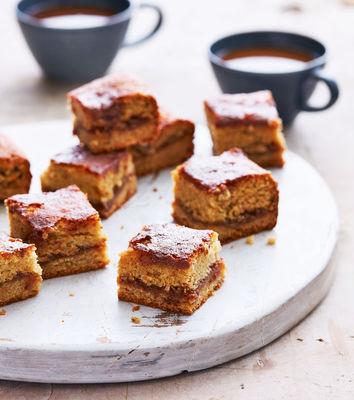 Cinnamon Toast Bars
Coconut oil cooking spray
2 1/4 cups tightly packed superfine blanched almond flour
1/2 cup raw honey, divided
1/2 teaspoon fine sea salt
1 tablespoon ground cinnamon
Heat the oven to 350 degrees.
Lightly grease an 8-by-8-inch baking dish with coconut oil cooking spray.
In a large bowl, combine the eggs, almond flour, 1/4 cup of the honey, the avocado oil, baking soda and sea salt, and stir with a spoon until well combined.
In a small bowl, combine the remaining 1/4 cup honey with the cinnamon.
Evenly spread half of the dough across the bottom of the prepared baking dish. Spoon half of the honey mixture over the dough. Evenly spread the remaining dough over the top, then cover with the remaining honey mixture.
Bake for 28 to 30 minutes, until the edges have browned, and the top is golden. Let cool for 5 to 10 minutes, then cut into 16 bars, and serve.
Store in an airtight container at room temperature.
Creamy Garlic Chicken Alfredo
1/2 medium yellow onion, diced
1 1/2 pounds skinless chicken breasts, cut into 1-inch cubes
1/2 teaspoon fine sea salt
1/4 teaspoon ground black pepper
1/2 pound Portobello mushrooms, wiped clean and sliced
1 pound gluten-free pasta
2 tablespoons unfortified nutritional yeast
2 teaspoons fine sea salt
Ground black pepper, to taste
Heat an electric pressure cooker using the saute function.
Add the onion and avocado oil to the pot, and cook, stirring, until the onion becomes fragrant and translucent, about 3 minutes.
Season the chicken with sea salt and black pepper. Add to the pot, and toss with the onion. Cook, stirring, until the chicken is almost cooked through, about 5 minutes. Stir in the broccoli and mushrooms.
Place the lid on the cooker and make sure the vent valve is in the sealing position. Using the display panel, press the cancel button. Select the manual/pressure cook function and high pressure, and use the +/− buttons until the display reads 1 minute.
While the chicken is coming up to pressure and cooking, bring a large pot of water to a boil, and cook the pasta according to the directions on the package.
For the Alfredo sauce: Place all of the ingredients in a high-powered blender. Blend on high until the sauce begins to steam and becomes thick, about 8 minutes. (If you do not have a high-powered blender, you can blend this in a regular blender and then warm it on the stovetop over medium heat, whisking constantly until it thickens.) Set aside.
When the pressure cooker beeps to let you know it's finished, let the pot naturally release pressure until the display panel reads LO:15. Switch the vent valve from the sealing to the venting position. Use caution while the steam escapes.
Toss the pasta with the sauce, and serve.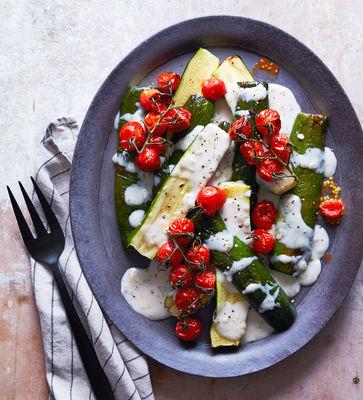 Roasted Zucchini and Tomatoes with Creamy Garlic Sauce
8 small zucchini (about 2 pounds), ends trimmed
2 tablespoons extra-virgin olive oil, divided
1 1/2 teaspoons fine sea salt
1 medium yellow onion, diced
3 tablespoons arrowroot flour
1/8 teaspoon ground black pepper
1 cup Hemp Milk (see recipe below), or almond milk, or other milk of choice
1 cup canned full-fat coconut milk
Brush the zucchini and cherry tomatoes with 1 1/2 tablespoons of the olive oil, then sprinkle with 1/2 teaspoon of the sea salt.
Place inside a 5.3-quart air fryer basket, and bake at 400 degrees for 15 minutes, turning the zucchini and tomatoes over halfway through, until tender.
Heat a large cast-iron skillet over medium-high heat.
Once the skillet is hot, add the remaining 1/2 tablespoon olive oil and the onion and cook, stirring, until the onion begins to soften and become translucent, 2 to 3 minutes. Add the garlic, arrowroot flour, remaining 1 teaspoon sea salt and the black pepper, and mix to combine.
Add the hemp milk and coconut milk, and cook, stirring continuously, until the mixture begins to bubble and thicken. Continue to cook and stir for 3 to 5 minutes, until a thick sauce forms.
Remove the pan from the heat. If you like a smooth sauce, transfer to a blender and blend on high until smooth.
While the zucchini is still inside the air fryer basket, use tongs to squeeze out any excess water. The zucchini should flatten a bit. Place two zucchini on each plate, top with the garlic sauce and cherry tomatoes, and serve warm.
Hemp Milk
1 1/2 teaspoons 100 percent pure maple syrup
1/8 teaspoon fine sea salt
Combine all of the ingredients in a high-powered blender. Blend on high until there are no remaining pieces of hemp hearts, 1 to 2 minutes.
Strain the hemp milk through a nut milk bag or piece of cheesecloth, wringing well (see note). Store the hemp milk in a glass container in the refrigerator and use within 5 to 7 days.
Note: Compost the leftover hemp pulp or use it for an extra protein boost in your morning smoothies.
Whole Grain Sandwich Bread
3 tablespoons granulated sugar
2 teaspoons dry active yeast
4 cups gluten-free oat flour
1 tablespoon salted butter, plus more for greasing pan
1 1/2 teaspoons fine sea salt
Grease a standard loaf pan with butter.
In a bowl, combine the warm water, sugar and yeast, and let stand for 5 to 10 minutes. The mixture should bubble.
Pour the yeast mixture into a stand mixer and add the egg, flour, butter and salt.
Using the flat beater attachment, mix on medium speed for about 60 seconds. The dough mixture will be very wet.
Transfer the dough to the loaf pan. Let rise, uncovered, for 1 hour in a warm dry place, until doubled in size.
Heat the oven to 375 degrees.
Bake the bread for 40 minutes, until the top is lightly browned around the edges. Remove from the oven, and place on a rack to cool before slicing. Once cool, store in an airtight container or bag at room temperature for up to 3 days.
Jane Ammeson can be contacted via email at janeammeson@gmail.com or by writing to Focus, The Herald-Palladium, P.O. Box 128, St. Joseph, MI 49085.