COLOMA — Three years ago, Ashleigh and Don Heidelberg were living in the Detroit area and talking about what to do when they retired.
"It came down to either sell everything, buy an RV and travel around the country, or move here and help Ashleigh's family," Don says.
Here is Coloma, where the Heidelbergs now own Bob's Barn Farm Market, Café & Bakery.
It came down to whether or not to sell the market after Ashleigh's parents, Alinda "Lyn" and Ken Craig, retired. The Heidelbergs decided to take it over, and continue the family heritage that dates back to 1915, when Ashleigh's great-grandparents, Ada and Charlie Patterson, bought the farm.
It was passed to their daughter, Inez Benson, and her husband Bob. Inez established a farm stand on Coloma Road to sell their produce, attracting customers.
It's doesn't seem like much of a retirement for any of the family. Ken still assists, and Lyn, now 79, still helps bake during busy times. She'll be making her popular pie squares again this fall.
"People call her the pie square lady," Ashleigh says.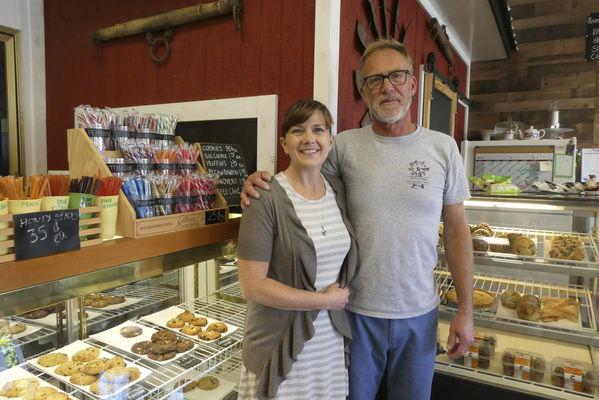 As for the Heidelbergs, they're now working in the market from 9 a.m. to 6 p.m. on most days.
"It feels great to be carrying on the family business," Ashleigh says as she makes a latte using freshly roasted and ground coffee beans.
That's one of the changes the couple has added since taking over.
"My parents used to have a coffee pot going all the time," Ashleigh says, "we added French press, cappuccinos and espresso."
A menu upgrade is part of the rustic/urban vibe they added when they remodeled the old barn their first winter of ownership. The polished barnwood floor, three-tiered stand-alone shelving for their food products and stacked wire baskets filled with vegetables add a sleekness. But they've also retained the cozy, farm-friendly ambiance from when the Craigs owned the store.
Tables remain covered with red checkered tablecloths where customers can drink coffee, enjoy a bite to eat or play dominoes or checkers.
Added to the homespun touch are a pickle barrel – selling fresh pickles – and antique red-and-white kitchen cupboards loaded with vintage dinnerware.
Highlighting the blending of new and old styles are episodes of "The Andy Griffith Show," "Petticoat Junction" and "Green Acres" looping continuously on the TV positioned above the front doors.
"There are like 13 seasons of 'The Andy Griffith Show,'" Don says. "You can watch it forever."
The Heidelbergs work hard to achieve a balance in what they offer. One thing the couple discovered is that long-time customers want their favorites.
As Ashleigh is telling me about a customer who loves the peanut butter cookies her mom made, she says, "That's him," as he walks in.
I ask him about the cookies, and though he doesn't want to share his name, he says he was very disappointed they weren't making them every day.
"So, I went over to her mom's and said something about it," he says with a laugh.
Visiting Ashleigh's mom isn't that big of a deal. The Heidelbergs and the Craigs both own houses next to the barn, but still it was a statement, and now the peanut butter cookies are a regular item.
I wish I could say I tried them, but the customer bought all they had in the display case.
"We listen to our customers," says Ashleigh, who, like her mom, will go out of the way to do custom baking. "That can get me in a little trouble. Like when I said I'd make 40 miniature peach pies for the Glad-Peach Festival this year. My mother said, 'Do you know how much work that is?' But we got them made, plus everything else we needed for a busy week."
Their new menu features paninis, five of which are named after their grandchildren, including Nev'a Leave out the Bacon and Just(us) Call Me Tom & Cheese.
There's always pots of freshly made creamy tomato basil and chicken noodle soup simmering. And specials are listed on a blackboard.
"Taco days are always big," Ashleigh says about one of their specials.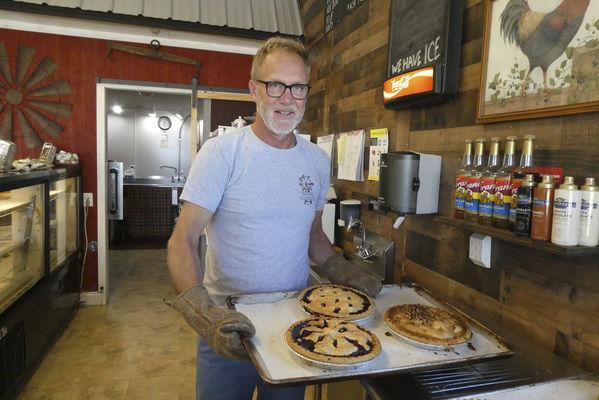 "Lunch time can be busy," Don says, "so we encourage people who are in a hurry to call ahead and we'll have their food ready for them."
The shelves and refrigerated cases are filled with an assortment of products. There's an emphasis on Amish products, such as the Amish-made hot dogs served at lunch, Troyer's thick-sliced bacon, and rolled butter.
"It's made from the first cream," Don says. "I love spreading thick layers of butter on our zucchini bread."
Pickled Beet Eggs, one of their big sellers, are made to their specifications and bottled by an Amish company under their own label, Bob's Barn Farm Market, Café & Bakery.
Other goods they sell under their label include different relishes, such as red sweet pepper and chou chou, jams like Muscadine, Christmas and Bluegoose, and such pickled items as sauerkraut.
Local items include Sweetfire Salsa (Benton Harbor), Nature Blessed concentrated juice and frozen fruits made in Coloma, maple syrup from the Poland Farm in Bangor and Choose Michigan Pickled Asparagus from Lawrence.
As we walk along the aisles, Ashleigh tells me they test each product line before they decide which ones to sell.
"Take Lesley Elizabeth Seasonings, they have great seasoning mixes and oils and recipes on their website, which is really helpful for our customers," she says about the company in Lapeer, Mich.
Ashleigh learned to bake from her mother, who is known for her ability to turn out flaky, rich pie crusts.
"I make 16 types of pies. Our bestsellers are the four berry – a mixture of raspberry, blackberry, strawberry and blueberry – the blueberry lemon buckle and strawberry-rhubarb," Ashleigh says, noting they source their fruit from local farms. "We also make fresh fruit turnovers."
The couple created what they call a fruit calzone – a flaky pastry crust filled with seasonal fruit.
I ask them if they wish they'd bought that RV instead.
"No, we're having fun," Don says.
---
Lyn Craig's Fresh Cherry Pie
4 cups fresh tart cherries, pitted; or frozen pitted tart cherries, thawed
1/2 teaspoon ground cinnamon
1/4 teaspoon ground nutmeg
1/4 teaspoon almond extract
3 to 4 tablespoons cold water
In a large saucepan, combine the sugar and cornstarch. Gradually stir in the cherry juice until smooth.
Bring to a boil, and cook and stir for 2 minutes, or until thickened. Remove from the heat.
Add the cherries, cinnamon, nutmeg and extract. Set aside.
In a bowl, combine the flour and salt. Cut in the shortening until crumbly. Gradually add cold water, tossing with a fork until a ball forms.
Divide the pastry in half so one ball is slightly larger than the other.
On a lightly floured surface, roll out the larger ball to fit a 9-inch pie plate. Transfer the pastry to a pie plate, and trim even with the edge of the plate. Add the filling.
Roll out the remaining pastry, and make a lattice crust. Trim, seal and flute edges.
Bake at 425 degrees for 10 minutes. Reduce the heat to 375 degrees, and bake for 45-50 minutes longer, or until crust is golden brown.
Ashleigh Heidelberg's Orange Scones
1 tablespoon baking powder
1/2 cup cold butter, cubed
1/2 teaspoon pure vanilla extract
3 tablespoons butter, melted
1 1/2 cups powdered sugar
1/2 teaspoon pure vanilla extract
2 tablespoons orange juice
Heat an oven to 400 degrees. Line a baking sheet with parchment paper.
Mix together the flour, sugar, baking powder, salt and orange zest, and cut in the cold butter cubes with a pastry cutter. Mix the dough until it is coarse and crumbly, and is the size of peas.
In a small bowl, mix together the egg, sour cream, heavy cream and vanilla extract. Mix with the dry ingredients, and stir until just combined.
Turn the dough out onto a floured surface, and pat into a 1-inch thick rectangle. Cut scones in triangles of desired size.
Brush the tops of each scone with heavy cream and bake for 15-16 minutes, or until golden brown.
While the scones are cooling, mix together the melted butter, powdered sugar, vanilla extract, orange juice and zest. Drizzle over the cooled scones.
Bob's Barn's Chicken Chili
2 tablespoons extra virgin olive oil
1 small can chopped green chilies
2 tablespoons horseradish
1 tablespoon Lesley Elizabeth's Wicked Good Salt Free Seasoning
1/4 teaspoon Lesley Elizabeth's Wicked Good Pepper
3 (15.5-ounce) cans navy beans
3 (15.5-ounce) cans Great Northern Beans
3 (15.5-ounce) cans pinto beans
1 (15.5-ounce) can white corn, drained
Cook and finely chop the bacon. Discard the grease, and set the bacon aside.
Dice the chicken breast, and cook thoroughly in the olive oil, adding the chopped green chili, bacon and horseradish and seasonings.
Open the cans of beans and corn, and place them in a Dutch oven. Once the chicken is browned and seasoned, pour over the beans and corn, and cook over low to medium heat for 20 to 30 minutes.
Serve with shredded cheese, sour cream, jalapeños and sliced black olives.