Sunday is Cinco de Mayo, a celebration of the Mexican army's unexpected win over the French in 1862 at the Battle of Puebla during the Franco-Mexican War.
Though it didn't keep France from occupying Mexico for several more years, Cinco de Mayo is still celebrated in Puebla, Mexico, but it's also, amazingly, really a much more popular holiday in the U.S.
Starting in 2014, according to Forbes magazine, Cinco de Mayo became the biggest non-winter drinking day of the year, and is also one of the top five drinking holidays in general with more than $600 million worth of beer being sold for the holiday – which is a lot more than the amount sold on St. Patrick's Day or Super Bowl Sunday, two other serious beer drinking events.
It's also a big day for avocados, with Americans consuming about 81 million pounds on Cinco de Mayo.
But this isn't going to be a column about beer and avocados. It's about a great new cookbook, "Cook Once Eat All Week: 26 Weeks of Gluten-Free, Affordable Meal Prep to Preserve Your Time & Sanity" by Cassy Joy Garcia.
So, what does the book have to do with Cinco de Mayo?
Garcia has some terrific recipes that would be perfect for that day – beer or no beer.
Garcia, who is also the author of "Fed & Fit" and does a podcast and blog under the same name, says her method doesn't involve prepping a bunch of separate recipes on Sunday, then dividing them up, packing and storing them in the refrigerator to eat during the week.
"We make a protein, a veggie and a starch – or another veggie – in bulk, turning them into three totally different dinners that you assemble throughout the week," Garcia says, noting that it cuts down on kitchen time and saves money because you are cooking fewer things.
Her method also is strategically designed to use as few ingredients as possible.
"This keeps your meals fresh and diverse," she says, "because instead of making the full meals on prep day, you'll have all of your main ingredients cooked and ready to assemble to make your meal in less than 20 minutes each night."
As an example, one of the recipes below for shredded pork is used for Enchilada Verde Casserole with Avocado Slaw, Honey Mustard Pork Sheet Pan Dinner, and Sloppy Joe Stuffed Potatoes.
• 8 weeks of low carb-friendly meals.
• 23 weeks of grain-free and paleo-friendly meals.
• 25 weeks of dairy-free meals.
• 24 weeks of egg-free meals.
• 25 weeks of nut-free meals.
The following recipes are from "Cook Once Eat All Week."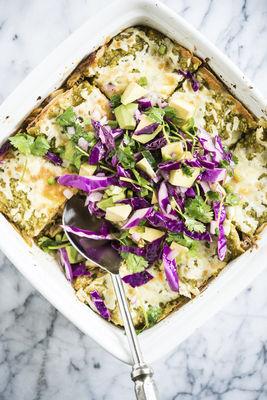 Enchilada Verde Casserole with Avocado Slaw
4 cups shredded pork (see recipe below)
1 1/2 teaspoons chili powder
1 1/2 teaspoons ground cumin
1 1/2 teaspoons dried oregano leaves
1/2 teaspoon garlic powder
1/2 teaspoon coarse sea salt
1/4 teaspoon ground black pepper
4 cups salsa verde, divided
6 (6-inch) corn or grain-free tortillas
3/4 cup shredded white cheddar or Monterey Jack cheese (omit for paleo/dairy-free), divided
2 tablespoons fresh lime juice (about 1 lime)
2 tablespoons avocado oil
1/2 cup red onions, diced
1 jalapeno pepper, finely chopped
1 avocado, cut into 1/2-inch cubes
Heat the oven to 350 degrees.
To make the casserole: In a medium-sized bowl, toss the pork with the chili powder, cumin, oregano, garlic powder, salt and pepper.
Spread 1 cup of the salsa in an 8-inch square baking dish, then cover with 2 tortillas. Place a tortilla in one corner of the dish, then cut the second tortilla in half and use the halves to fill in the empty spaces along the side and bottom of the whole tortilla.
Spread one-third of the seasoned pork over the tortillas, then top with 1 cup of the salsa and 1/4 cup of the cheese. Repeat for two more layers.
Bake the casserole, uncovered, for 30 minutes, until the cheese is bubbling.
Meanwhile, make the avocado slaw. In a medium-sized bowl, whisk together the lime juice and avocado oil.
Add the onions, jalapeno, avocado, cilantro and cabbage. Toss to coat.
Place the slaw on top of the casserole, and serve.
Shredded Pork
1 (3-pound) pork shoulder
1/2 tablespoons coarse sea salt
Season pork shoulder with sea salt.
Place in the slow cooker. Cook for 8 hours on low, or about 4-6 hours on high, until pork easily shreds apart.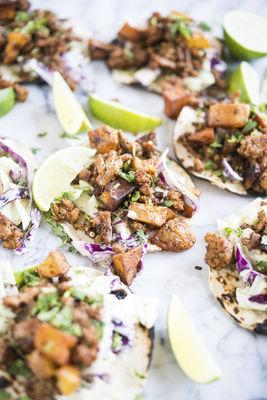 Chorizo and Potato Tacos with Cilantro-Lime Slaw
1 pound red potatoes, baked and cubed
4 cups ground pork, cooked
1 teaspoon coarse sea salt
1 tablespoon chili powder
1 teaspoon dried oregano leaves
1/2 teaspoon ground black pepper
1/4 cup apple cider vinegar
4 cups green and purple cabbage, shredded
Cilantro-lime dressing (see recipe below)
8 corn or grain-free tortillas
2 tablespoons fresh cilantro, chopped, for garnish
3 ounces cotija cheese, crumbled, for garnish (omit for paleo/dairy-free)
1 lime, wedged, for serving
To make the filling, heat the oil in a large skillet over medium-high heat. Once hot, add the potatoes. Fry for 3 to 4 minutes, then flip and cook for an additional 3 minutes, until browned and crispy. Remove the potatoes from the pan and set aside.
Drain all but 1 tablespoon of oil from the pan, then add the pork, salt, spices and vinegar. Cook, stirring occasionally, for 4 to 5 minutes, until the pork is crispy.
Return the potatoes to the pan and stir them into the pork, then remove the pan from the heat.
To make the slaw, toss the cabbage with the cilantro-lime dressing. Season to taste with salt.
Place a small skillet over medium-high heat. Once hot, put a tortilla in the pan and warm for 30 seconds per side, until the tortilla is pliable and begins to brown slightly. Repeat with the remaining tortillas.
To keep them warm while you heat the remaining tortillas, you can wrap them in a kitchen towel.
To assemble the tacos, fill each warmed tortilla with the chorizo-potato filling, top with the slaw, and then garnish with the cilantro and cheese. Serve with lime wedges.
Cilantro Lime Dressing
Solid coconut cream from 1 (13.5-ounce) can full-fat coconut milk
1/4 cup fresh lime juice, about 2 limes
1/3 cup packed fresh cilantro, leaves and stems
1/2 teaspoon fine sea salt
Place all the ingredients in a food processor, blender or smaller bullet-sized smoothie blender. Blend until smooth.
Note: If the sauce is too thick, add 1 teaspoon of water or lime juice at a time until you have a consistency you like. Enjoy immediately or store in the refrigerator for later.
Store in a sealed container for up to 7 days.
To serve once chilled through, soften by heating it prior to serving or simply dollop while slightly more solid on warm food for it to melt there.
Troubleshooting your sauce: If you find that your sauce separates while you make it, simply heat it up slightly (either in the microwave for about 15 seconds or on the stove just until the chill is gone) and stir again. It will come back together.
Jane Ammeson can be contacted via email at janeammeson@gmail.com or by writing to Focus, The Herald-Palladium, P.O. Box 128, St. Joseph, MI 49085.