We're leaving behind a decade this week, and I think that's the first cause for celebration in January.
This time 10 years ago, I was a sophomore in high school, I had just gotten my wisdom teeth out and had a deep enthusiasm for the TV show "Glee."
I'm resolving in 2020 to harness that same youthful enthusiasm to celebrate all the little things this new year to drown out all the political noise.
Of course, I'll be right in the madness, reporting on it for the newspaper, and being an informed voter, but I'm going to celebrate days like National Hangover Day on Jan. 1.
The day was created in the last decade, October 2015, when a group of people were talking about what day on the calendar had little or no national days attached to it. When it was announced that Jan. 1 was only known as New Year's Day, it was simultaneously decided that it should be National Hangover Day. The day was soon submitted to, and approved by, the registrar of National Day Calendar.
On Jan. 3, 1888, Marvin C. Stone got the patent for the paper drinking straw. To celebrate the invention, each year on Jan. 3, people observe National Drinking Straw Day.
In the last decade, we've started moving back to paper drinking straws, over the plastic ones that have done so much harm to wildlife. Phasing plastic out of your life in the new decade, even if it's just with single-use straws, is a good way to be kind to our planet.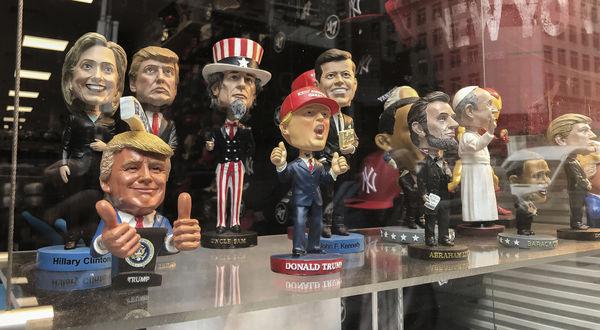 National Bobblehead Day is observed annually on Jan. 7. The day was created in 2015, as part of the opening of the National Bobblehead Hall of Fame and Museum, which opened in 2016 in Milwaukee.
The museum houses the world's largest collection of bobbleheads, and is the only bobblehead-specific museum in the world.
National Sunday Supper Day started in January 2012 by a food blogger as a way to encourage families to have dinner together again. The day is celebrated on the second Sunday of January, but is meant to bring families, or friends, together to share meals.
National Dress Up Your Pet Day – Jan. 14 – was founded in 2009 as a goofy way to celebrate pets. I will not be dressing up my rabbit. She would probably rather have her nails trimmed – and she hates that – than be wrestled into a costume. Maybe I'll find her a little hat. No, she'd probably hate that, too.
A holiday that's only been around for two years will be celebrated Jan. 19. The day is World Quark Day.
Quark, or quarg, is a type of fresh dairy product more popular in Europe, made by warming soured milk until the desired amount of curdling is met, and then straining it.
The day was first introduced by the self-proclaimed Queen of Quark, a healthy eating enthusiast and author, born in Germany. Her mission is to share quark's countless benefits, like that it's a high-protein, low-fat alternative to soft cheese and yogurt that can be used for baking, cooking and blending.
In 2014, the New York Public Library created National Library Shelfie Day on the fourth Wednesday in January. The day is meant to bring awareness to reading, and to take a selfie with a book shelf. The selfies can be shared on social media with #libraryshelfie and #libraryshelfieday.
In a very cyber-connected world, data privacy is a growing concern.
National Data Privacy Day was created on Jan. 28, 2009, by the U.S. House of Representatives. The day is a reminder to protect and safeguard private data.
I have no secretes, but that doesn't mean I want someone looking at where I've been and what I've been browsing online.
And we've worked our way back to National Puzzle Day, Jan. 29, which started this column last year.
I got two new puzzles for Christmas that I'm really excited to get started on. Let's see if I can time it right so I can finish a puzzle on National Puzzle Day.
If you celebrate ones of these holidays, tweet me a picture @HPANewman.
Alexandra Newman is a staff writer for The Herald-Palladium.