NEW BUFFALO — At 82, Engelbert Humperdinck still tours frequently, a schedule he has maintained for more than 50 years.
"In the old days, not only was it every day, but sometimes a twice-a-day show, and then go out and see someone else perform at a lounge in the early hours," Humperdinck said. "I think the toll of touring only hits me after a run, when my body knows it can rest. People call me an ox when it comes to my endurance, but I'm really a true bull, a Taurus with a stubborn streak who likes to get the job done and done right."
The English pop singer will stop at Four Winds Casino Resort's Silver Creek Event Center on Friday as part of "The Angel on My Shoulder Tour," named after a song he features in his show that he feels encapsulates the good fortune he has had in his life.
"My angel has had a busy life, as my life has been anything but straightforward," Humperdinck said. "The song just spoke to my life and how I have always felt a higher power tap me on the shoulder and divert many situations, some that would not have me here anymore. I fell in a timber pond with sharks as a non-swimming boy and was rescued by my brother, who also couldn't swim. Our parents had no idea we were there, and it could easily have ended our stories."
Humperdinck's story involves selling more than 140 million records and having hit singles in the United Kingdom and U.S., with songs like "Release Me," "The Last Waltz," "After the Lovin'" and "This Moment in Time."
Humperdinck's style of romantic ballad singing was falling out of favor in the mid-1960s with The Beatles exploding on the music scene, but he held his own. "Release Me" kept The Beatles' "Strawberry Fields Forever/Penny Lane" from the top spot in the U.K., and stayed on the charts for 56 consecutive weeks, achieving an entry into the Guinness Book of Records.
"I'm sure everyone worried about the hugely talented Beatles and their eclectic style of music that stepped in the waters of different genres, but somehow was their own unique sound," Humperdinck said. "I felt pretty confident in the shoes I was wearing and the stamp I was trying to make in the business. When I hit, I was off and running and had no time to worry about competition. I was my own competitor, working on one-upping myself and learning the trade as fast as I could."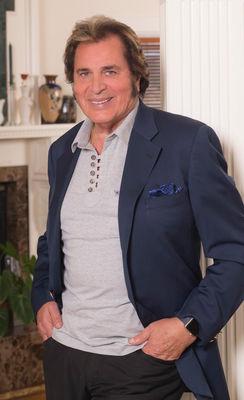 Born Arnold George Dorsey, Humperdinck borrowed his stage name from the 19th century composer of operas like "Hansel and Gretel."
"My manager had three of us in his stable of talent at the time, and he named Gilbert O'Sullivan and myself after composers, and Tom Jones after the film of the same name, which was popular at the time," Humperdinck said. "Surprisingly, I settled into my new moniker very quickly, with the support of my family. It somehow fit the young man with dreams as big as his new name, but roots solidly planted in the ground from which he was raised."
Humperdinck has a knack for taking on artistic projects that introduce him to new generations of music fans. In 1996, he recorded the song "Lesbian Seagull" for the soundtrack for the film "Beavis and Butt-Head Do America."
"I had so much fun on that project and was really honored to be considered," Humperdinck said. "I couldn't wait to caw like a seagull for the movie version of the incredibly popular TV show. (Director) Mike Judge was a fan and such a creative visionary. It had a nice long run, which is appropriate as the meaning behind the song is about life's nice long run with the same love."
He also might have attracted new fans in the 21st century when Damon Albarn of Gorillaz wanted Humperdinck to contribute to the 2010 album "Plastic Beach," but his manager declined the proposal without telling him.
"Mismanagement is really the beginning and end of that story," Humperdinck said. "I was sick to learn the project was turned down without my even knowing of the offer. It has been years now, but you can bet it was a lesson learned and a management changed."
Humperdinck released his latest album, "The Man I Want To Be," in 2017, which features his version of Bruno Mars' "Just The Way You Are."
He recorded the song as a tribute to his wife, who suffers from Alzheimer's disease, and because he met Mars at a young age and knew he was destined for the big time.
"I met him when he was 5," Humperdinck said. "He was hired to perform at a fan club party for me in Hawaii. He blew us away with his Elvis costume and moves and command of his young voice. He was charming and cute and exploding with the X factor. To record his song is to pay homage to his life of struggle and persistence and sort of an 'I told you so.' I did tell him as a young lad that he would be a megastar.
"The song I ended up including in my show," he said, "is dedicated to my wife and the changing life and cards we have been dealt in our golden years. The cruelty of Alzheimer's is only overcome by the love of a lifetime."
Humperdinck isn't thinking about retiring anytime soon. He still enjoys what he does.
"I have a huge band and crew who work so well with me, and we all get to see the world together though this gift of music," he said. "I think of myself as a young musician and how good steady work felt with people who made the job even more fun and I just carry on. Plus, I get uneasy in my easy chair after about three weeks of watching telly and doing down time."