BERRIEN SPRINGS — Wayne Andrews' love of the natural world flows from within and out through his hands to create award-winning wood and bronze wildlife sculptures in startling detail.
"He is a lover of nature, and portrays those things in a way to inspire you and to care more about nature," said fellow artist Jackie Carlson of Elkhart, Ind. "As we all know with climate change, nature really is in danger across the world. He's a naturalist trying to get people inspired about nature."
Two of Andrews' wildlife sculptures recently earned highest honors in the "Our Endangered Planet" juried art show at Fire Arts Inc., in South Bend.
His bronze sculpture, "Polar Bear," took first prize. It depicts a bear and her cub adrift on a small piece of melting ice.
"This work is a complete integration of the theme of climate change and aesthetic quality," jurist Mike Slaski said on the Fire Arts website.
Andrews' cherry wood sculpture, "Sea Otter," received the People's Choice award. It depicts a sea otter wrapped in kelp, which otters use to prevent themselves from drifting out to sea while asleep.
Andrews, 81, said he took up his artistic pursuit in 1963, while he worked for Western Airlines and later for Delta Airlines, maintaining aircraft at Los Angeles International Airport. He was responsible for "anything with a wire attached."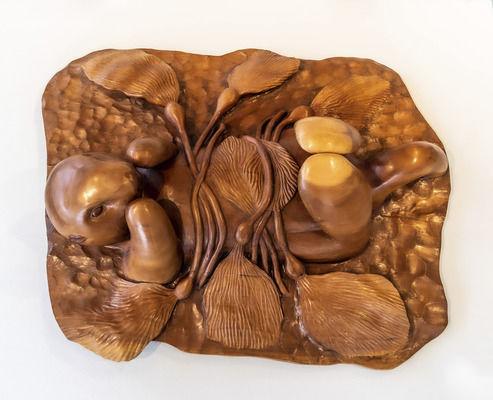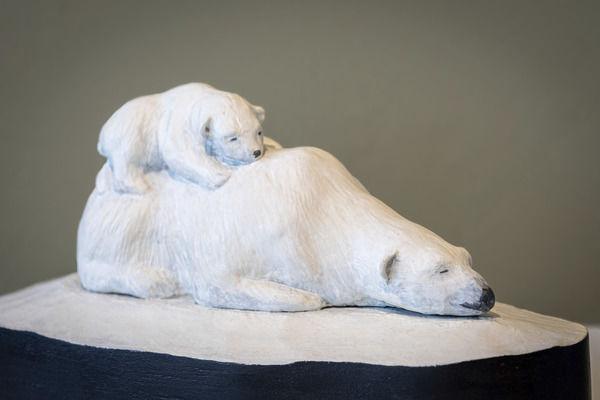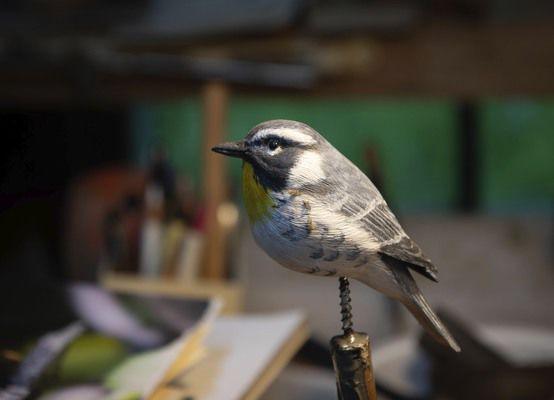 Although he had one semester of art in high school in Nebraska – his graduating class consisted of 10 people – and he took drawing classes at El Camino College in California, he was mostly self-taught in the beginning.
"Back then, there wasn't much information available," he said. "It's loaded now with the internet, but back then, not so much."
A key part of his self-education was a book, "Drawing on the Right Side of the Brain," which helped him transition from using the left side of his brain, an essential skill as an airline maintenance engineer, to the right side of his brain, which is associated with artistic pursuits.
"That really worked well," Andrews said.
He recalled one of the first exercises required he crumple a sheet of paper and begin to draw it without looking at his work.
"It is kind of weird how your mind kind of shifts while you are doing that – the intensity of doing that and the concentration it takes," he said.
Andrews retired from Delta 26 years ago, and moved to Lake Chapin in Berrien Springs, where he is surrounded by nature. He and his wife, Marilyn, belong to Berrien Birding Club.
In 2001, he traveled to Kenya, where he saw 400 varieties of birds, and he visited the Galapagos Islands in search of the natural world.
After retirement, he began learning in earnest, taking classes from world-renown carvers such as Ernie Muehlmatt, Bob Guge, Phil Galatas, Chris White, Gary Eigenberger and Larry Barth.
He traveled regularly to award competitions in Washington, D.C.
"I got inspiration from the best in the country," he said. "The best bird carvers in the world go there."
Eventually he began to enter competitions and exhibit his work.
Visitors to Fernwood Botanical Garden and Nature Preserve, and Love Creek Nature Center have seen his work on display during exhibits. His work also has been exhibited at Sauder Village, Archbold, Ohio; Duneland Wood Carvers Show, Portage, Ind.; The Fruit Belt Wood Carving Show, Cass County Fairgrounds; World Championship Ward Wildfowl Carving Competition, Ocean City, Md.; and the International Wood Carver Congress, Davenport, Iowa.
For anyone interested in sculpture, Andrews has this recommendation: "You've got to start simple."
But it must be something you are passionate about.
"Without the motivation to do it, you won't have the discipline to stay with it," he said.
Andrews remains passionate about his work. It's not unusual to find him at Fire Arts working on his next project – a sculpture of a red fox – or helping others create bronze work.
Fellow artist Julie Neisex of Mishawaka, Ind., described Andrews' work as all about nature.
"His work speaks for him," she said.