BENTON HARBOR — For one night only, the Citadel Dance & Music Center is offering the chance to step back in time – when every finger in America snapped to a big band or jazz beat.
So runs the idea behind "Fly Me to the Moon": A Tribute to Frank Sinatra, which features vocalist Andrew Fisher, the Lake Effect Jazz Big Band, and the Citadel Dance Company.
The show is also a benefit for the Citadel, now in its 10th year of providing dance and music education to local students, Executive Director Susan Dietrich-Reed said.
"We figured, 'Well, this would be something that will work,'" Dietrich-Reed said. "Nobody has done that in this area, that I'm aware of. We wanted to find something different, and we wanted it to relate to dance and music, for obvious reasons."
Fisher will join forces with the 22-piece big band, led by retired music educator and well-known local performer Steven Reed. The band, now in its 19th season, performs about 15 summer concerts a year, and also participates in two jazz festivals.
They'll be joined by the Citadel Dance Company, led by Director of Dance Lari Lawrence-Gist.
Organizers have planned two sets, of 10 tunes apiece, featuring a cross-section of the Sinatra songbook – including "Come Fly With Me," "I've Got You Under My Skin," "New York, New York" and "My Way."
Audience and performers will be on the Mainstage in a jazz club type atmosphere. A pre-party precedes the show at 6:30 p.m., with appetizers, a cash bar and a jazz duo.
Fisher performs in every style, from opera to jazz, and leads his own group, The Andrew Fisher Quartet. He also teaches voice at the Citadel.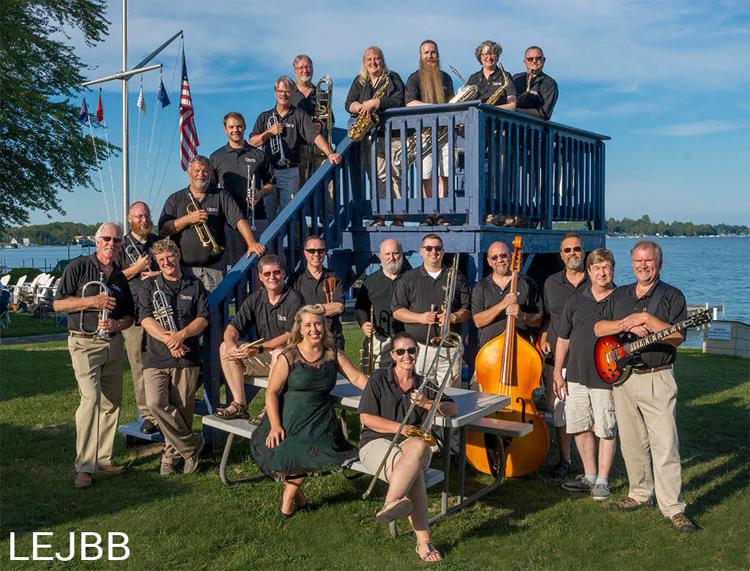 The idea of pairing Fisher with the Lake Effect Jazz Big Band sprang from a conversation Dietrich-Reed had with the singer last year, following a joint performance they'd done at the John E.N. Howard Band Shell, she said.
"Andrew was so well-received by the audience when he sang with the big band," Dietrich-Reed said. "So you just start chatting. Andrew has been doing tribute concerts, and he had this idea: 'Why don't we do a tribute concert?' That's where the idea was born."
Additional reinforcement came from Dietrich-Reed's own research on Sinatra, whose career spanned from the 1940s to the 1990s. He continued to tour internationally until shortly before his death in 1998.
"Frank Sinatra did a lot of tribute concerts to certain artists, just at the period that he was alive, and doing things. Frank has so many tunes, and there's a lot of ways that you can create this nightclub effect," she said.
"Fly Me to the Moon" is also the Citadel's first major fundraising show, which Dietrich-Reed hopes will turn into an ongoing event.
"(The Citadel's) director-driven, and artist-driven – anyway, we think we have something special. We are hoping that ('Fly Me to the Moon') will be the kickoff for something, whether it's annual, or biannual, or a tribute concert celebrating a different artist. We hope it's the beginning of something big," she said.
Located in the Benton Harbor Arts District, the Citadel Dance & Music Center is a non-profit that provides year round dance and music instruction to more than 400 students.