It's Friday night in the Benton Harbor Arts District, the weather is blustery and rain is threatening, but there's still a crowd lined up for the food trucks.
There's tacos and elote (corn with mayonnaise and spices), wood-fired pizzas from Emma Hearth and Market, curries and other Pacific Rim foods from Nosh Village, and house-made tortillas with an offering of fillings and Mexican cookies from Molino Tortilleria.
Oh, and there's dancing, too.
This "Friday Food Trucks" in the Arts District is a group of local food trucks that show up on Friday evenings, depending on their individual schedules.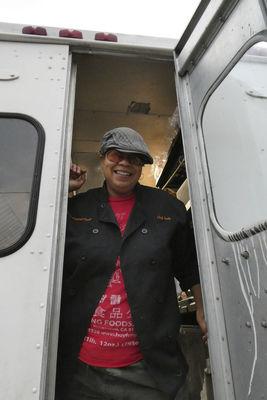 Audy Peeples has made a full circle. Originally from Benton Harbor, she spent two decades in Chicago working as a chef before returning recently to Southwest Michigan.
She has taught cooking classes at Martin's Super Market, was one of the chefs for The Grille at Harbor Shores Resort, and has worked for James Beard Award winner Grant Achatz, and Marvin Woods, a celebrity chef, cookbook author, and TV host.
"It was all great, and I learned a lot about food," Peeples says, "but it was time to come back home."
So when she got the chance to buy Baja Gringo Taco Truck last year, she jumped at the chance, changing the name to Werk It! The name is an empowering message she learned from one of her favorite pastors, Johnnie Coleman.
"She's always said, 'It works, if you work it,'" says Peeples, who tweaked the spelling some.
Peeples describes the food she cooks as authentic. It's also varied. She can turn any meat-based recipe into a vegetarian or vegan dish. Also on her menu are Thai, comfort foods such as soups and stews, and West Indian (particularly Jamaican).
"I created this absolutely wonderful jerk sauce, and make a jerk bowl, which has plantains in it," she says.
The idea for Friday Food Trucks came about around six weeks ago.
Each of the vendors makes it when they can, and they're open to new trucks, too.
"We have someone who does Polish sausages and elephant ears coming by next week to talk," Peeples says.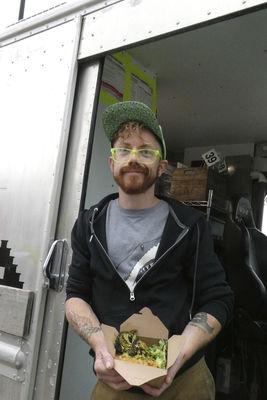 Ryan Carragher, who wears distinctive translucent green glasses, was busy serving bowls of Massaman Curry, a mix of garbanzo beans, greens, spices and herbs served atop Nishiki rice at his Nosh Village food truck.
Also, on his stove is a spicy red curry chicken. He uses a variety of ingredients that aren't easy to source, like Kewpie mayonnaise – a Japanese mayonnaise that's richer and sweeter than American mayo. That's because the ingredients call for egg yolks instead of whole eggs.
Since moving here from Kennebunkport, Maine, with his wife, Tess, and their two daughters, Carragher says the area has lived up to his expectations as an up-and-coming food center. (The comparison to food-and-wine centric places like Sonoma, Calif., comes up frequently in conversation with those cooking and eating there.)
With a wood-burning oven reaching 1,000 degrees, Steve Zieverink can turn out thin crust pizzas in about 90 seconds. Pizza making – and Italian cooking – is something he learned from his mother, who in turned learned the skills from her mother.
"My mother came to America from Calabria, Italy, when she was 8 years old," Zieverink says as he's handed a circle of dough that has just been rolled out and topped with ingredients.
In this case, it's one of their Roman (or red sauce) pizzas. This one is Satan's Kiss – aged Sopressata salami sausage, San Marzano red sauce, fresh mozzarella, organic fennel and a choice of mild cherry peppers or hot Calabrian chili peppers.
For meat lovers, there are options, too: pepperoni, anchovies and house-made meatballs. They also have white/balsamic pizza offerings, such as the Fungi Madness with its assortment of seasonal organic mushrooms, Italian cheeses and herbs.
"We also have Al Taglio-style pan pizza sold by the slice," says his wife, Wendy Uhlman, who co-owns Emma Hearth and Market. Emma is the name for his nonna – the Italian term for grandma.
I watch as Uhlman tosses a pizza crust in the air. It's a technique that goes beyond showmanship – though Uhlman is very good at it. Instead of rolling out the pizza crust (which I do at home), tossing them in the air helps flatten the dough out for an even pizza while helping keep its moist.
Uhlman then shapes the crust into an oval, crimping the sides and covering the bottom with maple syrup.
"We tap our own trees for maple syrup," she says.
Then, bringing out sliced peaches she's been marinating in maple syrup, she arranges them on top of the crust, and adds a few more squirts of syrup before turning the dessert pizza over to Zieverink, who places it in the oven he built.
Rotating it several times over the wood coals, he removes it in 90 seconds and places it on a wire rack ("That helps crisp it," he says), then it's placed in a pizza box.
The customers waiting for their food at all the trucks range from business types on their way home from work to casually dressed regulars and everything in between.
Some sit – there's just one picnic table right now – consuming their first order, chat awhile and then decide which truck to hit next.
"This is all about bringing people and food together," says Aaron Harris who owns Molino Tortilleria with his wife, Christie, and specializes in ancient grain tortillas.
Tonight, he's offering a choice of chicken, pork and vegetable fillings as well as an assortment of toppings like cotija cheese and avocados.
"We're not in competition with each other, we support each other," Aaron Harris says. "People can come here and choose food from the different vendors if they want. It's a way of creating their own meal."
Peeples echoes his sentiment.
"We've developed a close relationship with each other," she says.
Because their businesses aren't static, neither are their foods. The dishes the vendors offer change, often based on what's available at farms and farm stands.
The idea for Emma Hearth and Market actually was the next step for Zieverink and Uhlman, who about five years ago purchased their 5-acre, certified organic farm. Much of their produce ends up in the kitchen of The Mason Jar Cafe in Benton Harbor, but it's also the focus of their food here.
So why not build a grill and make pizzas using what they grow?
They are turning the 1930s white brick building at 225 Main St., which used to be a barber shop, into their restaurant, but while they're renovating, they're using a large, brick-lined space to house their food areas and the big burner. There's also a stack of logs and a hatchet so Zieverink can cut off hunks of wood for the grill.
Carragher's menu is based on what's available, too. He recently returned from Maine with 15 pounds of lobster packed in 500 pounds of ice.
Arriving home, he made a brown butter sauce to add a nutty flavor to the lobster and used the filling to make lobster bao buns, a type of Chinese bread roll. He also might make sushi or Russian pierogi.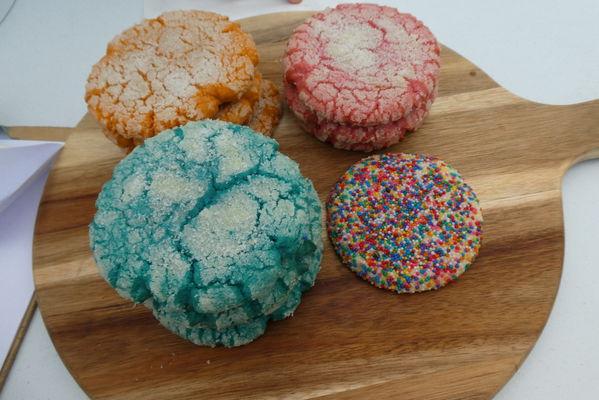 One thing constant at Molino Tortilleria are the colorful Mexican cookies Christie Harris makes. That is, unless they all sell out, a common occurrence.
"They're almost as popular as our tacos," her husband says.
You can find the trucks at other locations, too. Molino Tortilleria is at the St. Joseph farmers market on Saturdays.
Peeples is nearby at Benton Harbor's Dwight P. Mitchell Park at 11:30 a.m. Tuesdays and Fridays. She says they'll all be doing the Friday thing until Nov. 1.
Chef Peeple's Summer Harvest Orzo Pasta Salad
Chef's note: This is a great dish for entertaining, or cut the ingredients in half for a family meal. This dish is versatile because it is vegetarian, but also can be vegan by omitting the cheese in the dressing, or adding grilled chicken or fish for a meat dish.
2 summer squash, cut into bite-sized chunks
2 zucchinis, cut into bite-sized chunks
2 cups cauliflower, cut into bite-sized florets
2 cups broccoli, cut into bite-sized florets
1 cup cremini, stems removed, cut into bite-sized chunks
2 carrots, cut and sliced into small circles
8 ounces small grape tomatoes, sliced in half lengthwise
3 scallions, or green onions, julienned
Fresh basil, green and purple if available, chopped small
1 tablespoon, or more, garlic powder
1 tablespoon, or more, onion powder
Dressing (see recipe below)
1 cup apple cider vinegar
2 tablespoons Dijon or grain mustard
1 tablespoon, or more to taste, raw honey or agave nectar
1/2 cup Pecorino Romano cheese
Pinch kosher salt and black pepper
Bunch fresh herbs, chopped finely
Cook orzo according to package instructions. Once finished, strain water and run pasta under cold water to stop cooking process and to cool pasta completely down, until cold. Set aside in refrigerator.    
In a large sauté pan, over medium-high, heat 2 tablespoons olive oil. Add all the vegetables. Season to taste with the seasonings.
Cook the vegetables, tossing occasionally, for about 7 to 10 minutes, or just until the cauliflower is tender. Turn off heat.
Distribute vegetables in one layer on a cookie sheet to cool down completely.
Make the dressing: In a mixing bowl, add the vinegar, mustard, honey, lemon juice, cheeses, seasonings and herbs. Whisk vigorously while streaming in the olive oil to create an emulsion. Season to taste.
While the vegetables are cooling, remove the pasta from the refrigerator. In a large mixing bowl, toss with enough dressing to fully coat the orzo – about half of the dressing, but reserve the other half – and season with salt and pepper. 
Once the vegetables are cold, add them to the orzo along with the other half of the dressing, and gently toss all to incorporate.