More than two decades ago, Penny Murphy made a commitment to a 90-year-old woman, the aunt of an acquaintance who had immigrated to America from Ukraine 75 years earlier.
"She wanted me to continue growing the Ukraine rose garlic she'd brought with her," Penny told me when I visited her farm, Ma's Organic Garden, six years ago.
Last week, I received an email from Penny saying her crop was about two weeks late, but she has harvested it, and is curing it. It all comes from the six bulbs of rose garlic she was given all those years ago.
She said it would be ready to buy by next week. This is always a big deal for her customers who are garlic aficionados.
Once Penny puts out the word that her garlic is available – she typically raises more than 1,000 heads – it sells out quickly. I know that when I stopped by a few years ago to pick some up, there were lots of cars in front of her old farmhouse to buy it.
Garlic has been around for a long time – the Chinese domesticated it about 7,000 years ago and now grow 80 percent of the world's garlic. That's often the garlic we find in grocery stores.
Penny told me once people try the Ukrainian Rose variety, they never want to go back, because of its rich flavor.
Penny also gave me a recipe for the garlic paste she makes. Since it's been six years since I last ran it, I thought I'd share it again.
Ma's Garlic Paste
1 Ukrainian rose garlic bulb
Heat oven to 350 degrees.
Nip off the top of the garlic bulb (the part attached to the stem). Wrap in foil, and cook in the oven for one hour.
Let cool, bringing it to a warm, not cool, temperature. Twist the garlic head at the root end, squeezing out the warm garlic into a blender or a food processor.
Add olive oil, lemon juice and salt. Mix until smooth. Store in refrigerator until needed.
---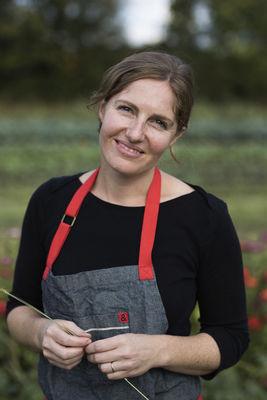 Abra Berens, author of "Ruffage: A Practical Guide to Vegetables, 100+ Recipes and 230+ Variations," is crazy about vegetables.
The head chef at Granor Farm in Three Oaks, she also sells produce at the farm and at the St. Joseph farmers market on Saturdays.
Here are a couple of great summertime recipes from her cookbook that use garlic, including her recipe for Garlic Confit, which she describes as her secret ingredient, and one of her all-time favorite tricks to give any vegetable a makeover.
Garlic-Marinated White Beans with Celery and Parsley Salad
8 ounces white beans, soaked in water overnight
5 confit garlic cloves (see recipe below)
1/2 cup sherry or red wine vinegar
1 bunch parsley (about 1 1/2 cups), roughly chopped
1 head (8 ounces) celery, thinly sliced
Drain and rinse the soaked beans, and boil in fresh water until tender but not falling apart, about 30 minutes.
Roughly chop the confit garlic, and combine with the oil, vinegar, salt and mustard.
Drain the cooked beans, and immediately dress with the vinaigrette.
Combine the beans with the parsley and celery just before serving. Taste for salt, vinegar or olive oil.
How to make Garlic Confit
Peel the cloves from 2 heads (or more) of garlic. Place the cloves in a small saucepan and pour in enough olive oil to cover them, 1/2 to 3/4 cup for 2 heads.
Over medium heat bring the oil to just a hint of a simmer, then reduce the heat to as low as it can go. You want to poach the garlic, not simmer it.
Cook for about 45 minutes, until the garlic is soft and tender, but not falling apart. Transfer the garlic with a slotted spoon to a clean jar and pour the oil in to cover the cloves.
Cool the mixture to room temperature. Cover the jar tightly and keep refrigerated for several weeks, or freeze for several months.
Keep the cloves covered in oil, and be careful about using a clean spoon to dip into the jar.
As a variation, add rosemary and/or thyme to the saucepan along with the garlic to cook.
Creamless Corn with Sautéed Greens and Seared Salmon
6 ears sweet corn (about 1/2 cup per ear), shucked, kernels cut off, cob liquid reserved
1 medium red onion or shallot, thinly sliced
Freshly ground black pepper
6 (6-ounce) skin-on salmon fillets
2 or 3 bunches kale, or any hearty greens like chard, cabbage, beet greens, or a mix (about 1 pound total), cut into ribbons
1/4 teaspoon red pepper flakes
In a medium pot, place the cobs and just enough water to cover and bring to a simmer for 10 minutes. Remove the cobs from the liquid, giving them one final scrape with the back of a knife to extract as much liquid as possible back into the pot.
Bring the liquid to a boil and reduce to 2 cups.
In a new pot, heat a glug of neutral oil over high heat until shimmering, and fry the thyme, about 1 minute. Reduce the heat to medium and sweat the onion with a big pinch of salt, about 5 minutes.
Remove the thyme sprigs and add the corn kernels and the 2 cups cob broth. Bring to a boil, then remove from the heat.
Use an immersion blender or food processor to whiz the corn until well blended, knowing there will be some chunks left. Add the butter, a pinch of salt, and pepper and stir until the butter is melted. Taste and adjust the seasoning.
In a large frying pan, heat a glug of oil until smoking. Season the salmon fillets with salt and pepper. Pat the skin-side dry and sear until medium. Remove from the pan to a plate, and let rest.
Wipe the frying pan clean and heat another glug of neutral oil over high heat until smoking. Add the greens and lightly fry. Add the garlic, a pinch of salt, the wine and the pepper flakes, and let cook until the liquid is reduced.
Spoon the corn onto dinner plates. Add a big forkful of greens to each and top with the salmon, skin-side up.
Mustard-Braised Potatoes with Chicken Thighs
4 to 6 bone-in, skin-on chicken thighs (6 ounces each)
Salt and freshly ground black pepper
3 sprigs fresh thyme (optional)
2 tablespoons whole-grain or Dijon mustard, or a mix
1 medium onion (8 ounces), thinly sliced
3 cloves garlic, minced (optional)
2 pounds fingerling potatoes or any sort of small potato, cut in half unless they are very small
1 cup low-sodium chicken broth, chicken stock or water
1/2 bunch fresh parsley leaves, roughly chopped
Heat the oven to 375 degrees.
Pat the chicken thighs dry, and generously season with salt and pepper.
Over high heat, add a glug of neutral oil to an ovenproof frying pan. Add the chicken, skin-side down, and brown the skin until golden and crispy, 5 to 7 minutes. Transfer to a plate without cooking the other side.
Add the thyme and mustard to the pan, and briefly fry in the drippings, about 30 seconds. Deglaze the pan with the wine, scrapping up the drippings and allowing the wine to reduce by half, about 2 minutes. Add the onion and garlic, and sweat until tender, about 7 minutes. Add the potatoes and stock and a big pinch of salt. Place the thighs on top, skin-side up, and bring to a boil.
Transfer to the oven and bake, uncovered, until the thighs are cooked through and the potatoes are tender, about 25 min­utes.
Remove from the oven, garnish with the parsley, and serve, sauce and all.
Jane Ammeson can be contacted via email at janeammeson@gmail.com or by writing to Focus, The Herald-Palladium, P.O. Box 128, St. Joseph, MI 49085.