A recent summer morning found Brad Hinman and his four-legged buddies Molly and Maggie taking a stroll along Riverfront Trail in Niles.
"I try to walk here every day," said Hinman, a Berrien Springs resident. "I like the water and the squirrels and the birds and the flowers."
Molly and Maggie seemed to enjoy them as well as they padded alongside Hinman, who said he recommends the trail to his friends.
"And it's free," he said.
It's relatively easy to find free places to run and bike for aerobic exercise – walking and hiking trails abound in Berrien and neighboring counties – but it's harder to find places for anerobic strength-building exercises, such as weight-lifting.
Therein lies the rub for many who want to participate in fitness activities but either can't afford health club fees or are reluctant to commit.
Riverfront Trail, for example, is nearly 2 miles long for aerobic exercise, and it includes 12 fitness stations for upper- and lower-body strengthening. It also boasts volleyball courts and a skateboard park.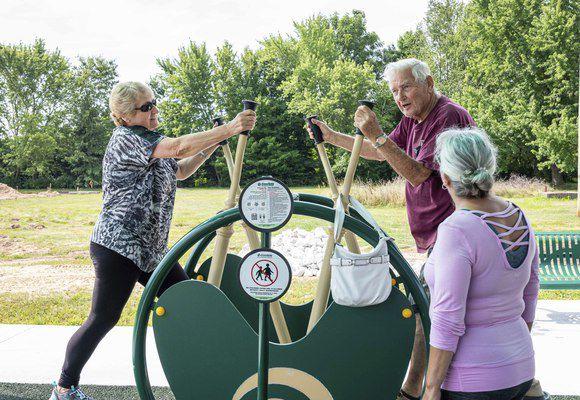 The St. Joseph-Lincoln Senior Center last fall added the Betty Kohn Outdoor Fitness Zone, a fitness center with 12 exercise stations, most that use body-weight resistance to build strength.
"Anybody can come here and use it," said Cindi McLaughlin, the senior center's executive director. "We are assuming a lot of people in the neighborhood are going to take advantage of it."
The fitness zone includes the Priscilla Upton Byrns Walking Trail, which is expected to open this month at the senior center. The landscaped trail will be 1/5-mile long.
The original walking trail was funded with a $10,000 grant from Lakeland Health Foundations. The renovated trail was made possible with a $75,000 grant from the Frederick S. Upton Foundation through Berrien Community Foundation, McLaughlin said.
"Priscilla's children also made some very generous donations, and the rest was from (senior center) members that purchased picnic tables, benches and landscaping for the trail, along with some fundraisers that we had," McLaughlin said. The center raised $25,000 to qualify for the $75,000 grant.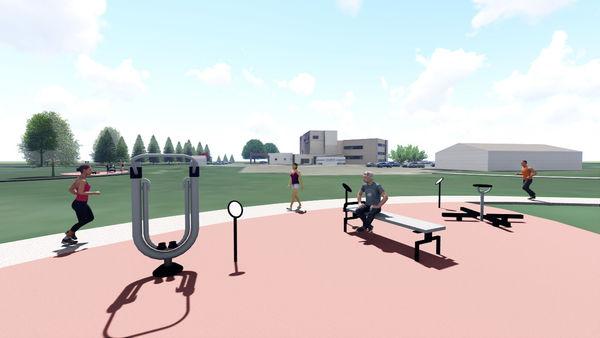 For northern Berrien County residents, the George and Janet Lane PARCOURSE is under renovation next to Lakeland Hospital, Watervliet, thanks to grants and community fundraising.
Community members raised $35,707 for the community fitness track. Of the funds raised, $35,000 was matched by the Michigan Economic Development Corp., through the Public Spaces, Community Places program, totaling $70,707.
To date, the PARCOURSE campaign has generated more than $365,000 – exceeding the project's fundraising goal, according to Brandi Smith, vice president of philanthropy for Spectrum Health Lakeland.
"This project was fully funded by philanthropic donations, which is a testament to our community's commitment to health and wellness," Smith said.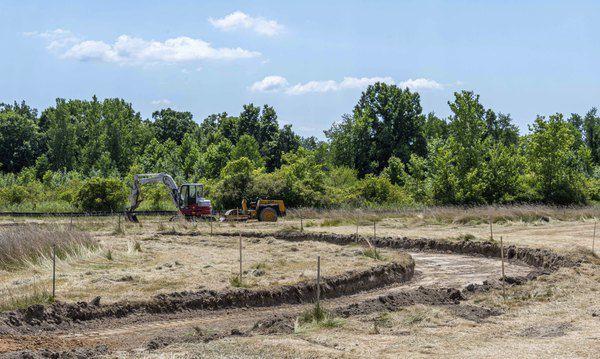 The course is a free track open to the public from dawn to dusk, and will feature two quarter-mile asphalt loops to accommodate those with disabilities.
Each loop also will feature four fitness stations with different types of professional-grade exercise equipment offering varying degrees of difficulty for all fitness levels.
A grand opening ceremony for the PARCOURSE is scheduled for 10:30 a.m. Aug. 23 at the hospital.
Other free, or reasonably priced, fitness opportunities available to Southwest Michigan residents include:
• State parks: While not free, a Michigan Recreational Passport is inexpensive – $11 when registering a vehicle, $16 when purchased at a park, and $11 for motorcycles.
The annual passport grants access to every Michigan state park, many of which have swimming beaches and walking trails. Climbing sand dunes at Warren Dunes State Park and Grand Mere State Park will get the heart pumping.
• County parks: The one-time annual fee for Berrien County parks is $35, and is valid through Dec. 31. That lets vehicles into county parks where fees are charged, such as Silver Beach with its swimming beach and volleyball courts, and Love Creek Nature Center with 5 miles of woodland walking trails.
Madeline Bertrand County Park features 3 miles of trails through pine and oak forests and along the St. Joseph River. Galien River Park has a hard surface to the Canopy Walkway, boardwalk to the fishing platform at the river, and a rugged trail in the upland area of the park.
• Sarett Nature Center: An annual permit is $40 per person, or $50 per family, and it gives access to more than 7 miles of woodland and wetland trails.
• Communities: Many cities and townships offer fitness options, such as walking trails, ballfields, soccer fields and basketball courts.
New Buffalo, like Niles, has a skate park for skateboarders. Benton Harbor's Union Park has basketball courts, ball diamonds and an open playfield.
Check with your local government office for more opportunities.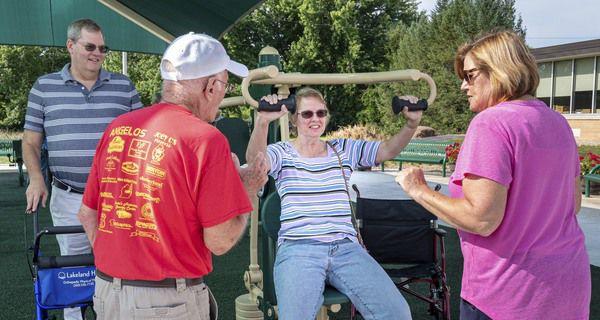 • Senior centers: A few senior centers in Berrien County offer fitness classes. St. Joseph-Lincoln Senior Center has the widest range of fitness classes for seniors.
River Valley Senior Center has bicycles and treadmills, while the North Berrien Senior Center offers cardio, strength training and yoga for a small cost, and chair exercise classes and line dancing for free.
• Harbor Shores Trails: Harbor Shores has public nature and fitness trails that run along Lake Michigan, the Paw Paw River and the St. Joseph River. They consist primarily of six loops within the Harbor Shores community.
They include the Championship Loop, 3.35 miles; Jean Klock Park Loop, 1.42 miles; Harbor's Edge Loop, 1.47 miles; River's Edge Loop, 1.89 miles; Arts District Loop, 1.28 miles; and Commerce Loop, 1.86 miles.
• Bicycle groups: The Pachyderm Pedalers, St. Joseph chapter, embarks on informal rides at 6:30 p.m. Thursdays starting at Watermark Brewing Co., in Stevensville. Riders of all levels are welcome. It is free to participants.
The Three Oaks Spokes Bicycle Club has a lifetime membership of $30 per person or $50 per family. Search for its Facebook page: Three Oaks Spokes.
• YouTube: Nearly every conceivable form of exercise aimed at all levels of fitness can be found on YouTube with male and female instructors. Find the one that fits your goals and comfort level.
Don't expect instant results; persistence is the key, as is common sense. Just because one trainer says something doesn't mean it is true or beneficial.
• Sidewalk: If none of the aforementioned work for you, there's always sidewalks. Walking at a good clip for 30 minutes a day is a proven method to lose weight, assuming your calorie intake doesn't increase.
Be creative. One fitness advocate recently was seen pulling a truck tire behind him on Cleveland Road. He was working up a good sweat.