The nerd factor – and a love for all things Disney-related – sparked the idea of using a high-tech gizmo to help lower stress in cancer patients undergoing chemotherapy transfusions at the Marie Yeager Cancer Center.
Patients, with a few exceptions, can use an Oculus Go, a virtual reality device, to transport themselves to almost anywhere in the world while a needle pumps a cancer-destroying chemical cocktail into their bloodstreams.
The goal is to distract the patient with realistic emergence into virtual worlds to ease the fear, anxiety and boredom that comes from the uncertain outcome of their disease and which can delay healing, according to Brendon Beede and Barbara Schmidtman, both of Spectrum Health Lakeland.
The idea was conceived by Beede, IT senior project analyst in the ConnectIT department at the health system. After gathering necessary approvals and funding from Spectrum Health, it was put into practice at the cancer center in partnership with Schmidtman, manager of Radiation Oncology and Ambulatory Infusion at the health system's Hollywood Road medical campus.
Beede, a self-described nerd, brings practical information technology experience to the partnership, and Schmidtman brings research expertise.
Beede said his fiancé Haley Groves' experience with virtual reality kick-started the idea.
"My fiancée is a really big Disney nerd, and she likes to go as much as she can to Disney World or watch Disney movies," Beede said.
But the young couple could not afford to visit Disney World in 2016; fresh out of college, they were trying to pay down debt. So using a VR device given to him as a gift, he decided to bring Disney to her. He picked "The Lion King."
"Not only was it on Broadway, but it was the best seat in the house," Beede said.
His fiancée was "blown away" by the experience.
"It showed me a lot of things that it can do, taking somebody outside of their current reality, bringing them to a happier place, and giving them experiences they may not be able to have at this time," he said.
Beede and his colleagues looked at where to introduce the idea, and decided the chemotherapy infusion center would benefit the most.
"(Patients) are there for one hour to three hours at a time. They are very bored. TV can only capture their attention for so much. They have a lot of stress on them. Their current reality is they don't know what will happen to them," Beede said. "We are hoping that chemo and all sorts of stuff we do with them will help. But to distract the mind is my idea of basically getting out of their own head at that time."
As with most new projects, Beede was apprehensive at first. He didn't know if the clinicians would understand what he was trying to accomplish or whether VR would have much of an impact on patients.
"As soon as we started the project, all of that anxiety went away," Beede said. "It was very impactful for the patients. The patients loved it. Seeing their expressions afterward fueled the project from start to finish."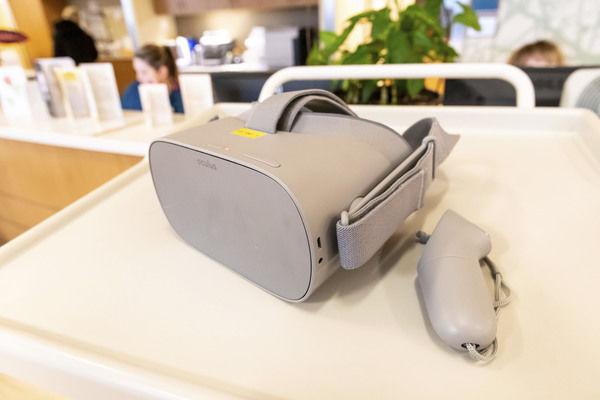 Measuring effectiveness
The initial response to the pilot program last year with about 60 patients was so positive that Schmidtman said they needed to structure the program in a way that they could measure the results and share them with the world.
They spent six months formalizing a strong clinical study that would gauge how virtual reality could positively affect a patient's anxiety level during the chemotherapy infusion process, she said. After approval from the hospital system's Internal Review Board, clinical trials were started in December at the cancer center and were expected to be completed this month, she said.
The study called for recruiting 102 volunteers, half of whom randomly selected would use VR and half would not. Each group would answer the same 21 questions about their anxiety level at the moments before and after their infusion treatments at the infusion clinics in St. Joseph and Niles. Their answers would determine the effectiveness of VR.
"What we are hoping to see is a significant statistical impact that over the course of VR (the patient's) anxiety has decreased," Schmidtman said.
The goal is to publish the scientific results in a medical journal so the idea spreads and helps more people cope with the stress, fear and uncertainty of life-threatening diseases and their treatments, she said.
Numerous studies have been conducted on virtual reality and its potential to help patients deal with pain, stress and anxiety and to promote healing, Schmidtman said. Most studies have been in academic centers, she said. The Spectrum Health Lakeland study is different in that it is taking place in a community health setting.
"It's been really cool to watch and be a part of it with Brendon to see how this started off with an idea that he had and partnering with him and helping to take those road blocks down," she said.
Beede said that virtual reality programs, including lots of Pixar-related 3-D content that has been captured in 360-degree vision, has great healing potential.
"You can travel the world. You can go to Italy, you can go to Alaska, see the greatest sights the world has to offer while sitting in an infusion clinic," he said.