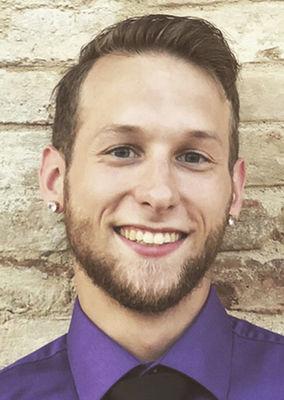 Thorson, quartet join Musical Club for show
ST. JOSEPH — The Monday Musical Club's 7 p.m. Monday program, "Saxophones and Voice," will feature performances by Central Michigan University music students: vocalist Erik William Thorson and the Kairos Saxophone Quartet.
The free program will be at The Heritage Museum and Cultural Center, 601 Main St. It is open to the public.
Thorson, a native of St. Joseph, is completing his bachelor degree in music with a vocal focus. He has been studying voice for nine years and has an associate degree in vocal performance from Southwestern Michigan College.
He will be singing "Younger than Springtime," "Anthem," "The Mason," "If I Didn't Believe in You" and "It all Fades Away." His mother, Anne Wetzel Thorson, will accompanied him on piano.
The quartet is an undergraduate chamber ensemble. Emmet Harris, Kaylee Bernard, Aaron Rajewski and Kyle Pokropowicz comprise the quartet of soprano, alto, tenor and baritone saxophones.
Kairos has been recognized recently at the regional and divisional rounds of the Music Teachers National Association Chamber Music Competition, as well as the Fischoff National Chamber Music Competition.
The quartet will performing Trio Sonata in D Minor, RV63 – Antonio Vivaldi; Speed Metal Organum Blues – Gregory Wanamaker; In Memoriam – Joel Love and Recitation Book, Movement V – David Maslanka.
Scream Park blacks out on final weekend dates
NILES — Three inside attractions at Niles Scream Park – The Niles Haunted House, N'awlins Nightmare and Deadwood – will have the lights turned out for the final weekend at the Scream Park, 855 Mayflower Road.
Attendees can experience the attractions in the dark, with only a glow stick to guide them. The Field of Screams also will be open.
The black out will run from 7-10 p.m. Friday and Saturday.
Advance tickets are available online at haunted.org. Tickets also are available at the door.
Tickets on sale for next CMW show
BENTON HARBOR — Tickets are now available for Children's Music Workshop's production of "Children of Eden Jr."
The show will be staged at 7 p.m. Nov. 22-23 and 3 p.m. Nov. 24.
Based on the story of Genesis, the age-old conflict of parents and children takes the stage. "Children of Eden Jr." is an inspirational musical about parents, children, faith and centuries of unresolved family business.
Adam, Eve, Noah and the "Father" who created them deal with the headstrong, cataclysmic actions of their respective children. As generations pass, faith and loyalty are tested, but the bonds of family and love remain strong.
Lewis Black to perform at Four Winds Casino
NEW BUFFALO — Comedian Lewis Black will bring his "It Gets Better Every Day" tour to Four Winds Casino Resort's Silver Creek Event Center, 11111 Wilson Road, at 9 p.m. March 13.
Tickets, which range from $45-$65, go on sale Friday.
Black is a stand-up comedian, actor and author. He performs more than 200 nights annually to sold-out audiences throughout Europe, New Zealand, Canada and the United States. His live performances provide a cathartic release of anger and disillusionment for his audience, according to a news release.
Since 2014, Black has aired more than 400 live streaming shows, called The Rant is Due, at the end of each of his performances.
Adding his own unique style, he delivers audience-written rants that have been submitted from the fans at his show and throughout the world.
'Penguins' comes to The Mendel on March 1
BENTON HARBOR — The true story of two male penguins in New York's Central Park Zoo will come to life March 1 at Lake Michigan College's Mendel Center, 2755 E. Napier Ave.
"Penguins," a new theatrical performance for children, will take the stage as part of the Discovery Series at 1 and 4 p.m.
The first show will be sensory friendly and will include a calmly lit environment with softened sound. While the performance is designed especially for children on the autism spectrum and those with sensory sensitivities or other special needs, the performance is open to all families.
The 4 p.m. performance will be designed for general audiences.
The 45-minute show is recommended for ages 3 through third grade.
Tickets, which are $14-$18, are now on sale at www.themendelcenter.com, by calling 927-8700, option 1, and in person from 10 a.m.-6 p.m. weekdays at The Mendel Center box office.
Ticket discounts are available for seniors, students, children, groups and veterans.