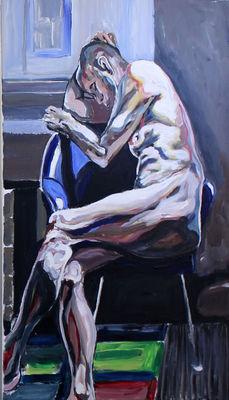 Sparling opens exhibit at The OutCenter
BENTON HARBOR — The OutCenter, 132 Water St., will hold an opening reception for Peter Sparling's new exhibit, "See Me As I Feel," at 6 p.m. Friday during the Fall Art Hop in the Benton Harbor Arts District.
The multimedia exhibit of acrylic portraiture and dance videos explores the intersection of body, movement and identity through a personal lens.
Sparling is the Rudolf Arnheim Distinguished University Professor Emeritus of Dance and an Arthur F. Thurnau Professor Emeritus at the University of Michigan. A graduate of Interlochen Arts Academy and The Juilliard School, he was a member of the José Limón Dance Company, and principal dancer with Martha Graham Dance Company.
He directed his own dance company from 1993-2008.
"What is there left to capture of the moving body once it has been documented in a photograph?" he wrote in a statement. "With 'See Me As I Feel,' I propose that the photo is merely a portal, an invitation or contour map for further excavations and re-enactments. Acrylic paint and the stroke of the brush allow me to reanimate the photographed figure as I return to it my own body memories and sensations and invest in the painted image its lived, kinesthetic presence."
Grand Funk Railroad comes to N. Buffalo
NEW BUFFALO — Grand Funk Railroad will make a tour stop Dec. 27 in Southwest Michigan.
The band, which originated in 1969 in Flint, will play at 9 p.m. at Four Winds Casino Resort's Silver Creek Event Center, 11111 Wilson Road.
Tickets, which go on sale on Friday, range from $39 to $59.
After playing to millions of fans during tours from 1996-2018, the band's 2019 American Band Tour serves as a 50th anniversary celebration.
Known as "The American Band," the five-piece rock group includes founding members Don Brewer, who sings, plays the drums, and is writer/singer of the hit "We're An American Band"; and bassist Mel Schacher, aka "The God Of Thunder." Joining them are singer Max Carl, lead guitarist Bruce Kulick and keyboardist Tim Cashion.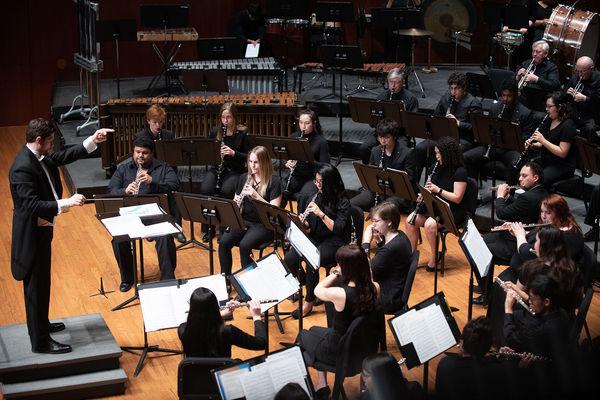 Andrews Wind Symphony fall concert is Saturday
BERRIEN SPRINGS — At 8 p.m. Saturday, the Andrews University Wind Symphony, conducted by Byron Graves, will present "With Liberty & Justice For All" in collaboration with the Seventh-day Adventist Theological Seminary at Andrews University and the Lake Union Conference.
A pre-concert presentation will take place at 7:30 p.m.
This year's Wind Symphony fall concert is part of the "Jesus & Politics" conference on religious liberty. The evening will consist of music, readings and poetry reflecting on the challenges and blessings of civil and religious liberty. The ideals and shortcomings of liberty and justice will be explored.
Admission is free, and tickets are not required. The concert will be held in the Howard Performing Arts Center, 4160 E. Campus Circle Drive.
Coloma man included in new anthology
COLOMA — Independent author Bradley R. Mitzelfelt of Coloma will be included in a new anthology, "Little Girl Lost: Thirteen Tales of Youth Disrupted," according to a news release.
Authors from across North America have contributed stories for new publisher Mannison Press' first collection of short stories covering horror, science fiction, crime drama and fantasy.
The anthology is a collection of stories about girls and young women dealing with some form of disruption in their lives.
Mitzelfelt contributed "The Girl Who Couldn't Shed Tears" about a teenage girl being thrust into the role of mother to orphaned children in a world starving for water.
In addition to print and e-book editions, "Little Girl Lost" also will be offered in an illustrated edition featuring colorful works by press co-founder/designer Deidre J Owen.
Editions now are available on Amazon.
Mitzelfelt is an architect from Coloma, who grew up in Illinois. He has self-published two books: "In The Shadow Of War" and "In The Depths Of Winter."
He is married to Abigail Mitzelfelt, and they are expecting their first child by early November.
Tickets on sale for Day of the Dead celebration
ST. JOSEPH — Tickets now are on sale for a joint community event, Celebrando el Dia de los Muertos, at the Heritage Museum and Cultural Center, 601 Main St.
The event, hosted by the Heritage and the Southwest Michigan Symphony Orchestra, starts at 6 p.m. Nov. 1.
El Dia de los Muertos is a traditional Mexican holiday honoring and celebrating family members who have died.
The event will include authentic Mexican cuisine, specialty beverages, live mariachi band music, dancing and fresh-pressed cider.
Celebrants are asked to bring photos of loved ones who have died to display at the "cemetery," and reflect on the memories that made them special.
The event is family friendly with entertainment options for children that include crafts, face painting and a screening of "Coco."
Tickets are $25 for adults ($30 at the door) and $5 for ages 5-12. There will be a cash bar.
Tickets are available online at smso.org, or by calling 982-4030 or 983-1191.
A limited number of 50/50 raffle tickets are available for $25.