Aircraft recovery author visits airport
BENTON HARBOR — Morton House Museum will host Taras Lyssenko of A&T Recovery for "World War II Navy Aircraft Recovery" on Saturday.
The event at Southwest Michigan Regional Airport, 1123 Territorial Road, will start with a meet-and-greet and book signing at 6 p.m., followed by Lyssenko's presentation at 7 p.m.
For nearly 35 years, A&T Recovery has searched the southern basin of Lake Michigan for lost World War II U.S. Navy aircrafts. The team is so successful the National Naval Aviation Museum has used them to recover dozens of aircrafts.
Lyssenko was contracted to author a book, "The Great Navy Birds of Lake Michigan," about the company's work.
Saturday's event is free, but a suggested donation of $5 will help support the museum.
TCP sets auditions for 'Kris Kringle'
ST. JOSEPH — Twin City Players will hold auditions for its holiday show, "Kris Kringle the Musical," next week.
Auditions will be at 6:30 p.m. Tuesday and Wednesday at the Playhouse, 600 W. Glenlord Road. Callbacks, if needed, will be on Oct. 3.
Faith E. Schroeder-Smith will direct the production.
A script preview is set for 6:30 p.m. tonight for those who want to review the script.
For auditions, attendees should prepare a holiday song that shows off their range, creative and expressive qualities. Auditions also will include cold readings.
The show will run from Dec. 6-15, with a private performance also slated for Dec. 5.
SWMI Reads presents 'James Bond Phenomenon'
LAWTON — Southwest Michigan Reads will present film historian and author Raymond Benson's "The James Bond Phenomenon" at 6:30 p.m. Tuesday at the Lawton Community Center, 646 N. Nursery St.
Benson's interest in Bond began at age 9, and culminated in adulthood with publication of his nonfiction work, "The James Bond Bedside Companion." The comprehensive book on all things Bond earned a nomination for the Mystery Writers of America Edgar Allan Poe Award for Best Biographical/Critical Work.
Benson's research for the book allowed him to develop a relationship with Ian Fleming's family and Peter Janson-Smith, chairman of what is now known as Ian Fleming Publications Ltd.
Janson-Smith was instrumental in commissioning Benson as the first American to write six original Bond books.
Besides the Bond books and a stint as David Michaels, the pseudonym for authors writing Tom Clancy novels, Benson has written under his own name. His latest book, "Blues in the Dark," releases next month.
Southwest Michigan Reads, formerly Van Buren Reads, has hosted visiting authors since 2014.
The presentation is free and open to the public.
For more information, look for Southwest Michigan Reads on Facebook, contact the nearest participating library or email info@vbdl.org.
Cirque Dreams Holidaze comes to Four Winds
NEW BUFFALO — Four Winds Casino Resort's Silver Creek Event Center, 11111 Wilson Road, will play host to Cirque Dreams Holidaze in December.
Shows will be at 8 p.m. Dec. 14 and 5 p.m. Dec. 15. Tickets, which start at $35, are now on sale.
The critically-acclaimed show is a Broadway musical and cirque adventure wrapped into one.
Broadway Director and Cirque Dreams Founder Neil Goldberg has searched the world to assemble a cast of cirque artists, singers, dancers and talent to mesmerize audiences with new acts, holiday scenes, theatrical innovation and more.
Set in a multi-million dollar wonderland of elaborate scenes, audiences will celebrate the most wonderful time of the year. Broadway singers will perform original music along with a new twist on seasonal favorites such as "Deck The Halls," "Winter Wonderland" and "Jingle Bell Rock."
Discovery Zone opens new exhibit
ST. JOSEPH — The Curious Kids' Discovery Zone, 333 Broad St., reopened Saturday with a new exhibit in the Gast Traveling Exhibit Gallery, "Centuries of Childhood: An American Story."
It is an interactive, hands-on, kid-friendly exhibit that charts the history of five children and their families. Ranging from Jacob the Jewish immigrant living in Cleveland to Michael the black youngster moving from the South to Chicago, the exhibit helps kids connect the stories of these characters to events in history.
Discovery Zone admission is $6, or $10 for joint admission with Curious Kids' Museum, 415 Lake Blvd. Members and those younger than 1 are free.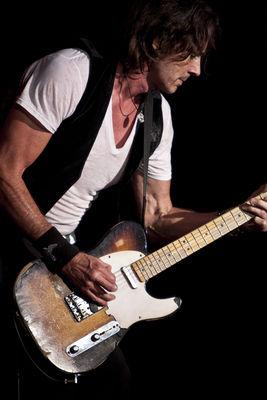 Rick Springfield to perform in N. Buffalo
NEW BUFFALO — Rick Springfield will make a tour stop at Four Winds Casino Resort's Silver Creek Event Center, 11111 Wilson Road, on Feb. 15.
Tickets for the 9 p.m. show, which range from $59-$79, go on sale Friday.
Over the past four decades, Springfield has worn many hats as an entertainer and performer. A Grammy-winning singer, songwriter and musician, he has sold 25 million albums and scored 17 Top 40 hits, including "Jessie's Girl," "Don't Talk to Strangers," "An Affair of the Heart," "I've Done Everything for You," "Love Somebody" and "Human Touch."
He's also an accomplished actor. He's appeared opposite Meryl Streep in "Ricki and the Flash," as the creepy Dr. Pitlor in "True Detective," as Lucifer on "Supernatural" and most recently as Pastor Charles on "American Horror Story."
His most recent album, "Orchestrating My Life," was released this year.
Niles Art Association meets Tuesday night
NILES — The Niles Art Association will meet at 7 p.m. Tuesday at Niles District Library, 620 E. Main St.
Danielle Wilborn, executive director of Buchanan Art Center, will speak about photography, which she learned from her grandfather, Albert Tengelitsch.
She has received numerous awards for her work, and her landscape photos are mostly from traveling across the United States.
She has been heavily involved in many local organizations, including Northern Indiana Artists, Buchanan Art Center, Michiana Gem and Mineral Society and Art Beat South Bend.
Meetings are free and open to the public. Show and tell is always welcome.