Wind Symphony concert is Saturday
BERRIEN SPRINGS — The Andrews University Wind Symphony will partner with the Southwestern Michigan College Brass Band for the Wind Symphony Winter Concert at 8 p.m. Saturday at the Howard Performing Arts Center, 4160 E. Campus Circle Drive.
The Brass Band will perform "Fanfare" from "La Peri" by Paul Dukas, "Emblem of Freedom March" by Karl King and "Dances from Terpsichore" by Michael Praetorius. They also will play "Nimrod" from "Enigma Variations" by Edward Elgar and "Fiesta" by Philip Sparke.
The Wind Symphony will perform Joseph Jenkins' "American Overture for Band," Gustav Holst's "First Suite in E flat" and Oliver Nickel's transcription of "Danzón No. 2." They also will perform Frank Ticheli's "Shenandoah" and "Song for My Children" by Andrew Boysen Jr.
Tickets can be purchased online at howard.andrews.edu. Tickets are $6 for general seating, and $4 for students and seniors.
For more information, call 471-3560.
Alan Parsons Live comes to Four Winds
NEW BUFFALO — The Alan Parsons Live Project will make a tour stop at Four Winds Casino Resort's Silver Creek Event Center, 11111 Wilson Road, on May 1.
Tickets for the 9 p.m. show, which range from $29 to $69, go on sale Friday morning.
Tickets can be purchased online at www.fourwinds casino.com or by calling 866-494-6371.
Parsons is a Grammy-winning artist and music icon. He worked as assistant engineer on The Beatles last two albums. After he became a full-fledged recording engineer, he went on to work with Paul McCartney and The Hollies, among many others.
It was his contribution as an engineer on Pink Floyd's "The Dark Side Of The Moon" that got him the world's attention. That led to successes as a producer, notably with Pilot's "Magic," John Miles' "Highfly" and "Music," and Steve Harley's "Make Me Smile." He also produced "Year Of The Cat" with Al Stewart and two albums with Ambrosia.
In 1975, he met Eric Woolfson, who became his manager, and joined forces with Parsons as a songwriting and performing partner for what became known as The Alan Parsons Project.
Their albums include "Tales Of Mystery And Imagination," "I Robot," "Pyramid," "The Turn of a Friendly Card," "Eye in the Sky," "Ammonia Avenue," "Vulture Culture," "Stereotomy" and "Gaudi."
The current live band consists of Parsons on acoustic guitar, keyboards and vocals; P.J. Olsson on vocals; Tom Brooks on keyboards; Guy Erez on bass; Jeff Kollman on guitar and vocals; Danny Thompson on drums; Todd Cooper on sax, percussion and vocals; Dan Tracey on guitar and vocals.
Box Factory starts weekly jam sessions
ST. JOSEPH — The Box Factory for the Arts, 1101 Broad St., will offer Wednesday night jam sessions for musicians needing a stage to practice, perform or participate. Portrait painters also are invited.
The jammin' will begin next week and continue on Wednesday nights from 6-9 p.m.
Those wanting to participate can sign up for a session by emailing anso91@yahoo.com.
The public is invited to listen for a suggested donation of $5.
ArtsBridge to host poetry reading
BENTON HARBOR — ArtsBridge will present its 12th annual Super Sunday Poetry Reading at 2 p.m. Sunday at First Presbyterian Church, 475 Green Ave.
Poetry lovers of all ages are invited to attend and share a favorite poem, or poems, they have written.
Possible topics could include nature, feelings, love, personal philosophy, diversity and spirituality.
"This (event) will take place in an intimate and non-intimidating setting," organizer Isabel Jackson said. "Attendees may read their own work, or have someone else read it. Participation is highly encouraged. All present will have the option to simply listen."
Admission is free, but donations will be accepted.
A reception will follow the program.
For more information, call 925-7075 or visit firstpresbh.org.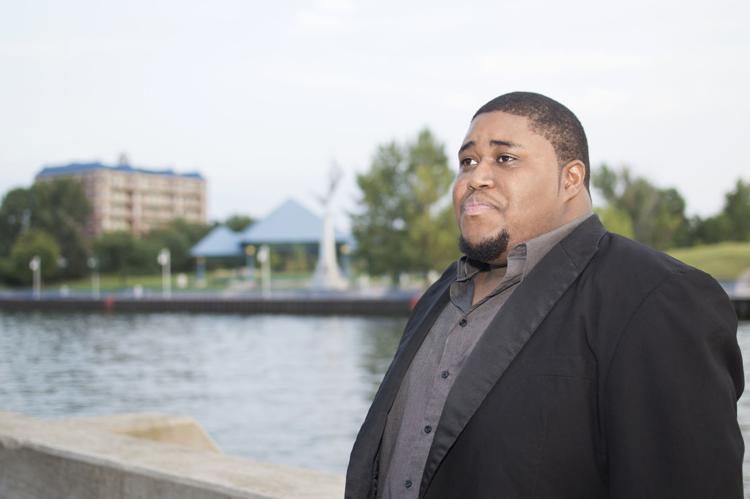 Musical Club welcomes Fisher
ST. JOSEPH — The Monday Musical Club's 7 p.m. Monday program, "From My Soul to Yours," will feature local singer Andrew Fisher.
While having a passion for classical music, Fisher is equally as passionate about jazz, soul, rock, R&B, show tunes, pop and more.
The program, which will be at The Heritage Museum and Cultural Center, 601 Main St., is free and open to the public.
Trained as a classical singer, Fisher studied vocal performance at Oakwood University in Alabama and Andrews University in Berrien Springs.
After spending time singing opera at the Straz Center for the Performing Arts in Florida, he moved back to Southwest Michigan to help the musical community here.
Fisher participates in multiple ventures, such as choral singing in community choirs, solo performances, guest appearances and performing in musicals.
His current passion is his jazz fusion group, The Andrew Fisher Quartet.
Fisher is a vocal instructor at the Citadel Dance & Music Center in Benton Harbor.
For more information visit mmcmi.org.
Box announces Kendall classes
ST. JOSEPH — The Box Factory for the Arts, 1101 Broad St., has announced new art and design courses from the Kendall College of Art and Design.
Classes for adults will begin weeknights on March 10 and run through April 23.
Explore Interior Design, try your hand at abstract painting, learn the basics of Adobe InDesign and more.
For more information, or to register for a class, call 616-259-1144, or visit kcad.edu/cs.