BENTON HARBOR — Most people celebrate their 21st birthday with a few drinks at a few different bars.
But local musician Jack Adams, or as he's fondly known "St. Joe Jack," will celebrate his at 100 breweries in 100 days.
"It was inspired by 99 bottles of beer on the wall," he said during a recent phone interview. "I just thought it'd be crazy to play at 100 breweries and do one bottle at each brewery and count it down. As soon as I started telling people, they would say, 'Why didn't I think of that?' So it had some traction, and I started planning."
Adams will kick off his "Take Down Tour" tomorrow at The Livery in Benton Harbor. Though he's played there before, this will be his first headlining gig.
Though just 21 – his birthday was yesterday – Adams has been playing music for about a decade. Like many performers, he started out by making the open mic rounds, gradually picking up gigs once word spread.
Along the way, he's picked up some musician friends that will join him for his birthday show on stage at The Livery.
Adams said he'll do two solo sets, then Ian Nibbelink of Zeeland, Mich., will join him to play a little piano. Later, Morgan Ingle from the bands Slim Gypsy Baggage and The Backups, will perform.
For Adams' last set, he will be joined by Dylan Wesley on drums and Shane Lewis on bass. He said both of them are from Grand Rapids and have their own band, Blue Oddity.
"We'll have a big song for the final set with a big round robin of musicians," he said.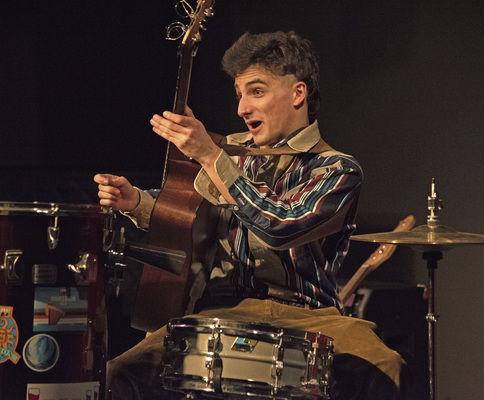 In usual St. Joe Jack style, the audience will be presented with a melange of music.
He plays the music of his myriad influences – Buddy Holly, Grateful Dead, Stevie Wonder, Bob Marley – as well as his original material. He's been described as a "one-man-jam-band," looping musical phrases or beat-boxing to add to his sound.
During his tour, most of the breweries he'll hit are in Michigan, but he'll spend a week in Kentucky and visit one outside of Chicago.
Adams said he's nervous about going on the road for 100 days straight, but that's his speed.
"I'm on the go all the time," he said.
Adams, who graduated from St. Joseph High School in 2017, was promoting his EP "Snack Pack" this time last year and going into his sophomore year at Grand Valley State University.
"I'm taking a gap year. I realized I don't think I can do both the tour and school at the same time," he said. "I'm getting this out of my system."
Over the last year, he's been studying and playing a lot of music in Grand Rapids.
"I've been playing bass and drums for quite a few people," he said. "I've started brewing kombucha, and when I'm not making music, I'm tie-dying with my family, and selling them at markets and events."
Over the summer he took a job bailing hay and picking blueberries in Grand Haven.
"It was flexible with my gig schedule, so I could be gone on the weekend and play music," Adams said. "But then, when I started out this tour, I'd be calling breweries on my breaks, and the days I'd have off all I'd be doing was making my calls."
He said he couldn't let this story get out without thanking his mom, Maureen Adams, The Livery and the other 99 breweries hosting him in the coming weeks.
"How can I not be excited for the tour?" he said. "I love being able to make music and literally do it day to day. This is the first time I've played this quantity of gigs all at once."