ST. JOSEPH — Those looking to give their kids a hands-on learning experience this summer can look no further than the Curious Kids' Discovery Zone.
"Measurement Rules," an exhibit created by the Children's Museum of Pittsburgh, will be at the Discovery Zone through August.
"It's supposed to be a more math-based, STEM-based exhibit. And it's all based around hands-on play," said Lori Marciniak, executive director of the Curious Kids' Museum and Curious Kids' Discovery Zone.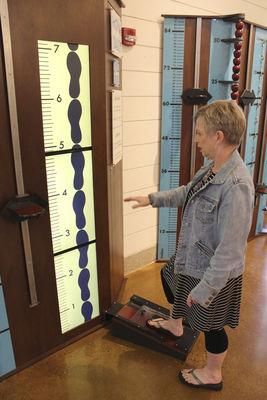 Every three to six months, Curious Kids' brings a new traveling exhibit into their Discovery Zone.
"'Measurement Rules' is super fun because you are doing measurements in nontraditional units of measure," Marciniak said.
For example, when kids step onto a scale, they are weighed in chickens, not pounds. If they want to see how tall they are, they can measure themselves in feet and inches, and then see how many human feet they are.
"Then you can measure yourself in apples, spoons, water bottles or pennies," Marciniak said. "So it's just a sort of fun thing for kids to kind of do some conversions. 'Oh! I might be 3 foot, but I'm 200 pennies.'"
She said another station tells you your cubic volume and another one explores time.
"You're not supposed to look and see if you can count in Mississippi's along with the machine," she said. "It's kind of fun to tell kids that we measure things in hours and days, days, minutes and seconds, but whenever anyone is trying to do seconds it's usually the Mississippi's."
Kids can use a giant tape measure to determine the length of whales, jellyfish and other sea creatures, and a big scale to figure out how to balance different objects.
Marciniak said one of the favorites since the exhibit opened a few weeks ago has been a ball sorter where kids try to figure out the sizes of different balls and sort them into different shoots. If the ball is the wrong size it pops back out of the machine.
At a bead table, kids can use funnels and measuring cups to determine the volume of differently shaped cylinders.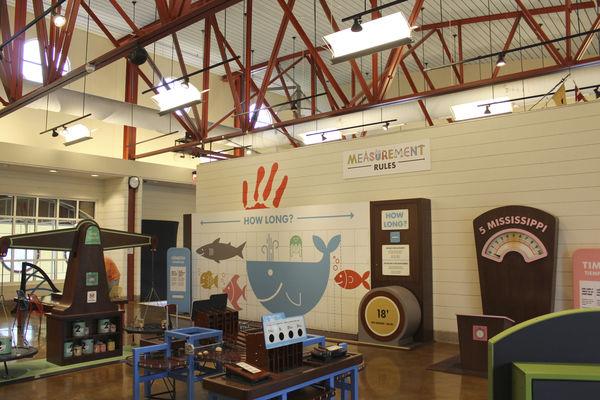 "Volume, I think, is harder for kids, so at another station, kids can use cubic blocks to construct animal sculptures, like a rabbit, to determine their volume," Marciniak said. "The rabbit, for example, is 218 cubic inches."
She said this can be harder for little kids, but just getting to to have hands-on play is awesome.
"We don't ever prescribe you have to do it a certain way," Marciniak said. "Every exhibit has the way it was intended to be used. Kids will find every other way to use it and we love that. Everything should be open ended, and they should figure out what's fun and how to learn from it. This can be a lot of different things to a lot of different kids depending on their age and their interest in math."
She said they've got great feedback so far.
"Really it's for all ages," Marciniak said. "That's really our goal: to try to challenge and give something for the whole family. Sometimes the adults like it and the kids don't and vise versa, and I think there's enough here that the kids have really enjoyed it. We sometimes like to trick them into learning."
The Curious Kids' Discovery Zone is in the Silver Beach Center, 333 Broad St. It is open from 10 a.m.-5 p.m. Monday-Saturday and noon-5 p.m. Sunday.