ST. JOSEPH — Experience is everything, especially if you're an artist who's making the rounds, trying to earn a living off your craft.
It's the reason 3-D metal artist Michelle Zorich, and her partner, Katherine Martin, of Kalamazoo, look forward to the Krasl Art Fair on the Bluff – where they've been regulars since the 2000s.
"It is our favorite show of the year," Zorich said. "It's got a really nice energy. They've been doing it for so long, that it kind of moves itself. It's like clockwork setting up, clockwork tearing down – and they're so generous with making sure we're taken care of."
Caring for artists is crucial – because the event couldn't happen without them, as Krasl Development and Art Fair Manager Dee Hodgson sees it.
She speaks from her previous experience in Georgia, where she spent a weekend helping a craftsman friend with his show.
"He paid me to help set up, sell and clean up. It's a ton of work. Your whole shop is in the back of a car," she said.
At Krasl, Hodgson can call on roughly 400 volunteers to ensure the fair runs smoothly – which is her responsibility, plus fundraising and marketing. Now in her second year at Krasl, she's spent 20 years in St. Joseph.
She doesn't take the fair's volunteer presence lightly.
"(The artists) usually come with maybe one helper, a spouse or a collaborator," Hodgson said. "We have a lot of volunteers who can help give a hand. It would not happen without them. It could, but it wouldn't be lovely for anyone."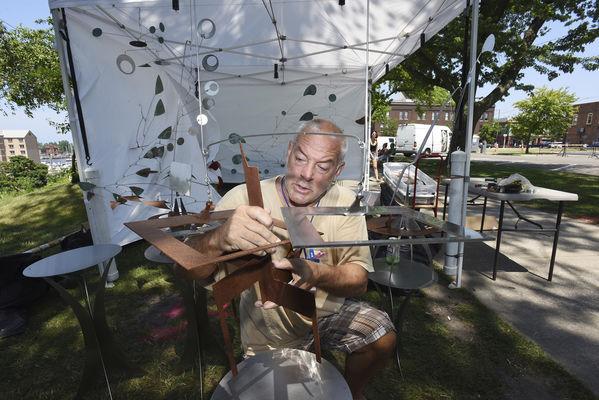 'Our reputation's out there'
This year's affair will feature 216 artists, who were chosen by a jury.
The event began in 1962, as the St. Joseph Arts & Crafts Fair – long before the Krasl existed as its own entity, Hodgson said. The Krasl started in 1979.
"There were 90 artists, and they hung their works on clothesline, on the bluff. (Artwork) had to be original, and it had to be for sale," Hodgson said of the first fair. "The prices ranged from $5 to as high as $300."
Today's fair draws an estimated 50,000 people, who may pay $50 at the low end to $5,000 to $8,000, according to Hodgson.
The fair is No. 19 in Sunset Artists' Top 200 listings, and is also in Art Fair SourceBook's Top 50 shows, which doesn't rank them numerically.
"Sunset is based on artists' sales, so that's pretty good. The only one that beats us in Michigan is the Ann Arbor Street Fair," Hodgson said.
The fair's audience ranges from Southwest Michigan to Grand Rapids, Kalamazoo and South Bend, Ind., while the typical buyer is more likely to be regional, according to Hodgson.
"We are fortunate," she said. "Our reputation's out there, so we do get artists who are top-quality artists. We have a very strict jury process."
Though she doesn't recall the exact number, Zorich estimates she and Martin have done roughly 15 Krasl Art Fairs.
For 21 years now, they've created, designed and sculpted what they call "furnishings for the fearless" through their business, Things of Steel – giving them a unique insight into the Krasl event's growth.
The pair have seen interest in their work grow steadily with each return visit.
"We have, actually, collectors now, going, 'Oh, my gosh, I have a piece of furniture, I have a mirror, now I have a foyer area that I want you to work on,'" Zorich said.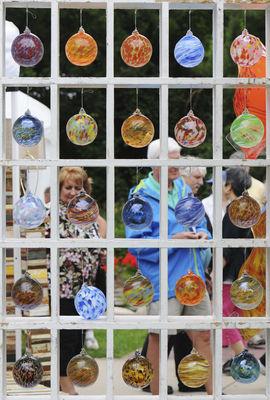 'The bar is set high'
Krasl's jurying process sets the fair apart by ensuring a high standard that keeps patrons coming back for more, Hodgson said.
The jury consists of five judges – including art instructors and gallery owners – who review four images of each applicant's work, plus one of their booth, Hodgson said. She estimates that 800 to 900 artists apply every year for the art fair.
Judges then rank the images on a scale of one to seven, Hodgson said. Seven is the highest score.
"We have five different jurors every year, so we really have a different show every year," Hodgson said. "We only invite back the previous year's award winners, so there's only 12 that automatically get an invitation (for the next fair)."
Artists must also work their booth – rather than having someone else do it – and include a specific percentage of original work to sell, Hodgson said.
"If it's mass-produced, if there's a team of six making it – you're not going to be in our art fair," Hodgson said. "We've asked people to leave (for that reason), and that also gets out. The real artists are very appreciative."
Zorich appreciates Krasl's selection process, as someone who's gone through it so often.
"The bar is set high," Zorich said. "We were in Maryland (recently), and (heard), 'Oh, I can't get into Krasl.' It's empowering, knowing that you can get in, and when you get in, people go, 'Oh, my gosh, you were here last year, I love your work.'"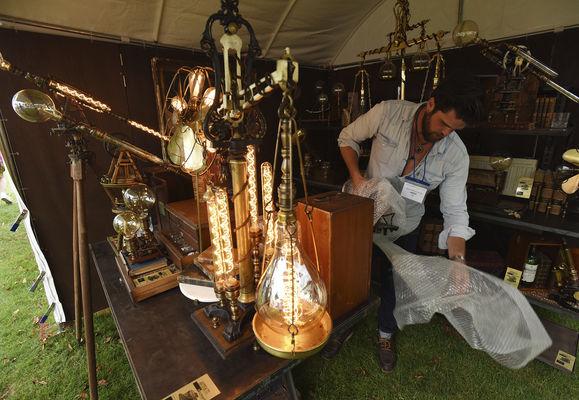 Getting the details right
Krasl's attention to detail offers another powerful incentive for artists to return, once they pass muster, Zorich believes.
"They're very good with artist support – it's all impressive," Zorich said. "(The volunteers) come around: 'What can we do for you? Do you need water? Can we watch your booth while you go to the bathroom?'"
The latter feature is part of the Booth Sitters program, where volunteers temporarily man the space, so artists can run errands, get something to eat, or hit the restroom, for example.
"Some of these people have done it for years. They know the artist, and maybe will sell some artwork, because the artist trusts them," Hodgson said.
The general response from patrons also convinces Zorich that the fair gets other logistical issues right, like scheduling.
"The hours aren't too long. They don't overextend hours, which is really great: 'Oh, let's do it till 7.' I'm like, 'Why are we open till 7?'" she said, referring to other shows she's done.
Krasl follows the same logic in limiting the number of artists to about 200, and sticking with its longtime site, Hodgson said.
"It's a comfortable experience for the artist, and the patrons. You don't get so packed on the bluff, you can't move. We stay out of downtown – the farmers market can still happen. We try to be a good community partner," she said.
Striking that balance also ensures that an audience doesn't get tired, and tune out, Zorich said.
"It's an international quality show," she said. "There's always a wonderful amount of patrons – it's never like, 'Oh, (the number of) people were down. They weren't coming in.'"
Getting the details right goes a long way, for two reasons, as Hodgson sees it.
First, although the center doesn't actually make money on the fair, the event raises around $60,000 to $65,000, "which is a critical part of keeping our education programs going," Hodgson said.
The money comes out of application and booth fees, while artists keep all the proceeds of their sales.
"Our operating scholarships come through this fundraiser," Hodgson said. "We try not to count staff time in that."
Second, ensuring a great experience will keep the artists coming back, with an audience to follow them, Hodgson said.
"When they leave, they say to their friends, 'Hey, you've got to get into Krasl – it's a great time, they treat the artists well, and they appreciate we're here,'" she said.