While most days I want something quick, easy and delicious to make, there are also times when I love to spend an afternoon cooking. When I do, I often turn to a cookbook I haven't used before.
This weekend, it was Todd Richards' "Soul: A Chef's Culinary Evolution in 150 Recipes," which won the International Association of Culinary Professionals' award for Best Cookbook in America for 2019.
It is indeed a soul food cookbook, but the recipes are sophisticated, taking this type of cooking in a different direction than is traditional.
Richards' recipes are organized by ingredients, such as corn, tomatoes, melons, stone fruit, berries and roots, as well as other categories, like eggs and poultry, pork and beef. It makes it easy to pair them with what's in season.
If you're trying to save time in making any of the recipes below, go with pre-made pie crust for the Blueberry Fried Pies.
I guess you also can cheat and buy some fried chicken for the Fried Chicken and Sweet Potato Waffles. It avoids the mess of frying, though you'll miss out on Richards' great-tasting version. Or you can skip the fried chicken, and just make sweet potato waffles, which are delicious by themselves.
Though these recipes seem long, once you start cooking, I think you'll find they really aren't difficult, just a little more time-consuming than throwing hamburgers and un-shucked corn on the grill.
Richards, who was nominated twice for the James Beard Award as Best Chef of the Southeast, competed on "Iron Chef," and is originally from Chicago. His culinary heritage stems from classic soul cooking.
"It then progressed forward," he says.
His mom loved Chinese food, and typically ordered yakamein – noodles, broth and pork belly with a soft-boiled egg and scallions.
Because his dad was frugal, when they ordered take-out, any leftovers in the kitchen had to be used, too. His recipe for Collard Green Ramen, which is in the cookbook, harkens back to when there were collard greens on the table along with the yakamein.
"It's a dish I was eating when I was 5, 6 years old," Richards says. "The way that I interpreted it is a little bit different because of my background in cooking, but it's the exact same dish I was eating as a kid."
His Blueberry Fried Pie has similar roots. Chicago had a Hostess factory, and what Richards describes as a "whole Hostess culture." He has a vivid memory of tearing the paper off their fried pies, so his recipe is, for him, like being a kid again.
"I interpret this recipe a little bit differently: Instead of cooking the blueberries to mush, you make the liquid and then you put the blueberries inside of it," says Richards, who is the owner/chef of Richards' Southern Fried in Atlanta. "That way, when you bite into the fried pie, you get all this fresh blueberry flavor, one that's not overly sweet. What I've done is taken my childhood memories and progressed them to fine-dining dishes."
The following recipes are from "Soul: A Chef's Culinary Evolution in 150 Recipes."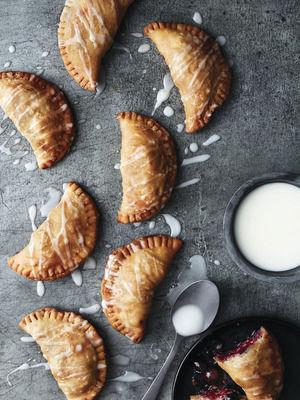 Blueberry Fried Pies with Meyer Lemon Glaze
1 teaspoon orange zest (from 1 orange)
1/4 teaspoon vanilla bean paste
4 cups fresh blueberries (about 1 1/4 pounds)
Erika Council's Pie Crust (see recipe below)
All-purpose flour, for dusting
Meyer Lemon Glaze (see recipe follows)
Whisk together the sugar and cornstarch in a saucepan. Add 1/2 cup of the water, and whisk until combined.
Whisk in the rum, orange zest, vanilla bean paste and salt. Add the thyme sprig.
Cook over medium heat, whisking constantly, until the mixture is thickened, 12-14 minutes. Remove from the heat, and fold in the blueberries.
Let stand for 30 minutes. Remove and discard the thyme sprig.
Cut the pie crust in half. Refrigerate 1 portion until ready to use. Roll out remaining portion to 1/8-inch thickness on a lightly floured surface.
Cut the dough into 10 circles with a 4 1/2-inch round cookie cutter, re-rolling scraps once. Repeat with remaining dough half.
Spoon about 1 tablespoon of filling into the center of each dough circle.
Whisk together the egg and remaining 1/4 cup water. Brush the edges of the pies, and fold over so the edges meet. Press the edges together with a fork to seal.
Repeat the process with the remaining dough, filling and egg wash.
Heat the oil in a skillet over medium heat to 375 degrees.
Fry the pies until golden brown, about 4 minutes. Turn and cook about 2 minutes more. Drain on paper towels, and let cool 20 minutes.
Drizzle with Meyer Lemon Glaze. Serve with ice cream or lemon sorbet.
Meyer Lemon Glaze
2 tablespoons Meyer lemon juice
1 to 3 teaspoons heavy cream
Whisk together the powdered sugar and lemon juice in a small bowl. Whisk in the heavy cream, 1 teaspoon at a time, until desired consistency is reached.
Erika Council's Pie Crust
Makes 2 (9-inch) pie crusts.
3 cups all-purpose flour, plus more for dusting
6 ounces unsalted butter, very cold, cut into 1/2-inch pieces
1/3 cup vegetable shortening, very cold
6 to 8 tablespoons ice water
Place the flour, sugar and salt in the bowl of a food processor, and pulse a few times until combined. Add the butter and shortening, and pulse until the mixture resembles small peas, 8 to 12 times.
With the processor running, drizzle 6 tablespoons of the ice water through the food chute, and process until the dough begins to form a ball. (Add up to 2 more tablespoons, 1 tablespoon at a time, if needed, to reach desired consistency.)
Turn the dough out on a lightly floured work surface, and shape into a ball. Wrap in plastic wrap, and refrigerate at least 30 minutes or up to 2 days before use.
Fried Chicken and Sweet Potato Waffles
6 tablespoons kosher salt
2 tablespoons granulated garlic
1 1/2 teaspoons red pepper flakes
1 (4-pound) whole chicken, cut into 8 pieces
Seasoned Flour (see recipe below)
Sweet Potato Waffles (see recipe below)
Stir together water, buttermilk, salt, hot sauce, sugar, garlic, onion powder and red pepper flakes in a large bowl.
Add the chicken pieces to the brine.
Refrigerate for at least 12 hours and up to 28 hours.
Heat the oil in a deep cast-iron skillet over medium heat. Remove chicken from the brine, and let any excess liquid drip off. Discard the brine.
Dredge chicken in Seasoned Flour to coat, and add to the hot oil, 1 piece at a time. Cook, turning every few minutes, until golden and a meat thermometer registers 165 degrees.
Drain on paper towels. Serve atop Sweet Potato Waffles with maple syrup.
Sweet Potato Waffles
Makes 4 (8-inch) round waffles.
1/4 teaspoon blended olive oil
2 tablespoons granulated sugar
2 teaspoons baking powder
1 teaspoon vanilla extract
1/2 teaspoon maple extract
Heat the oven to 375 degrees.
Rub the potato with the oil. Bake in the heated oven until tender, about 40 minutes. Remove from the oven, and cool for 20 minutes.
Heat a Belgian waffle iron according to manufacturer's instructions. Stir together the dry ingredients in a bowl. Stir together the wet ingredients in a separate bowl.
Peel and mash the sweet potato, and stir into the milk mixture. Stir milk mixture into the flour mixture.
Pour about 1/2 cup of batter onto hot waffle iron and cook according to manufacturer's instructions until golden brown.
Seasoned Flour
2 tablespoons kosher salt
1 1/2 tablespoons granulated onion
1 tablespoon coarsely ground black pepper
1 tablespoon granulated garlic
1 tablespoon chili powder
Combine all ingredients in a medium bowl, and store in an airtight container.
Jane Ammeson can be contacted via email at janeammeson@gmail.com or by writing to Focus, The Herald-Palladium, P.O. Box 128, St. Joseph, MI 49085.