Exhausted from 12-hour days as a pastry chef in the kitchen of a Michelin-starred restaurant, Gemma Stafford decided to take her baking skills directly to viewers via You Tube and Facebook.
Currently her "Bigger Bolder Baking" videos have more than 300 million views across social media. And Stafford, who lives in California, now has a cookbook, "Bigger Bolder Baking: A Fearless Approach to Baking Anywhere, Anytime."
"Going to video was the first time in my career I'm not working at minimum wage," she says, "and I don't have to fight with the chef for a 25-cent raise, which I had to do."
When I ask her what bigger and bolder baking means – I was thinking giant cakes shaped like the Eiffel Tower or something elaborate and totally out of my skill range until I saw the book and watched her YouTube videos – she explains.
"Bigger bolder baking is straight to the point, calling mostly for ingredients that should already be kitchen staples," she says. "My recipes are really alternative ways to get traditional results."
Each of the 150 recipes in the book has a matching color photo, and many have names like Dad's Favorite Four-Ingredient Crème Brulee, The Simplest Rocky Road Fudge and Five-Ingredient Coconut Kisses.
There's even an "In Case of Emergency" 1-Minute Microwave Brownie that you make in a mug (Stafford is big on mug cakes).
For those with high-level baking skills, there's her Homemade Jelly Doughnuts – they're more time consuming with more steps, but because she writes every step out, it's still fairly easy to make – and Salted Butterscotch Pots de Crème.
There are even a few Irish desserts to try, including Irish Rhubarb Crumble, and another dish I've never run across before: My Famous Red Velvet Pancakes with Cream Cheese Frosting. Since red velvet cake was my go-to dessert in college when I had friends over for dinner, that's a must try for me.
"My book gives you all the information you need, nothing more, nothing less," she says. "A lot of people ask me who is the book for, and I say, honestly, everyone."
Stafford started baking when she was about 6 or 7, when her mom just let her go in the kitchen.
"It was a gift," she says. "Probably the best thing she did was to leave me alone in the kitchen to figure it out."
Stafford graduated from Ballymaloe Cookery School in Ireland, worked as a private chef in Paris, and has run the gamut of cooking experiences – from being a morning chef to the Michelin-rated restaurant. Now she's ready for the next adventure, moving back to Ireland and opening a cooking school.
Here are a few recipes from her new book: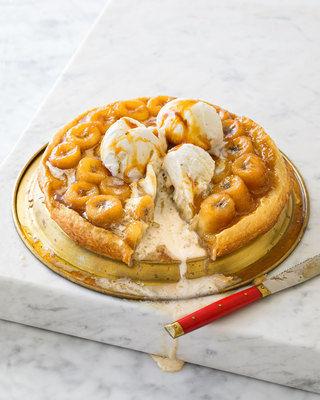 Caramelized Banana Tarte Tatin
1 recipe Foolproof Puff Pastry (see recipe below), or 1 sheet store-bought puff pastry
6 tablespoons butter, softened
2/3 cup light brown sugar
4 or 5 medium bananas, peeled and sliced 1-inch thick
Vanilla ice cream, for serving
Heat an oven to 400 degrees.
On a floured surface, roll out the puff pastry to about 1/4-inch thick. With a knife, cut out a 10-inch circle of pastry.
Transfer the pastry to a cookie sheet, cover, and refrigerate until needed.
Place a 10-inch skillet over medium heat, and add the butter and brown sugar. Cook, stirring until the sugar has melted. Place the bananas around the skillet, cut side down. Pack them in tight for the prettiest presentation. Let the bananas cook, undisturbed, for 1 to 2 minutes.
Top the bananas with the circle of puff pastry. With a knife, pierce some holes in the pastry to allow steam to escape.
Bake for 20 to 25 minutes, until the pastry is golden brown, and the filling is bubbling. Transfer the skillet to a wire rack to cool for 5 minutes.
While the tarte tatin is still warm (don't let it cool too much, or the caramel with set and it will be difficult to turn out), carefully cover the top of the skillet with a serving platter. Holding them together, invert the pan and the platter to turn your tarte tatin out onto the platter.
Serve warm, with a big scoop of vanilla ice cream. Store leftovers in the fridge, covered, for up to a day.
Foolproof Puff Pastry
Makes 1 large sheet puff pastry.
10 tablespoons water, chilled
1 tablespoon fresh lemon juice
2 1/3 cups all-purpose flour
14 tablespoons (1 3/4 sticks) butter, frozen for at least 2 hours
In a measuring cup, mix together the water and lemon juice. Set aside.
In a large bowl, mix together the flour and salt.
On the large holes of a box grater, grate the frozen butter directly into the flour. Mix the butter through the flour until combined.
Add the liquid, using your hand to bring the dough together until it forms a ball (you may not need all the liquid – hold some back just in case you don't need it all). If the dough is too wet, it will not be flaky.
Wrap the dough in plastic wrap and refrigerate for at least 1 hour, or up to 3 days, or freeze for up to 4 weeks.
Note: Frozen butter is the secret. The colder the butter, the flakier the pastry.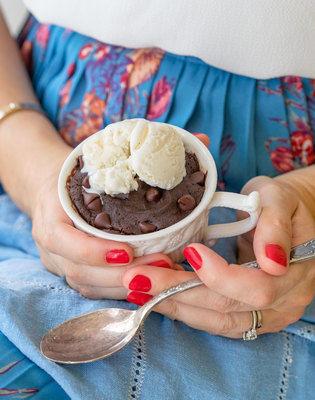 'In Case of Emergency' 1-Minute Microwave Brownie
3 tablespoons all-purpose flour
3 tablespoons light brown sugar
3 tablespoons unsweetened cocoa powder
3 tablespoons vegetable oil
1/2 teaspoon pure vanilla extract
2 teaspoons chocolate chips
Vanilla ice cream, for serving
In a medium, microwaveable mug, mix together the flour, brown sugar, cocoa powder and salt.
Pour in the oil, water and vanilla, and mix until just combined. Stir in the chocolate chips. (If you don't want to cook the brownie straight away, you can refrigerate it for up to 24 hours at this point. The cooking time will be the same.)
Microwave for 45 to 60 seconds, until risen and firm to the touch. This timing is based on my 1,200-watt microwave, so your timing may vary. Always keep a close eye on your mug while it's in the microwave so the brownie doesn't overcook.
Serve warm, with vanilla ice cream.
Jane Ammeson can be contacted via email at janeammeson@gmail.com or by writing to Focus, The Herald-Palladium, P.O. Box 128, St. Joseph, MI 49085.