ST. JOSEPH — Carrie Zak's daughter, Evelyn, was 2 months old when she developed a tight spot in her neck that caused her to lay on the left side of her head more often.
The pressure on her developing skull caused a flat spot, known as plagiocephaly.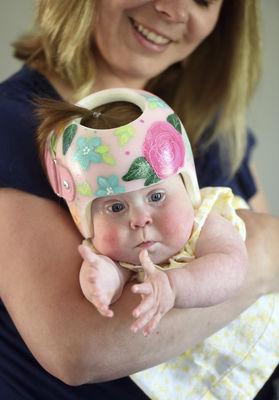 In January, the flat spot had gotten severe enough to warrant a cranial reshaping helmet.
Because of a new partnership between Spectrum Health Lakeland and Mary Free Bed Orthotics & Prosthetics, Evelyn was able to be treated and fitted for a helmet in St. Joseph.
Evelyn sometimes has appointments in Grand Rapids, so going back and forth to checkups in St. Joseph has been really convenient, Zak said.
For 18 months, a doctor with Mary Free Bed has been in St. Joseph seeing patients. The St. Joseph practice will officially open Monday at 2500 Niles Road, Suite 9.
It will be staffed by certified orthotists and prosthetists from Mary Free Bed. They will help fit patients with adaptive equipment, such as cranial reshaping helmets, artificial limbs and external braces designed to enhance and improve their functional ability after a serious injury, illness or other debilitating condition, according to a Lakeland news release.
"Our family is so thankful that this option is right here in St. Joseph," Zak said. "It's a huge blessing, and it'll be a great resource for other families who find themselves in this situation."
Evelyn has Down syndrome, so she has been in physical therapy since she was 2 weeks old. But Zak stressed Down syndrome wasn't the cause of the muscle tightness or the flat spot – it can happen to any baby.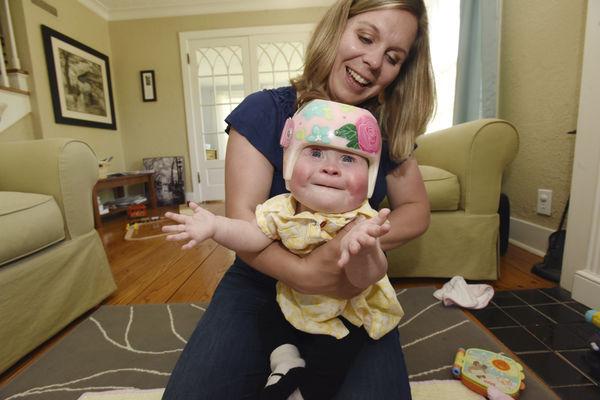 To be fitted for the helmet, Evelyn's head was scanned – a "baby photocopy," Zak likes to call it. Evelyn's doctor was hopeful she could have her helmet off by early June, but a recent checkup showed it would need to stay on a bit longer.
Evelyn has had no trouble wearing the helmet, Zak said.
"It's harder on the parent than the kid," she said.
The helmet was plain pink, but Zak asked an artist friend to decorate it with flowers.
"It has four layers of glitter modge podge," Zak said. "It's fancy."
Zak said if parents are concerned their baby could be developing a flat spot, they shouldn't be afraid to talk to their doctor or a physical therapist and ask questions.
Bringing Mary Free Bed tech to SJ
The Mary Free Bed-Lakeland practice will close a gap in service for Lakeland patients, said Scott Nolte, director of rehabilitation for Spectrum Health Lakeland.
When the best course of treatment for a patient requires amputation, Lakeland physicians perform the surgery. Afterward, the patient has to go elsewhere to be fitted for a prosthetic limb, before returning to Lakeland for rehabilitation.
"It was really a missing piece of our care continuum," Nolte said.
In the past, the Benton Harbor-St. Joseph area had limited access to the kinds of technologies Mary Free Bed provides, with smaller organizations providing some, but not all, services for local patients.
"We've had a very successful program in western Michigan," said Rob Tuck, Mary Free Bed's chief product officer and director of network development. "Our overarching goal is expanding the care in the Benton Harbor-St. Joseph area. We believe we're filling a gap there."
The Twin Cities area is right on the borderline in terms of the number of patients who may require these types of services, Tuck said.
It's hard to know just how many patients the practice may end up serving, but if patient demand is high, Mary Free Bed and Lakeland plan to expand the practice into additional service lines, such as custom seating and mobility aids; assistive technologies that aid communication, such as on-screen keyboards that are triggered using eye movement; and assistance with workplace help, such as modified desks.
Nolte said the new practice will create a seamless experience for patients who need orthotics and prosthetics services.
"The level of expertise and care we'll be able to bring to our community is unsurpassed," Nolte said.