"Some people say that the French have the best cheese, but I think Wisconsin cheese is the best, and I can say that because I wrote the book on cheese," says Kristine Hansen, the author of "Wisconsin Cheese Cookbook: Creamy, Cheesy, Sweet and Savory Recipes from the State's Best Creameries." "Wisconsin is not just about cheddar. We have a large variety of cheeses, which consistently win awards."
With more than 1 million cows, the state turns out more than 2.8 billion pounds of cheese annually. Hansen focused on the growing artisanal cheese producers in the state. Though her cookbook has 60 recipes, it's just as much a travel guide to 28 Wisconsin creameries.
"A lot of my friends, when they come to visit, want to know the best cheese places I've discovered, and ask for directions," says Hansen, a Milwaukee-based journalist covering food/drink, art/design and travel for magazines and websites like Midwest Living and Vogue.
Writing the book meant lots of time on the road, visiting corners of the state she'd never been to, and learning the intricacies of cheesemaking.
So, what makes Wisconsin cheese so great? There are cows throughout the Midwest – though Michigan, Indiana and Illinois don't have nearly the same amount of small-batch, handcrafted cheesemakers as the Badger State.
"A lot of Swiss immigrants settled here, particularly in Green County," Hansen says about the home of Green County Cheese Days, the oldest and largest food fest in the Midwest.
Other creameries mentioned in Hansen's book include the Door County Creamery in Sister Bay, where visitors can sample cheese, take a farm tour and participate in a 40-minute goat yoga session.
"Clock Shadow is one of only two urban creameries in the country," Hansen says about the Milwaukee cheeserie. "One of the reasons they opened is they wanted people in Milwaukee to be able to get fresh cheese curds without having to drive very far."
As an added plus, adults also can combine the experience by taking a tour of Milwaukee Brewing Co., which is just across the street.
"People think the best Gouda comes out of Holland, but Marieke Gouda is wonderful," Hansen says.
Located in Thorp, Marieke Gouda has a product store, newly opened Café DUTCHess, and features tours. Across the street at Penterman Farm, where the milk for Marieke Gouda comes from, there's a viewing room and tours.
Bleu Mont Dairy in Blue Mounds is one of several cheeseries in the state with a cheese cave.
Asked what's the most unique Wisconsin cheese she's sampled – and she's tried a lot – Hansen mentions Carr Valley's Cocoa Cardona, a mild, sweet, caramel-flavored cheese balanced by a slight nuttiness that's dusted with chocolate.
"There are about 500 varieties of cheese or so in Wisconsin, so there's a lot to choose from" Hansen says. "And the cheeses here are not just for those who live in Wisconsin. Uplands Pleasant Ridge cheese costs $26 a pound and sells in New York City. That says a lot about the state's cheeses."
The following recipes are courtesy of "Wisconsin Cheese Cookbook," and come from Wisconsin cheesemakers.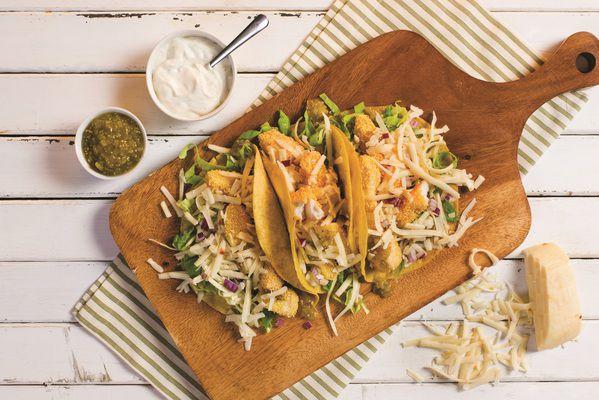 Burnett Dairy Cooperative's Cornmeal Crusted Fish Tacos
1 pound white-fleshed fish (such as cod, haddock, tilapia or halibut), cut into 2-by-1-inch pieces
1/2 teaspoon freshly ground pepper
1/2 teaspoon lime zest, finely grated
1/4 teaspoon ground cumin
8 (7-inch) corn tortillas, warmed
2 cups Bibb lettuce, shredded
1 cup Alpha's Morning Sun with Mango Habanero, shredded
1/4 cup red onion, finely chopped
Season fish with 1/2 teaspoon salt and 1/4 teaspoon pepper; dredge in cornmeal.
In large nonstick skillet, heat oil over medium heat; cook fish, in batches if needed, for 2-4 minutes per side, or until lightly golden and fish is cooked through. Transfer to plate lined with paper towel.
Stir together sour cream, lime zest, lime juice, cumin and remaining salt and pepper. Assemble fish in tortillas with lettuce, salsa, cheese and red onion. Drizzle with sour cream mixture.
Tip: For fully loaded tacos, add avocado, cucumber and fresh cilantro when assembling them.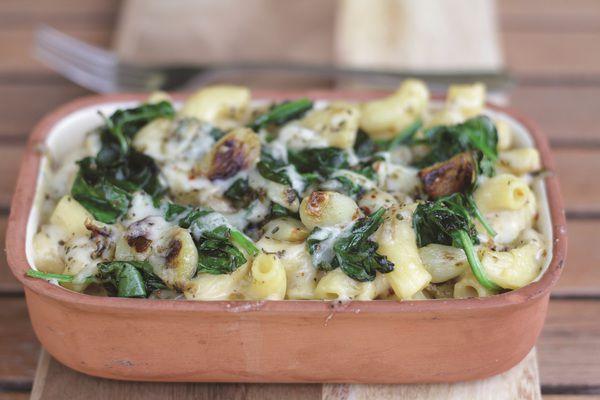 Yellow Door Creamery's Tuscan Mac and Cheese
1 box macaroni and cheese of your choice
1/2 cup Tuscan-rubbed Fontina, shredded
4-6 roasted garlic cloves
Prepare the macaroni and cheese according to package directions.
For the roasted garlic: Heat oven to 400 degrees. Cut top 1/4 inch off heads of garlic. Place garlic cut side up in small baking dish. Drizzle a few teaspoons of olive oil; sprinkle with salt and pepper. Cover tightly with aluminum foil and bake 30-35 minutes, or until cloves feel soft.
When the macaroni and cheese is done and bubbly, top with roasted garlic, baby spinach and shredded cheese, and bake until cheese melts.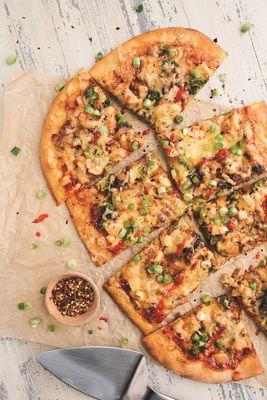 Emmi Roth's Sweet & Spicy Sriracha Pizza
1 cup sweet onion slices, sliced thinly
1 (12-ounce) ball prepared pizza dough
2 teaspoons minced garlic
2 cups shredded Roth Sriracha Gouda Cheese
Green onion slices, for garnish (optional)
Sriracha sauce, for garnish (optional)
Crushed red pepper flakes, for garnish (optional)
Place pizza stone in the oven, and heat oven to 425 degrees.
Place the butter and onion in a medium frying pan over medium-low heat. Cook, stirring occasionally, until onions are golden and lightly caramelized, about 20 minutes. Season with a pinch of salt and pepper. Set aside.
On a lightly floured surface, roll pizza dough into a circle about 12 inches in diameter or rounded rectangle about 13 inches in length.
Transfer dough to hot pizza stone; brush with olive oil and sprinkle garlic over. Spread pizza and barbecue sauces over, and top pizza evenly with broccoli, chicken, onion slices and Sriracha Gouda Cheese.
Bake for 18-20 minutes, or until crust is golden brown and cheese is bubbling. Remove from oven, let sit for 5 minutes before cutting. Garnish with green onions, Sriracha sauce or crushed red pepper for more heat, if desired.
Note: If you do not have a pizza stone, you can heat the oven, then assemble the pizza on an upside-down baking sheet. It will need about 20-22 minutes of baking time. Using a baking sheet will result in a less crispy crust.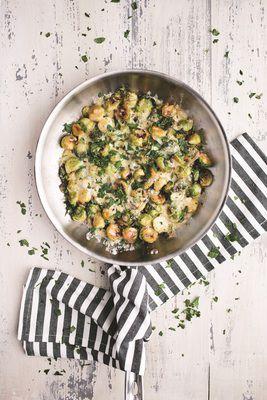 Emmi Roth's Pan-Fried Brussels Sprouts with Horseradish Havarti
6 cups Brussels sprouts, trimmed and halved
3 tablespoons heavy cream
Generous pinch of salt and pepper
1 1/2 cups Roth Horseradish Havarti Cheese, shredded
Parsley, for garnish (optional)
Place top oven rack underneath broiler and heat oven to low broil. If you don't have this setting, move the rack further away (down) from broil heat source.
Place a medium or large oven-safe skillet over medium-high and heat on the stove top. Add butter, Brussels sprouts and shallots; stir vegetables until coated. Cook 10 to 12 minutes, flipping vegetables every few minutes until sides are browned.
Remove the skillet from heat; let sit 2 minutes. Add heavy cream, tossing vegetables to coat, and season with a generous pinch of salt and pepper.
Sprinkle cheese over the top; place skillet under hot broiler. Broil about 5 minutes, or until cheese is melted and begins to bubble. Garnish with parsley, if desired, and additional salt and pepper, to taste. Serve immediately.