Sugar cookies, apple cake, a dessert called Better Than Robert Redford and Grandma's Pork Casserole.
These are among the recipes – some dating back a century or more – Mary Davis shared with me when we met for coffee during the coldest days of last week's blizzard.
Davis, a former teacher, has deep roots in Southwest Michigan. The maternal side of her family has lived in Baroda for five generations. Davis owns the home where her grandmother, Grace Kinney Shaver Bird, once lived.
Her great-grandfather was an undertaker and owned a furniture store – that's how they did it back then: as long as you're making caskets you might as well make furniture, too. Her grandmother remembered how she and her sisters would donate their dresses because he didn't want to bury a poor child in raggedy clothes.
The paternal side of her family stretches back to the Mayflower and Salem, Mass., in the late 1600s, when her ancestor Sarah Proctor Bassett was deemed a witch. (She was spared the stake until after the birth of her infant child. Luckily by then, the witch frenzy had passed.)
Bassett's husband and father were both convicted of witchcraft, and put to death. She survived and left Salem.
Mary Bassett, another descendant, was born in 1817. She later married Isaac Shaver in Benton Harbor.
"It was a small, tightly knit community, and everyone in Baroda knew everybody else, and they trusted everyone," says Diana Camp, whose grandmother, June Miller, was best friends with Davis' grandmother.
"Whenever we wanted something sweet, we'd stop on our way home from school and take one of Mrs. Miller's sugar cookies out of her cookie jar," Davis says. "We always knew June had sugar cookies on her counter, that was a big thing.
"If we didn't like what our mom was cooking, we'd jump on our bikes and ride over to my grandmother's and eat dinner there," she says. "My grandmother was a fantastic cook."
Camp remembers when funeral home owner Bob Starks was organizing a funeral at one of the churches that stood near each other.
"He'd start getting things set up and then come over to my grandmother's house – she lived three doors down from the church – for a sugar cookie and coffee," Camp says. "She was ahead of Starbucks because she'd make iced coffee and people would come over to visit and drink a glass of that or her homemade lemonade."
Davis too has many food memories. In a cookbook filled with taped notecards, scribbled recipes, cooking notes and loose recipes with titles like Burt's Butter Cookies, she points out ones with special memories and tells me their provenance.
There's one from a neighbor who had moved away, but sent back a recipe, and another using local produce only available for about a week every year. Often, recipes weren't written down or, if they were, directions were sparse. You were supposed to know how to cook or bake if given the ingredients.
"I can't always tell you how they made it, but I can tell you how I do," Davis tells me as we look through the battered copy of Better Homes & Garden cookbook, which is missing a few pages so I can't tell how old it is.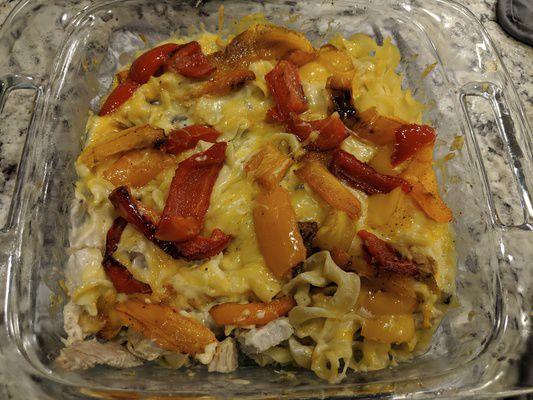 There have been, of course, changes. While Davis still makes Grandma's Pork Casserole, a favorite of Grandmother Bird and her sisters, she uses cream of mushroom soup.
"They would make a white sauce from scratch and use fresh mushrooms," she says. "And grandmother made her own noodles."
Camp describes it as a totally different time.
"We'd play all morning in the summers until the fire station whistle would sound and we knew it was time to go home for lunch," she says. "Then we'd go back outside and play until 6 when we heard the whistle again."
Lunch was the big meal of the day at June Miller's house. Her husband, Bob, who owned the John Deere franchise in Baroda and got to work around 5 a.m. to meet with local farmers, would come home to eat and then take a short nap before going back to work.
"He'd come home when the bell rang at 6 p.m., too," Camp says.
It was a time for shelling fresh peas with Grandmother Miller, which Camp would do while sitting on her lap.
"She made this dish, it sounds awful, but it was wonderful, where she would sauté ground beef and make a white sauce, which she'd fold in along with the fresh peas," Camp says.
For Davis, the food memories include learning to bake Cowboy Cookies, and the chili sauce her mother canned.
Though many of the recipes Davis shared represent country-style cooking, Grandma Miller had one particularly unique recipe, and it involved a fruit I'd never heard of before: blackcaps.
"They ripen right before the black raspberries come out," Davis says. "Mrs. Miller made blackcap pudding, and it's so delicious. You can use other berries like blueberries, blackberries and raspberries, but blackcaps have a different taste."
"Some people eat it for breakfast, my grandfather did," Camp says. "He ate it when it was warm, but you can eat it cold, too. It's kind of like a raspberry but only drier, not as juicy and it's smaller than a blackberry."
Davis says they're more delicious than blackberries and raspberries, but are getting harder to find.
"I make the pudding with my granddaughter," she says.
It's a way to pass down this recipe, which Davis thinks dates back to the 1860s.
Camp says she plans to make the puddling with her granddaughters next summer.
"I don't think many people grow (blackcaps) anymore. There was a guy on Hawthorne in St. Joseph who had them years ago, but I don't know if he still does," she says. "John Vergot on John Beers Road has them at his stand. He calls me when they're in."
She says she'll call me when they're available. It's a call I'm looking forward to getting.
Grandma's Pork Casserole
1 can cream of mushroom soup
2 cups shredded cheddar cheese
Season pork with salt, pepper and garlic powder. Boil cutlets in about 2 cups water, and cook until they easily fall apart.
Add peppers and mushrooms to pork broth. Add more water, salt and pepper if needed. After about 10 minutes, add noodles. Cook until al dente. Add more seasonings if necessary.
After noodles are cooked, add cream of mushroom soup and 1 cup of the cheddar cheese. Let them all sit in the broth to soak in the flavors and absorb the liquid. If there seems to be too much liquid remove some.
Place mixture in a buttered casserole dish with at least 1 more cup of cheddar cheese on top.
Put in a 350-degree oven just until the cheddar cheese melts because everything else will be done.
Note: You can add more than two pork cutlets. It all depends on the size of the cutlets.
Grandma Miller's Blackcap Pudding
Heat oven to 350 degrees.
Mix the sugar, shortening, flour, baking soda, egg, milk and vinegar together. Sprinkle with cinnamon, and add blackcaps. Pour into a 9-by-10-inch pan for a thicker pudding or a 9-by-13-inch pan for a thinner pudding.
Bake for 45 minutes. Sprinkle cinnamon and sugar on top after you take it out of the oven.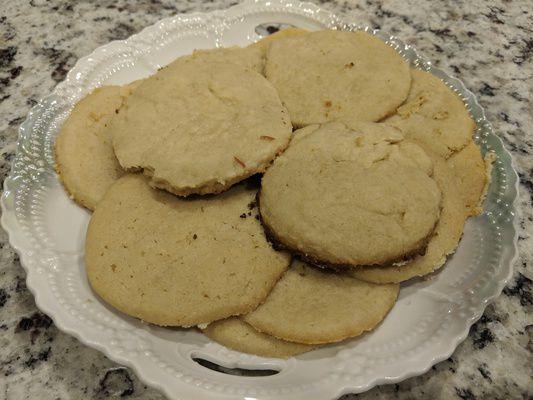 Grandma June's Sugar Cookies
1 1/2 teaspoons baking powder
1/2 teaspoon grated orange peel (optional)
Mix shortening, sugar and vanilla. Add egg and beat lightly. Stir in milk. Add flour, baking powder, salt and orange peel.
Divide dough in half, and refrigerate for one hour. Roll first ball of dough to 1/8-inch thick. Cut out cookies.
Bake on a greased cookie sheet at 375 degrees for 6-8 minutes.
Better Than Robert Redford Dessert
1 cup walnuts, coarsely chopped
1/2 cup unsalted butter, melted
1 (8-ounce) package cream cheese
8 ounces Cool Whip, thawed
2 (3.4-ounce) boxes vanilla instant pudding
2 (3.9-ounce) boxes chocolate instant pudding
Heat oven to 350 degrees. Coat a 9-by-13-inch baking dish with cooking spray.
In a medium bowl, mix flour, walnuts and butter. Pat into dish. Bake for 15 minutes, and let cool.
In a bowl, beat cream cheese and sugar until smooth. Fold in half of the Cool Whip. Then spread the cream-cheese mixture over the cooled crust.
Prepare vanilla pudding using 2 cups of milk. Spread over cream cheese layer.
Prepare chocolate pudding using the remaining 2 cups of milk. Spread over the vanilla pudding layer.
Spread the remaining Cool Whip over the pudding. Refrigerate for at least 2 hours.
Sprinkle with the chocolate curls. Cut into squares.
Chili Sauce
One peck (12 to 14 pounds) tomatoes
1 pound (about 2 bunches) celery
1 quart small onions, chopped
1/2 tablespoon ground cloves
Scald and peel tomatoes, cooking for 15 minutes. Drain off have the juice.
Chop the remaining vegetables. Add tomatoes and simmer for about 1 1/2 hours.
Tie spices in a cloth bag. Add with remaining ingredients to the tomato mixture, and continue cooking for 1 1/2 hours.
Remove spices. Seal sauce in hot, sterilized jars.