When the weather turns cold, there's little that's more comforting than a bowl of hot soup. Its ingredients brim with flavor, and its broth – whether thin or thick – spreads throughout us, making it easier to face the outdoors.
But soup does more than that. We use it to nourish friends when they're ill or need comforting. Soup does so many wonderful things it's surprising it's as easy to make as it is.
Soup is also forgiving. If we don't have one ingredient, another will suffice, or we can forget about it completely.
So this weekend, knowing that a friend had just had back surgery, I thought it would be nice to bring her an assortment of different soups, poured into containers so they could easily be heated or placed in the freezer for later.
I asked my friend Mary del Mariani if she had any good soup recipes. Of course she did.
One of her favorites, which is always in high demand by her family, comes from an cookbook I gave her almost two decades ago.
"I'll make some, so stop over and try it," she told me. So I did.
The recipe for Curried Chicken and Basmati Rice Soup is from "Hay Day Country Market Cookbook" by Kim Rizk. It's one of those folksy looking cookbooks with sketches instead of photographs.
"I changed the recipe a little," Mary tells me. "It calls for 5 cups of stock, but that's too little, so I use 10 instead. And, it says that it's OK to use a rotisserie chicken, so that's what I do instead of chicken breasts. It gives it more flavor."
As I had wanted to make soups that go beyond beef and vegetable, the Curried Chicken and Basmati Rice recipe fit right in.
I decided also to try a recipe for Tomato and Carrot Soup, because I like both vegetables separately, as well as tomato soup and carrot soup, but had never thought of combining them. The recipe comes from "Lateral Cooking" by Niki Segnit, a new cookbook, and it calls for just a little bit of buttermilk, one of my father's favorite drinks.
I whipped up Sopa de Queso, or Cheese Soup with Chiles and Potato, but used tiny bell peppers I bought at Pete Vergot's Farm Stand in Stevensville, not because I minded a little spice but because they looked so cute.
Finally, I thought I'd add a few healthy benefits to the list of soups I was making, so I opted for Cauliflower-Kale Soup with Toasted Pine Nuts from "The Vibrant Life" by Amanda Haas. I made extra, not only to take to my friends, but also to keep for myself.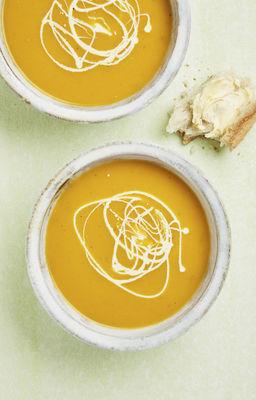 Tomato and Carrot Soup
2 cups tomatoes, skinned and chopped
Salt and pepper, to taste
In a saucepan, gently soften the onion in the butter for 8-10 minutes. Make sure the butter doesn't start to burn.
Chop the carrots into coins, and sweat them with the onions for a few minutes. Add the tomatoes, and cook for another few minutes.
Pour in the chicken stock (double-diluted if you're using a cube) and season with salt, sugar and pepper. Simmer gently, lid on, for 35 minutes.
Cool a little, then blend. Thin with stock or water, if required. Taste and adjust the seasoning. Reheat gently before serving.
Ladle into bowls and decorate with a scant cup of buttermilk.
– Recipe from "Lateral Cooking"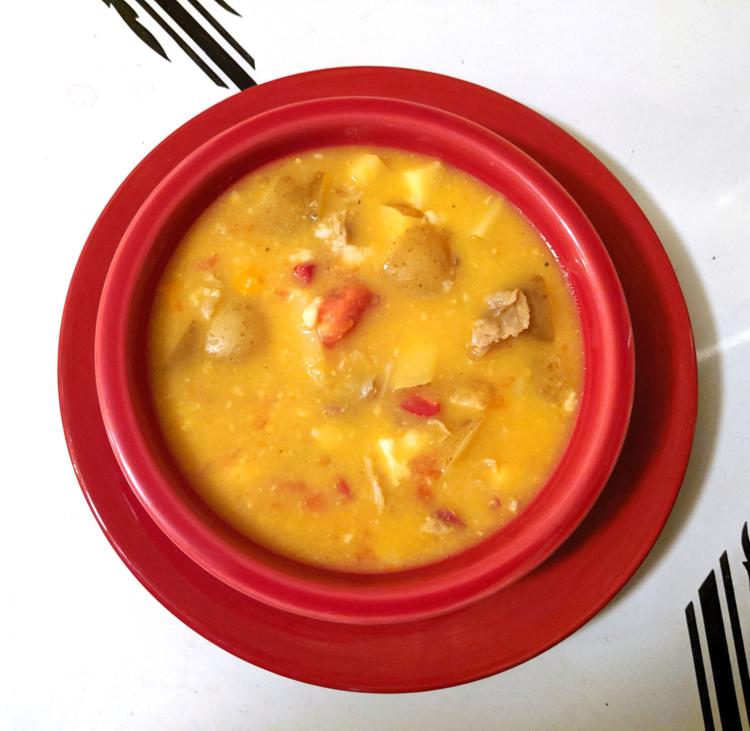 Sopa de Queso
(Cheese Soup with Chiles and Potato)
1 tablespoon salted butter
1/2 white onion, finely diced
3 Roma tomatoes, finely chopped
1 pound white or red potatoes, peeled and cut into 1-inch cubes
3 roasted poblano chiles, seeded and diced
10 ounces soft cheese, grated and tossed with 1/2 tablespoon cornstarch
Salt and pepper, to taste
Melt the butter in a skillet over medium heat. Add the onion and garlic and cook slowly, stirring, for 2 minutes. Add the tomatoes, and cook, stirring frequently, until the pan is almost dry, for about 5 minutes, until the juices have been incorporated.
Transfer to a 5-quart slow cooker.
Add the potatoes along with the broth and the salt.
Cover, and cook on low for 6 hours.
Add the poblanos and cheese, and stir slowly until the cheese melts into the soup. Season with salt and pepper. Continue cooking on low for 30 minutes more.
To serve, ladle the soup into bowls, and sprinkle each with a little chopped cilantro. Serve with hot sauce if desired.
– Recipe from "The Mexican Slow Cooker: Recipes for Mole, Enchiladas, Carnitas, Chile Verde Pork, and More Favorites" by Deborah Schneider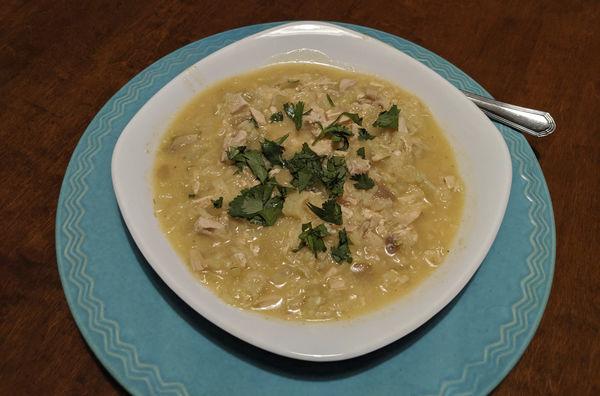 Curried Chicken and Basmati Rice Soup
2 tablespoons unsalted butter
1 large onion, peeled, halved lengthwise, and thinly sliced
1 large clove garlic, peeled and minced
1 large Granny Smith apple, peeled, cored and coarsely chopped
1 small bulb fennel, rinsed, trimmed, quartered lengthwise and cut into thin slivers
1 pound boneless cooked chicken, coarsely chopped (2 1/2 cups chopped)
1 cup canned coconut milk
Coarse kosher salt and fresh ground pepper
1/3 cup unsalted peanuts, coarsely chopped, for garnish
Cilantro, chopped, for garnish
Melt butter over medium heat in a large soup pot. Add the onion and garlic, and sauté until soft, about 3 minutes.
Stir in the apple and fennel, sprinkle the curry powder and sauté briefly.
Add the stock and rice, and bring to a gentle simmer. Cover, and cook until rice is tender, about 20-25 minutes. Then stir in the chicken, chutney and coconut milk, and warm over medium heat. Season to taste with salt.
Serve in bowls, and top soup with cilantro.
– Recipe from "Hay Day Country Market Cookbook"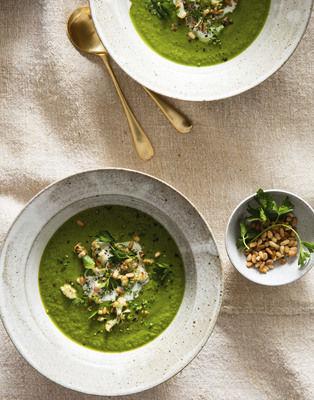 Cauliflower-Kale Soup with Toasted Pine Nuts
1 head cauliflower, about 1 1/2 pound cored and cut into florets
4 tablespoons extra-virgin olive oil, divided
Kosher salt and black pepper, to taste
2 bunches kale, stemmed and coarsely chopped
3 tablespoons fresh lemon juice
1/4 cup toasted pine nuts, or almonds
1/4 cup crème fraiche (can use Mexican crema or sour cream, though the latter will give it more of a bite)
Heat an oven to 400 degrees.
In a large mixing bowl, toss the cauliflower with 2 tablespoons of the oil, and season with salt and pepper. Spread the cauliflower out onto a large baking sheet, making sure not to overcrowd it. Roast until the cauliflower is tender and golden brown, about 20 minutes, turning the florets over halfway through. Set aside.
In a large saucepan or Dutch oven over medium heat, warm the remaining olive oil. Add the onion to the pan, along with a generous pinch of salt. Cook, stirring occasionally, until translucent, 5 to 8 minutes.
Add the garlic, and cook until fragrant, about 1 minute more. Add the kale and continue to cook until wilted, about 5 minutes. Add the cauliflower to the pan along with the chicken stock. Bring to a simmer, and cook for 10 minutes.
Remove the soup from the heat and let cool slightly. Working in batches, transfer to a blender and mix on high speed until completely smooth.
Return the soup to the saucepan and stir in the lemon juice. Season with salt and pepper. Divide between four bowls, and garnish with the nuts, crème fraiche, chives and parsley. Serve.
– Recipe from "The Vibrant Life"
Jane Ammeson can be contacted via email at janeammeson@gmail.com or by writing to Focus, The Herald-Palladium, P.O. Box 128, St. Joseph, MI 49085.