One measure of a community's character is what it does for fun. Events planned for this summer in Southwest Michigan will showcase hometowns' civic pride and plenty of family entertainment.
Some festivals in Berrien and Van Buren counties will highlight the area's agricultural heritage – such as blueberries in South Haven, peaches in Coloma, cherries in Eau Claire, and strawberries in Hartford. Elsewhere, St. Joseph and South Haven will celebrate the arts, and just about every other community will host festivals with small-town neighborliness.
It's clear from this summer's lineup that there's much more to do than lie in the sun on the beach. Here are a few options: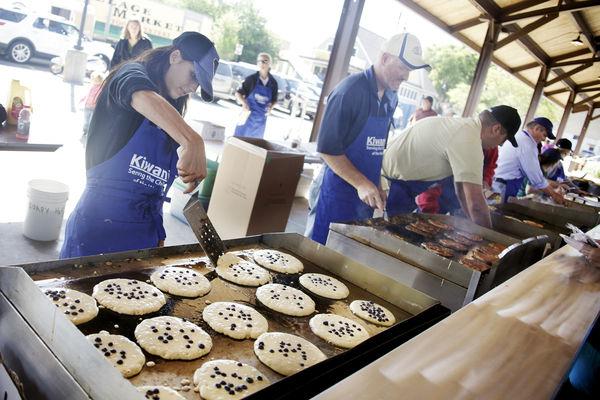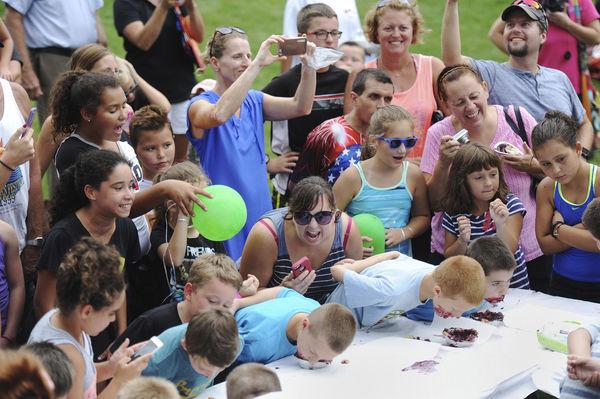 National Blueberry Festival
The 56th annual National Blueberry Festival on Aug. 8-11 in South Haven is a prime example of a community celebrating its agricultural roots.
Everyone in the community is involved in the blueberry industry, or knows someone who is, festival director Megan Cairns said.
"It's our culture," Cairns said. "It's farm, it's fruit, it's blueberries, which are so good for you."
This year's festival coincides with South Haven's 150th birthday, so the area's history will be represented, too.
Activities will includes a parade, a youth pageant, a used book sale, golf and basketball tournaments, a 5K walk/run, a soccer clinic, CrossFit games, the Blueberry Central Market, children's activities, carnival rides, a zip line, a climbing wall, a pancake breakfast, a produce market, live entertainment, an arts and crafts fair, wine tasting, a fish boil, a sand sculpture contest, a lawn tractor pull and, of course, the blueberry pie eating contest.
"This is a very Michigan-focused festival that's a lot of fun no matter what type of person you are or what type of blueberries you prefer," Cairns said. "And there's definitely lots of blueberries. Our goal is to celebrate blueberries in a way that helps bring life to the community."
The concert headliner on Aug. 8 will be Bluewater Kings Band. Aug. 9 features The Dweebs, and Aug. 10 features the Earth to Mars Band – a Bruno Mars tribute band.
"We try to have a nice variety for everyone," Cairns said. "For us it's about creating a space and an excuse to come relax together as a community. It's so important ... to play together as a community and as neighbors."
She said 250 volunteers and 20 community groups make the festival possible, not counting the scores of sponsors.
"Everyone has a piece of this pie in the community," Cairns said.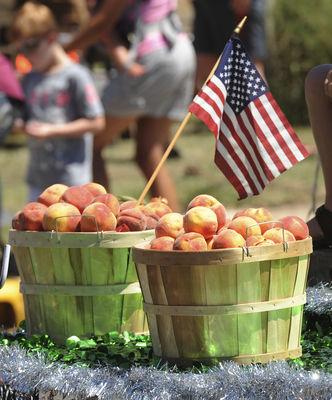 Glad-Peach Festival
The city of Coloma also will celebrate its agricultural heritage with the annual Glad-Peach Festival on Aug. 2-4.
"It brings people into the downtown, and our whole festival theme is 'through community participation and civic pride, we shall encourage the advancement in the Coloma area,'" festival secretary Maureen Saltzman said.
"Glad" in the festival name stands for gladiolus – flowers that were prominent in years past, but have lost ground to grapes as vineyards have expanded their footprint locally. Peaches remain a vibrant part of Coloma, and the festival will celebrate the fruit's impact on the community.
The festival will include two stages of entertainment during the three-day event, including dance troupes and musical acts.
Saltzman said visitors will find carnival rides for children, food vendors, a bake fest for adults, a gladiolus contest, an arts and crafts fair, a parade at 1 p.m. Aug. 3, fireworks at 10:30 p.m. Aug. 3, a 5K/10K at Salem Lutheran Church, a library book sale, and free family art day Aug. 4 with prizes and awards.
"We try to have something for kids, especially because it's a family festival," she said.
Peaches will continue to take center stage with a peach pie eating contest as well as a peach pit spit contest, both on Aug. 3.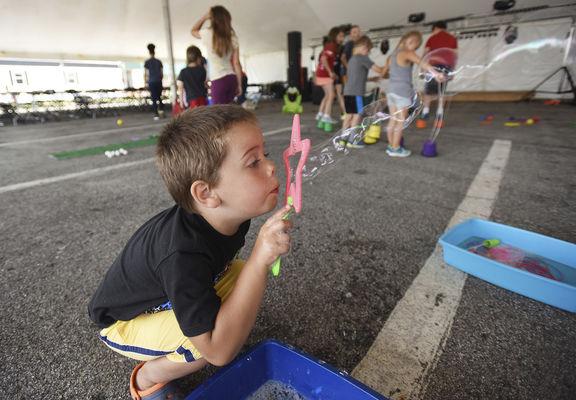 Celebrate Bridgman
The annual Celebrate Bridgman festival on July 11-14 gives visitors an opportunity to explore the city's character while offering a variety of activities for families.
"It's important to highlight and promote our city and to introduce this area and its many attributes to visitors and locals alike, including our gem, Weko Beach, which is one of the best family-oriented beaches in Berrien County," Mayor Vince Rose said.
The festival will include a Curious Kids Museum program at Bridgman Public Library, a used book sale, sidewalk chalk, sand art, a 5K/10K walk/run, a parade on July 13, the Auto and Axles car show, family street dance on July 11, and adult street dances on July 12-13.
The July 14 concert at Weko Beach will feature the Carol and Kaye Dixieland Band.
Ship & Shore Festival
The New Buffalo Ship & Shore Festival will set sail Aug. 9-11 at Lions Park with an opening night concert featuring Led Zeppelin2, a Led Zeppelin tribute band playing the entire Led Zeppelin II album released 50 years ago.
Chicago-based jam band Mr. Blotto will close the night performing hits from The Allman Brothers, Grateful Dead, Bob Marley and The Beatles, event spokeswoman Colleen Ryan said.
The family-friendly event presented by the New Buffalo Business Association will feature local vendors, and local brews and wine that will tie in with nautically themed activities.
"We are excited to bring this signature event back, which was started 35 years ago," Ryan said. "It was canceled last year, so everyone is excited to see that it's back."
She said organizers want festival-goers to feel the pride New Buffalo-area residents feel about their lakeshore community.
"We hope they leave with a sense of enthusiasm and excitement all around with sights set on a similar vision for 2020 next year," she said.