At the beginning, the strawberries come and go. But that's OK, because then there are cherries, peaches and blackberries.
After they start to disappear, there's always freshly picked corn, tomatoes on the vine and plump melons – which all, in turn, are replaced with late-season raspberries, winter squash, plums and grapes.
But, let's face it, the glorious produce of Michigan's summer and early fall is fading fast. The farm markets look a little more bare – no longer heaped with the lush goodness of peak summer.
Sure, they're pumpkins and gourds for decoration, but when it comes to eating, it might take just a little more imagination to come up with a meal.
"That's about gone," Vedette Palis Cordes says while pointing to the bright white heads of cauliflower and deep green broccoli. "We'll probably only have rapini left soon."
It's the same at John Vergot's farm stand on John Beers Road.
"Nope," Tim Vergot says. "They're done."
"We picked out last week and have sold it all," he replies. "We have grapes, apples, plums and lots of varieties of squash. And there's still corn."
Well, that's good. I love all of those, but it's still sad to watch the disappearing produce, knowing that soon, one by one, each will disappear.
It's time to get creative with what's left.
Cordes has a basket of ground cherries, also known as strawberry husk tomatoes, though I'm not sure why as they don't look or taste like tomatoes. The closest they get is a semblance to tomatillos, which have papery husks just like ground cherries.
Beyond the husks, though, tomatillos and ground cherries have little in common. The later is commonly used to make salsas for Mexican cookery while ground cherries are just coming into public recommendation.
"I don't think so," I say when Cordes shows me a basket of ground cherries. "I bought some once at a farmers market in Goshen, Indiana, and didn't like them."
Cordes has an answer for me.
"That's because they picked them too soon," she says. "When they do that, they're hard and tough to peel and have a bitter taste."
To show me, she slips the husks from the tiny round yellow globes and hands it to me.
"I like them because they're sweet," she says. "I don't cook with them, just eat them fresh."
She's right. They have a sweet, delicate taste. I decide to buy some.
Cordes also has several containers of deep green poblano peppers. Part of the chile family, poblanos, which can be picked while still green or allowed to mature until they're a deep red, have a sweet taste.
"You can stuff them like you would a bell pepper," she says.
Overall, despite their abundance of vegetables and fruits, this has been a bad year for farmers, Virginia Palis says.
Cordes is worried because they lost a lot of their winter melon crop, which she sells to restaurants and vendors in Chicago's Chinatown.
"I don't know what I'm going to tell them," she says.
But there is plenty of okra.
On Sunday, at the family farm founded by her maternal grandparents, Adelia and Anthony Vilutis, and now owned by her parents, Virginia and Peter Palis, the family is picking okra – lots of it.
"My son eats it raw," Cordes says.
But it's slimy when it isn't cooked, I say. How do you cook it?
It turns out her husband, Kevin, who has a bushel of okra in front of him, does a lot of the family cooking. Vedette grows the food, he figure out what to do with it.
"I cut it up, dip it in batter and fry it," he says. "It goes fast when I put it on the table."
Cordes didn't plan on becoming a farmer – in fact, she couldn't wait to leave the country life behind. Majoring in marketing, she lived in Los Angeles and Chicago, and traveled all the time, working for huge corporations like Ford and ADT.
Then one day, she was sitting in traffic, just like she did everyday, and thought, "Why am I doing this?"
Returning home, she saw the night stars (usually blocked out by city lights) and enjoyed the peacefulness of Southwest Michigan. She moved back, but still worked for a large technology corporation, a job requiring her to travel frequently.
By then she had married and had two children. One day, when dropping her kids off at day care she thought, "This isn't how I want to raise my children." So it was back to the farm.
Now the kids are old enough to help. On the weekends, Kevin, who works at Stryker in Kalamazoo, does, too.
Cordes dreams of buying the original 30 acres of the Palis farm, which in 10 years will become a centennial farm.
That is if she can talk Kevin into moving from St. Joseph to the Sodus countryside.
In the meantime, she finds she's working just as many long hours as when she was in sales and marketing, but she loves it much more.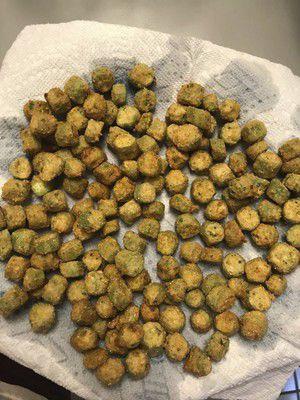 Kevin Cordes' Fried Okra
Italian seasoned breadcrumbs
Kevin Cordes believes a cast iron skillet is essential to good frying. Heat the oil in the skillet.
Put milk in a bowl and a mixture of the flour, cornmeal and Italian breadcrumbs in another.
Dip the okra into the milk and then into the flour mixture. Drop into the hot oil. Brown on one side and then flip, cooking until it is golden brown on the other as well. Drain on paper towels.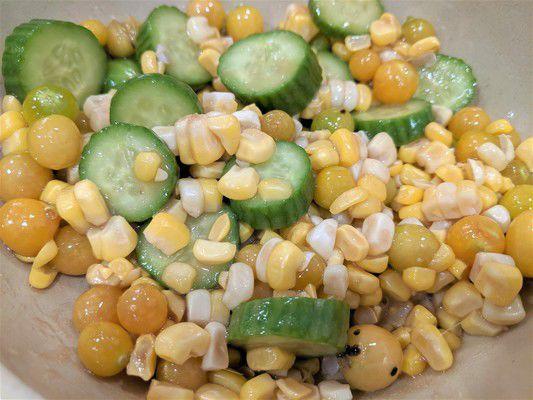 Grilled Corn, Basil and Ground Cherry Salad
Sea salt and ground pepper, to taste
1 cup cucumber, quartered lengthwise, deseeded and chopped
3 tablespoons basil, finely cut
2 tablespoons shallot, finely minced
1 teaspoon poblano pepper, finely minced
Grated cotija cheese (optional)
Wash the ground cherries in their husks. It can be easier to remove the husks if they are moistened. Pinch the base of the husk away from the cherry. It should slide off easily.
Prepare the vinaigrette by combining the olive oil, lime juice, lime zest, salt and pepper. Set aside.
Place the grilled corn, ground cherries, cucumbers, basil, shallot and pepper into a medium serving bowl, and mix the ingredients thoroughly.
Add the vinaigrette, mix all ingredients, and chill in the refrigerator.
Serve with cotija cheese, if desired.
– Recipe adapted from Food52
Creamy Mac 'N' Cheese Mexicano
1 pound penne or elbow-shaped pasta
3 large poblano peppers, rinsed, stemmed, deseeded and cut into large chunks
4 tablespoons unsalted butter, plus more for buttering the dish
6 tablespoons all-purpose flour
3/4 teaspoon kosher or coarse sea salt, or to taste
3 cups grated Monterey Jack or mozzarella cheese, plus 1 cup for topping
1 cup grated Pecorino Romano or Parmesano-Reggiano cheese, plus 1/2 cup for topping
1 cup white onion, chopped
1 cup corn kernels, shaved from the cob or thawed from frozen
1/2 pound zucchini, chopped
5 to 6 slices bacon, fried and cut into chunks (optional)
1/4 teaspoon kosher or coarse sea salt, or to taste
Bring salted water to a boil in a large pot, and cook pasta until al dente, about 8 to 10 minutes. Drain.
Heat the oven to 400 degrees. Butter a large baking dish.
In the jar of a blender, puree the peppers and milk until completely smooth. Strain into a bowl, pressing with the back of a wooden spoon to make sure you get mostly liquid.
In a medium saucepan, heat the butter over medium heat. Once it has melted and begins to bubble, add the flour. Cook, stirring continuously to make a roux or paste until you get the desired color (I go for light brown and a toasty aroma), about 2 minutes.
Pour the poblano mixture into the roux, stirring as you do. Add salt and pepper, and cook until the sauce thickens, about 10 to 12 minutes, occasionally stirring. If it gets lumpy, you can smooth the sauce by beating with a whisk.
Add 3 cups Monterey Jack cheese and 1 cup Pecorino Romano, mix well. Remove from heat, and stir until well combined.
In a large skillet set over medium heat, heat the olive oil. Add the onion and cook until completely soft and translucent, about 6 to 8 minutes. Add the corn kernels and cook for a couple minutes. Add the zucchini, sprinkle with the remaining 1/4 teaspoon salt, mix well and set aside. Don't cook the zucchini here, as it will cook in the oven.
In the large pot, where the pasta was cooked, add the drained pasta, poblano chile sauce and sautéed vegetables, gently toss to mix. If using fried bacon, add it in here.
Pour into a buttered baking dish, top with the remaining grated cheeses and place in the oven until the top layer of cheese has melted and begun to crisp along the edges, about 25 to 30 minutes. Serve hot.
– Recipe from "Mexican Today: New and Rediscovered Recipes for Contemporary Kitchens" by Pati Jinich
My Stuffed Poblano Peppers
2 tablespoons onion, finely chopped
1 cup cooked rice or quinoa
1/8 teaspoon black pepper
1 (15-ounce) can tomato sauce
1 cup shredded Mexican cheese blend
Heat oven to 350 degrees.
Cut thin slice from stem end of each pepper to remove top, then remove seeds and membranes; rinse peppers. If necessary, cut thin slice from bottom of each pepper so they stand up straight.
In a 4-quart Dutch oven, add enough water to cover peppers. Heat to boiling; add peppers. Cook about 2 minutes; drain.
In a 10-inch skillet, cook beef and onion over medium heat for 8 to 10 minutes, stirring occasionally, until beef is brown. Drain.
Stir in rice, salt, pepper, garlic and 1 cup of the tomato sauce. Cook until hot.
Stuff peppers with beef mixture. Lay peppers flat in ungreased 8-inch square glass baking dish. Pour remaining tomato sauce over peppers.
Cover tightly with foil. Bake for 10 minutes. Uncover and bake about 15 minutes longer, or until peppers are tender. Sprinkle with cheese.