ST. JOSEPH — Fran Michelini said she's learned a lot about herself over the last few months portraying Donna in "Mamma Mia!"
"I've always known that singing and performing is good for me, but this is the largest role I've ever done in my life, and so I feel like there's things that I'm doing that I didn't realize I could do," she said before a recent rehearsal. "This is a show about self discovery, so I've learned that this is a part of who I need to be as well. I'm grateful for everyone who took a chance on me because I wasn't a fan of 'Mamma Mia!', but I love it now."
"Mamma Mia!" opens Friday at the Twin City Players' Playhouse. It's the first show of TCP's 2019-20 Mainstage Season.
"Mamma Mia!" is the story of Sophie, played by Alyssa Richards, who is in search of her birth father. The tale unfolds, to the soundtrack of ABBA, on a Greek island paradise on the eve of her wedding. She brings three men from her mother, Donna's, past back to the island they visited 20 years ago.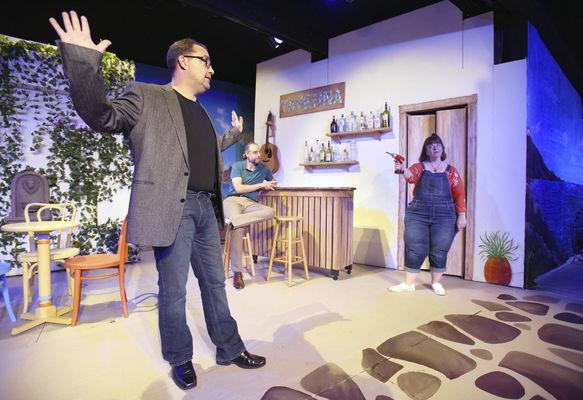 "Fran is the glue of this cast," director Sarah Simmons said. "She's the one that takes all of the bits and makes it a story. And when her and (Alyssa Richards) work together, they're an unstoppable team, which is the best dynamic we could have for Donna and Sophie."
Sarah Simmons, who also plays Tanya, co-directs the musical with her daughter, Laura Simmons.
"One of the nice things about this show is that it's about family relationships, and we have six family relationships in this show," Sarah Simmons said. "It's kind of nice because your family is the most important thing in the world, and some of us are lucky enough to get to spend this time with the most important people in the world."
Alyssa Richards and her father, Jim Richards, who plays Sam, one of the three possible fathers, is one of those relationships.
"It's a fun show, and I'm blessed to have gotten the role," Jim Richards said. "I get to do a show with my daughter. We did one about seven years ago, but this is the first one we really get to interact on stage, so that's a blessing."
Sarah Simmons said it's beautiful to see that connection on stage.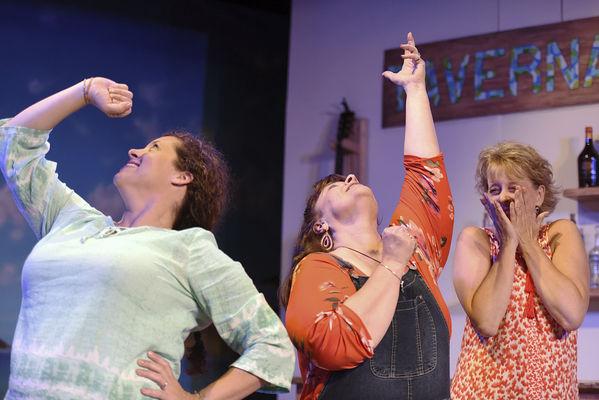 "He's the dad with the biggest role," she said. "The other two are more of a caricature role, and he's got one of the hardest dad roles because it's more of the serious role, and the others get to be more silly and comedic. He's got the harder job, and he's doing fantastic."
The other dads are played by John Taylor (Bill) and David La Fleur (Harry).
"I saw the show in South Bend a few years ago, and that was before I got involved in TCP," La Fleur said. "And I thought, if I ever want to get back into drama again, that would be the sort of role I'd be doing, but there's just no way. And now I'm here."
Another facet of the musical are Donna's longtime friends, Rosie (Jodie Wilson) and Tanya. The three had a singing group "The Dynamos" when they were younger.
"I'm still kind of in disbelief that I'm Rosie," Wilson said. "It's been a gift that landed in my lap. It's been a lot of fun. It's a place where I can escape to and pretend I'm someone I'm not, in a fun way."
Michelini said even though the three of them just met, it hasn't been hard acting like longtime friends.
"I've had a great time working with The Dynamos, but also sometimes just singing at Jim," she said. "He just pulls things he doesn't realize out of me. So I have a relationship with Alyssa and one with Jim, and it's cool because they're actually father/daughter and my daughter is in the show, but she's not Sophie."
Alyssa Richards said it's been fun playing Sophie.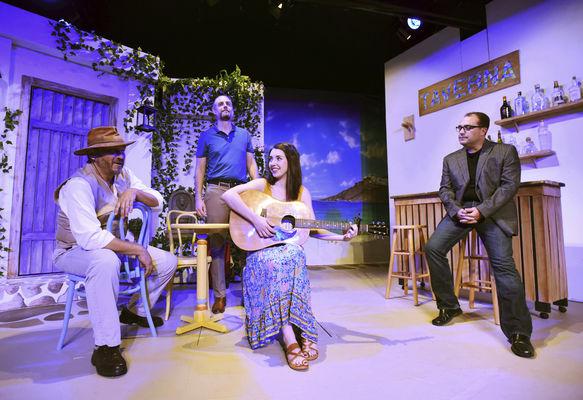 "I auditioned because I knew Sarah and Laura were directing it, and 'Mamma Mia!' was actually the first show I saw on stage when I was like 5," she said.
Michelini said Alyssa Richards knows every ensemble part in the show, even the ones she doesn't have to sing.
"And when I blow my lines she doesn't blurt it in my face, she humbly helps me," Michelini said. "She's very humble at what she does, but she's also very good, and I'm so excited she gets to be my daughter."
Getting to sing ABBA is one of the highlights of the show for the cast. None of them could pick a favorite song.
"It's ABBA. They're all our favorites," Taylor said. "Though when Fran sings 'Slipping Through My Fingers' everyone is balling their eyes out."
Jim Richards added, "I think 'Mamma Mia!' with the whole ensemble is going to knock the crowds socks off. The energy and everything is great."
Josh Bennett, who plays Sky, Sophie's fiance, said an interesting song for him is "Under Attack."
"This whole show has been very fun to practice, put on and I think it's really coming together music-wise especially because many of the actors here are character actors because, nine times out of 10, they can portray a character so well," he said. "I've had to spread my acting wings because I'm usually a villain, or not the love interest in musicals."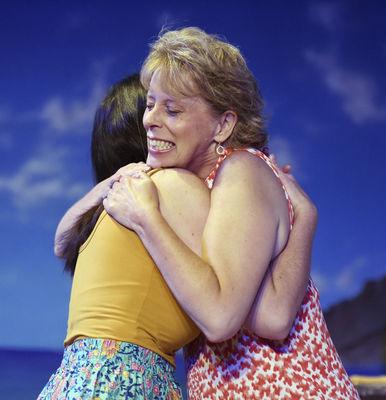 Michelini said Bennett has been a great leader musically.
"He's got a great gift musically and steps in when we don't have a leader. He can sing a lot of different things," she said.
The cast said they couldn't be where they are musically without the musical direction of Tim McFeeters. But he says, it's been all them.
"They have really grown a lot," he said. "If I can be so bold to say, going from day one to now, it is more than night and day, it's amazing. They sound really good."
Other crew members include Costumer Reta Trux, who said she has sequins all over the floor of her home from preparing the costumes for the show.
Laura Simmons, along with Kersten Claeys, are the choreographers; Kathy McAlhany is the assistant director; Zach Hagstrom-Jones is the accompanist; Teresa Polasek is the stage manager; Matt "Dolphy" Clark is the light designer; Cindy Jakeway painted the sets while Ed Brunner designed them; and stage crew members are Aaron Rennhack and Juliet Golob.
Other cast members are: Hayden Boocock, Zach Teadt, Kersten Claeys, Anna Pille, Allen Pille, Jacob Holmes, Beth Taylor, Gemma Michelini, Laura Simmons, Madison B., Connie Glanzer, Debi Robertson, Jessica Lewis, Miranda Stepka, Ivy Zaroff, Bethany M., Abigail Buckhanan, Nicole Buckhanan, Cindy Jakeway, Ariel Higgins, and Marie W.