STEVENSVILLE — Over the years, caring for dementia patients has evolved from a one-size-fits-all, reality-oriented approach to something more individualized.
And the staff at Pine Ridge Rehabilitation and Nursing Center in Stevensville believe they're taking the next step in that evolution.
Ronda Holmes, Pine Ridge's activity leader, has begun to use the Montessori method of teaching to change the way the nursing center's residents interact with their environment.
Montessori, a teaching method that began to grow in popularity in the U.S. in the late 1950s, has been used to foster developmental growth and education for children and adolescents. But some are finding the method can be used to improve the lives of those with dementia.
This isn't the first time Holmes has tried something new at Pine Ridge, she also took the nursing center's entire staff through a Virtual Dementia Tour designed to give them a window into what dementia is like and increase empathy for their residents.
Four years ago, Holmes took a course from Brush Development Co., on applying Montessori principles to dementia patient care. She made sure there were activities available to the residents, but "now we're trying to re-introduce it following the dementia tour," Holmes said.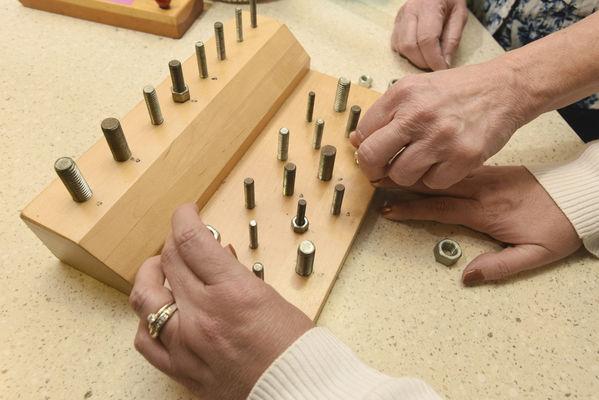 Now, staff will make sure there are items on every table for residents to interact with however they want. The items include things like flowers in a vase that the residents can arrange, or simply look at; "sensory tubs" filled with rice and little objects that residents can sift through with small shovels or their hands; bolts set in a wood block with nuts that can be twisted on and off; and a bead maze that would be familiar to anyone who's ever been in a pediatrician's waiting room.
The activities stimulate memories and movements they need in their day-to-day, such as feeding or dressing themselves. It also gives them things they can do at their own level of physical and cognitive ability, allowing them to complete something and giving them a sense of accomplishment.
Each resident connects with an activity differently. That's a huge part of the Montessori approach to dementia care, said Yvonne Wood, a Pine Ridge activity aid. One man refused to play any of the games, but he liked the board of nuts and bolts. It got him talking about his time as an executive working for GM.
The method can prove challenging. Holmes said she and other staff members scoured their closets to find different items to bring to work.
"You're looking for that one thing," Holmes said. "Each person will connect with something different."
One resident loves to handle old sewing patterns, which makes sense – she used to be a seamstress.
"Those connections – we stumbled on that one," Holmes said.
"Montessori is really focused on the individual person," Wood said.
The Montessori method's goal is to stimulate activity, but also conversation. When the patient starts drawing on long-term memories, it's exercising their brain, but it's also helping them to form connections with the people around them.
"[The staff members] get to know them, and we have that relationship," Wood said.
Dementia is an isolating condition, Holmes said. "They're so closed in their own world because of the sensory changes in their body that they don't engage anymore."
A method for all stages of dementia
Dementia isn't a single condition, but an overall term for diseases and conditions related to the decline of memory, language and other thinking skills.
But this suite of diseases usually travels through the brain in a pattern – beginning with the deterioration of recent memories, then affecting the long-term memories, and finally breaking down the dementia patient's ability to speak, eat and eventually breathe.
In the early stages of dementia, a person may have trouble remembering the names of friends or relatives, and become easily confused, but they may still be able to do activities they've long known how to do, such as crocheting.
Giving the patient access to yarn and a crochet hook allows them to exercise parts of their mind and hands, and might spur them to share memories of things they used to make.
"If we can give them proper stimulation, we can keep them in that stage longer," Holmes said.
For late-stage dementia patients, the Montessori principle of encouraging engagement with the tactile environment still holds, even if the patient has lost the ability to speak or move. At that point, staff could apply lotion to their skin or play music.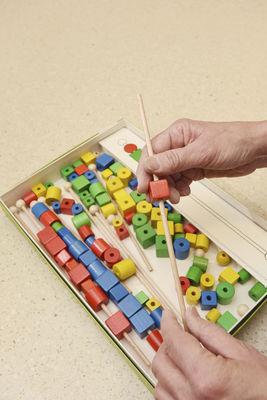 Leaving behind the old-school approach
When Holmes started her career working in nursing homes, staff used the reality-orientation technique to interact with dementia patients. It was thought that by providing the patient with "orienting" information, like the correct time, place and person-related information, that would provide the patient with greater understanding of their surroundings and could possibly improve their self esteem and sense of control.
Holmes remembers her first job, when she watched a coworker run into the limits of that technique.
One of Holmes' dementia patients was upset and asking for her mother. According to the reality-orientation technique, the patient should be calmly corrected and told the truth about her situation. So Holmes' coworker told the woman that her mother had been dead for years.
The woman with dementia became terribly upset and the memory of that incident stuck with her. Even though the woman couldn't remember that her mother was dead, she remembered what Holmes' coworker had said to her.
For the rest of the woman's time at the nursing home, every time she saw Holmes' coworker, she'd scream, "There's the b---- who told me my mother was dead."
For Holmes, it was a lesson in how traumatic the reality-orientation technique could be.
Now, staff will use the "validation" method, where they're trained to recognize that when a patient asks for their mother, it means they miss their family. So staff will respond to the emotional content of what the patient is saying, rather than the factual content, and might respond by asking the patient about their mother, trying to draw the patient into a conversation.
It allows the staff member to figure out what the problem is in the patient's reality and find a way to validate their emotions.
"It's very effective," Holmes said.
Holmes sees Montessori as the next step beyond the validation method.
The Montessori method is an individualized approach and "it's purposeful engagement for residents with dementia," Holmes said. "Montessori allows us to help them keep their skills, build more skills, reminisce and engage with other residents and staff."
"The person gets to feel like a person again," Wood said.