NEW BUFFALO — A conversation around the family dinner table when Terry Fator was a young lad of 10 often included an unusual guest – Josh the puppet.
"I would sit at the dinner table with my puppet and have my puppet take part in the conversations," Fator, 54, said.
He had asked his family to play along because he wanted to learn to interact naturally with his puppet.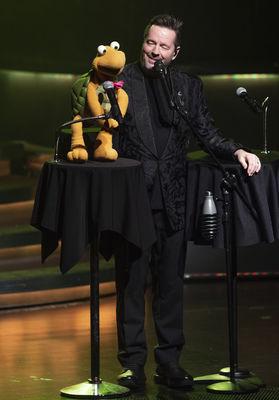 "They were great. They didn't think I was nuts. They would answer the puppet when the puppet asked a question," he said. "It's very difficult when you are getting started. It's incredibly difficult to have a conversation because you are very self-conscious about the fact that you are really talking to yourself."
The lessons he learned with Josh the puppet and with his family as a participating audience paid off in 2007, when he was named the season two winner of "America's Got Talent," with his puppet, Winston the Impersonating Turtle. He took home $1 million.
Josh had been retired by then, and now sits comfortably in a shadow box hanging on Fator's dressing room wall at The Mirage casino in Las Vegas, where he has been headlining for 10 years, attracting sold out audiences and building a robust fan base.
Fator will bring his musical show as a ventriloquist and comedian to Four Winds Casino Resort's Silver Creek Event Center on Saturday.
He can impersonate more than 100 voices, with favorites being Karen Carpenter, Elton John, Garth Brooks, Justin Timberlake, Elvis, Meghan Trainor and Bruno Mars. His cast of characters includes Winston the Impersonating Turtle; Maynard Thompkins, the World's Greatest Elvis Impersonator; Elton John; Vikki the Cougar; Trump; and annoying neighbor Duggie.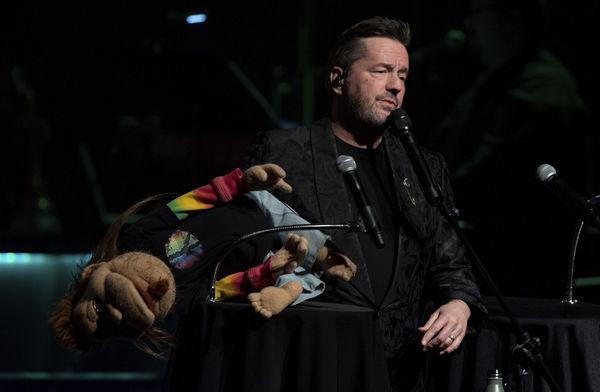 Overcoming the 'brick wall'
It all started when Fator was in fifth grade, searching for a book as part of a school assignment. He came across a book written by the late, great ventriloquist Paul Winchell: "Ventriloquism for Fun and Profit."
Fator was hooked, and performed at every opportunity. He learned skits from dialogue books put out by the North American Association of Ventriloquism through Maher Studios.
"I bought some dialogue books and there was one skit that I absolutely loved. It was called 'After Dinner Skit,'" he said. "I did that particular routine with a few added jokes here and there at every show until I was 18."
The road to success was not easy, and he had to overcome a major psychological barrier that prevented him from accessing his creative self so he could write his own material.
"I had a father who was not supportive at all. The first time I tried to write my own routine, I started performing, but my dad stopped me. I was 10," Fator recalled. "He said, 'You are a terrible writer. You can't write. Just do other people's material.'"
Fator finally turned to self-hypnosis to overcome the impediment.
"I just imagined there was this huge brick wall that my dad had built inside my brain, and in my mind I took a sledgehammer and knocked it down," he said. "It immediately unleashed my creativity, and I began writing my own material. Now it wasn't the best material, but at least I had broken through that mental block. And the more you do something, the better you get at it."
Fator honed his skills through his tweens, teens and adult years.
"There are so many parts to being a ventriloquist," he said.
The skills include being a master puppeteer, the ability to create an illusion, and, in Fator's case, being an accomplished singer.
"You also have to be a good actor, because if the audience is not convinced that the puppet is real, and that you believe the puppet is real, then they are never going to buy into it," he said.
When asked how he became a master of ventriloquism, the answer was simple.
"My secret is I spent tens of thousands of hours practicing," Fator said.
Much of his early practicing occurred while working in his parents' janitorial business. He spent long hours as a child cleaning buildings, so he would practice not moving his lips by singing along to music on the radio.
"I did the exact same thing in a car. I would listen to the radio and sing without moving my lips so I could practice my ventriloquism," he said. "When you see someone singing in a car they look crazy. You can't hear the music. So I would sing along without moving my lips because it was kind of a double thing where I was able to practice without moving my lips and not look goofy."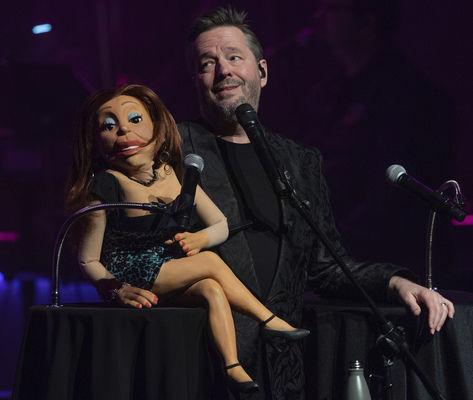 Feeding off the audience's energy
Fator said his act appeals to a wide audience because 60 to 70 percent of it is music.
"The music brings us together. We love hits," he said.
He and his puppets perform shortened versions of so many songs that even if one is not appealing to some, another song will be.
"I try to pick the songs that are most universally appealing," he said. "I try to pick ones that everyone knows and are very catchy."
The audience response to his puppet characters who break into song and comedy routines energizes Fator.
"That works even more so when you are tired or you're sick and don't feel well. My wife says it's like you are a superhero because I will feel so bad that I can barely get up," he said. "But as soon as I get on that stage, that energy that the audience gives you is this crazy boost. I will practically collapse backstage afterward."
Of all his puppet characters, three stand out as his favorites. Winston the Impersonating Turtle is among them because it was Winston who helped Fator win "America's Got Talent."
His cowboy puppet Walter T. Airdale is a sentimental favorite because it was Fator's first professional puppet, which he acquired when he was 18.
"There's a soft place in my heart for Walter. And he's still in my act in Vegas and I will be bringing him here," Fator said.
But his favorite to perform is Maynard Thompkins, the world's most famous Elvis impersonator, who does not know any of Elvis' songs.
"He is one of these guys that is so much fun to do," Fator said. "I really let myself go. I allow myself to unleash creativity. I don't put any kind of shackles on him. So anything and everything is possible with him."
While he was estranged from his father, Jephtha, he credits the man for instilling in him the drive for excellence.
"He was overly critical. He never liked anything that I did. But in a very interesting sort of way ... it drove me. Because I said I am going to absolutely impress my father one day," Fator said. "I never did get to hear him say, 'Good job, I'm proud of you. You were great.'"
After his father died, a relative found a scrapbook he kept of "America's Got Talent" and newspaper interviews.
"So apparently he was proud of me," he said. "When I found out, I actually started to cry."
Fator said he is grateful for his successful career, and wants to share the rewards through the Terry Fator Foundation. He said 100 percent of profits from the sale of merchandise at his performances in Las Vegas and on tour go to military-based charities, American Cancer Society, Nevada Blind Children's Foundation, Shriners Hospital, St. Jude Children Research Hospital and many others.
Meanwhile, he said the Four Winds audience can expect to forget about whatever issues and problems they are going through for 90 minutes of fun and laughter.
"I just want their spirit to be uplifted," he said.
Fator's father wanted him to be a minister, but he never felt the call from God.
"But I do believe I am a minister, a minister of joy," he said. "My job is to spread joy to the world."