Green bean casseroles and candied yams are always good, but this Thanksgiving, consider going a little beyond your usual repertoire of side dishes.
To get an idea of new tastes, we talked to several Southwest Michigan chefs to see what's going onto their holiday table.
Rachel Collins, owner of Flagship Specialty Foods & Fish Market in Lakeside, says she was inspired by colonial foodways for a side dish she created years ago.
It started when she became fascinated with savory bread puddings. She went through a phase where she experimented with different flavors of savory, such as brioche, prune and foie gras, which make for an outstanding Chicken Ballotine stuffing. She also liked savory puddings made with leeks and bacon.
But her kitchen experiences didn't end there. Collins knew early colonists ate a lot of oysters and were very fond of stuffing them – mixed with breadcrumbs – into chickens or turkeys. At that time in our nation's history, oysters were an inexpensive protein and were easily available.
"It was a great way to ensure that everyone at the table had enough if the bird in question was too skinny," says Collins, noting the meaty chickens we eat now are a recent development, historically speaking, as the chickens our ancestors ate were skinny and tough.
"So, of course, a traditional New England favorite of oyster bread pudding came to mind," she says. "I experimented with lots of additional flavors, but in the end found that a simpler version was, in my opinion, the best. I believe the true origins are that the British brought it over when they settled America."
Denise Luna, who with her husband, Sam Luna, owns Mesa Luna in Sawyer, went back to the mid-1980s when she frequented a restaurant in Petaluma, Calif.
"It was a French farm-to-table called De Schmire," Denise Luna says. "They served no other starch with every protein than their signature Root Smash. The ingredients included Yukon Gold potatoes, turnips, parsnips, horseradish, garlic and sour cream."
Cheyenne Galbraith, who owns Houndstooth with her brother James Galbraith, says one of her favorite side dishes for Thanksgiving is stuffing.
"I could skip everything else and just eat the dressing – adding just a tiny drizzle of gravy," she says. "I find that by using day-old sourdough for stuffing is one way to make this classic dish complex and interesting. I use sourdough from The Elder Bread bakery in South Bend, Ind., which is some of the best sourdough I've ever tasted.
"Definitely go the extra mile," she says, "and use fresh herbs in this recipe, as dried herbs can tend to taste too earthy. If you insist on using dried herbs, be sure to cut the amount down by half. I also recommend using homemade chicken stock instead of boxed broth, make a nice big pot of it and you can use the extra in your gravy."
Tim Foley, co-owner of Bit of Swiss and Bread+Bar, likes to make what he calls a "simple but good" side of Brussels sprouts.
"It's easy and everyone likes them," he says.
Denise Luna's Root Smash
1 1/2 pounds mixed russet, Yukon Gold and white-skinned potatoes, peeled, cut into 2-inch cubes
7 tablespoons unsalted butter, divided
Salt and pepper, to taste
1/2 pound rutabaga, peeled, cut into cubes
1/4 pound carrots, peeled, cut into rounds
1 pound parsnips, peeled, cut into cubes
2 tablespoons horseradish, peeled, coarsely grated
1/2 pound celery root, peeled, cut into 3/4-inch cubes
Boil the potatoes in salted water.
Melt 2 tablespoons butter, and pour over the boiled potatoes. Gently smash. Add salt and pepper. Slowly add half and half and mash the potatoes.
Do the same with the rutabaga.
Peel carrots, and chop into bite-size pieces. Pan sauté them in 1 tablespoon butter with the garlic and sweet onions until fork tender. Add to the potatoes.
Peel, chop and boil the turnips in salted water. Drain when fork tender, and add to the potatoes.
Peel and chop the parsnips and celery root, and pan sauté in 2 tablespoons butter. Add a few tablespoons water while you sauté to ensure fork tenderness. Smash. Add to potatoes.
Add the rough-smashed rutabaga. Add salt and pepper to taste, and stir in sour cream and horseradish to bond all ingredients.
Put in 9-by-13-inch pans, and bake one hour at 350 degrees. Can be made days ahead.
Flagship's Oyster Bread Pudding
1 teaspoon Trinity (salt/pepper/granulated garlic mix) or 1 teaspoon salt plus 1/4 teaspoon cracked pepper
1 (1-pound) loaf sourdough bread, or other sturdy bread, cubed and left overnight to dry
1 medium yellow or white onion, diced
4 tablespoons butter, for sautéing
4-6 leaves fresh sage, chiffonade cut
1 pound fresh-shucked oysters, drained and rinsed, or steamed and picked from shell oysters
4 tablespoons butter, melted, for brushing
Whisk together eggs, seasoning, stock and milk. Add bread cubes and let soak, stirring gently occasionally.
Saute the celery and onion, season well. Add sage about halfway through cooking. Cook until just translucent. Let cool, retain all butter.
When bread is well soaked (there may still be some liquid in the bottom of the bowl) add cooked vegetables and oysters. I recommend chopping half of the oysters in halves and small chopping the rest. Add to the mixture and toss well. Let sit until almost all liquid is absorbed.
Grease cooking pan with spray, and place mixture in it. Leave the peaks and valleys of the bread cubes don't mash it down flat. Cover with foil or lid, and cook covered at 350 degrees for 40 minutes.
Uncover and brush with melted butter. Turn convection fan to high if available, cook for 10 more minutes, rotating pan after 5 minutes.
Crust should be slightly crispy and golden brown. Let rest for 10 minutes before serving.
Houndstooth's Sourdough Stuffing
Makes one 9-by-13-inch casserole pan.
1/4 cup schmaltz (roasted chicken fat)
2 1/2 cups cipolini onions, chopped
1 cup celery, small diced
2 tablespoon sage, chopped
1 tablespoon thyme, chopped
1 tablespoon rosemary, chopped
1 tablespoon oregano, chopped
1/2 cup celery leaves, chopped
1 (1-pound) loaf sourdough bread, cubed and left on counter overnight
Heat an oven to 350 degrees.
In a sauté pan, heat the butter and schmaltz on medium heat, add the onions, celery, sage, thyme, rosemary and oregano to the pan. Cook mixture until it becomes soft. Remove from heat, and add the wine, parsley and celery leaves.
In a bowl mix the eggs and the chicken stock together. Add the bread cubes and onion mixture to the bowl. Mix well and adjust the seasonings.
Place the bread mixture into a buttered casserole dish, and bake uncovered for 30 minutes.
Brussels Sprouts
12 ounces Brussels sprouts, stock-end cut off
1 tablespoon Balsamic vinegar
Dice bacon into 1/2-inch pieces, and cook over medium heat until crispy. Remove.
Add Brussels sprouts, cut side down, to bacon drippings. Cook over medium heat until nice and brown. Turn over and finish cooking until nicely browned and a knife goes easily through them.
Deglaze with Balsamic vinegar. Add bacon. Cook 10 more seconds, toss and serve.
---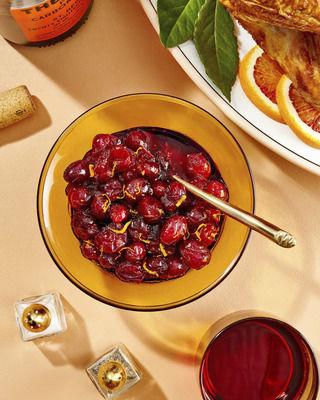 Something to relish
What's a holiday meal without cranberry sauce?
This one from the recently updated and re-released "Joy of Cooking" is a classic.
Whole-Berry Cranberry Sauce
Bring to a boil in a medium saucepan, stirring until the sugar is dissolved, 2 cups sugar and 2 cups water.
Boil the syrup for 5 minutes, then add 4 cups cranberries (1 pound), picked over.
Simmer the berries in the syrup very gently, uncovered, without stirring, until the berries are translucent, about 5 minutes. Skim off any foam.
If desired, add the finely grated zest of 1 orange.
Pour the berries into a serving dish. Chill until firm.
---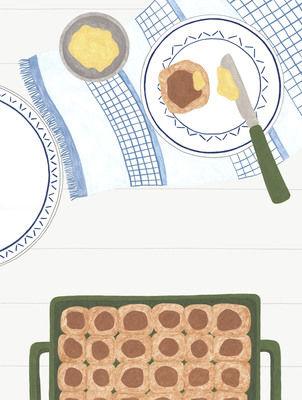 A side of rolls
"The Friendsgiving Handbook" by Emily Stephenson.
Who can resist a cookbook with a title like that? Not me, that's for sure.
Together with delightful drawings, this is a handy guide for holiday meals.
These buttery rolls are great for accompanying your Thanksgiving meal, or getting a little ahead of yourself and making mini turkey sandwiches on the day of.
Pull Apart Rolls
2 teaspoons active dry yeast
7 tablespoons unsalted butter, divided
3 cups all-purpose flour, plus more as needed
In a small bowl, whisk the yeast and 3 tablespoons water that's a little warmer than body temperature (about 115 degrees). Let the mixture sit until it's bubbly and the yeast has dissolved.
In a small saucepan, heat the milk, 5 tablespoons of the butter, the sugar and salt until the sugar has dissolved. If the mixture gets too hot, let it cool down to the same temperature as the water for the yeast.
Pour the mixture into a large bowl, and add the yeast mixture. Whisk with a fork to combine.
Add the flour, and stir until the dough forms a slightly sticky ball. If the mixture is very wet, add more flour, about 1 tablespoon at a time, and knead. Repeat until the dough just barely sticks to your hands. If the mixture is too dry, sprinkle with a few drops of water and knead until the dough is just tacky.
Lightly flour your work surface, and dump the dough out. Flour your hands and knead the dough until it is smooth and springy (if you press the dough, the indent will bounce back). Cover the dough with a towel and let it rise until it has doubled in size, 30 minutes to 1 hour, depending on how hot your kitchen is. (Alternatively, if you need your work surface for something else, you can put the dough in a lightly oiled bowl and cover with a towel.)
Heat an oven to 350 degrees. Grease a 9-inch square pan with butter.
Divide the dough into 16 pieces: you can either eyeball it or weigh out roughly 1 1/2-ounce balls. Evenly space the dough balls in the buttered dish. Cover the pan with a towel and let the dough rise again for 30 minutes.
In a small saucepan, melt the remaining 2 tablespoons butter. Brush the risen dough with half of the melted butter.
Bake the rolls until they have puffed up and are golden brown, 25 to 30 minutes. Brush the tops with the remaining butter, sprinkle with the flaky salt, and serve warm.