BERRIEN SPRINGS — Is there anything better than fair food – that smorgasbord of fare covering a spectrum of tasty treats, ethnic edibles and high-end indulgences?
To me, the best fair food offerings are those that are comforting, think Mexican Street Corn, which has a sauce of mayonnaise, sour cream, garlic, cilantro and lime juice sprinkled with cotija, the most popular dish served at Two Buccaneers at the Berrien County Youth Fair.
The coolest new food, frozen shaved cream with a variety of toppings at the Hawaiian Ice & Creamery truck, is not to be missed. Nor are the ice cream nachos – a scoop of ice cream, a sundae topping, whipped cream and a cherry – created by the owners of Wagner's Good Dips.
These are just a few of the many offerings at this year's fair, where there are more than 55 food vendors on hand.
Comfort foods are what's on the menu at the Portage Prairie United Methodist Church location, which has been at the BCYF for 71 years, making them one of the oldest vendors there. Their menu includes sloppy Joes, hot dogs, chicken wraps, salads, homemade pies and ice creams.
Rosie's Sweet Shack, housed in one of approximately six buildings on site at the fair, opened one year after the fair started 74 years ago.
"My great-uncle's last name was Rose," says Michele Pierce, now the owner with her husband, Bill, of the business, which is only open at fair time.
It's still a family thing with Don Rose's daughter, Gerry Pendergrass, still helping.
"We sell snow cones, popcorn, cotton candy, caramel apples – our apples are picked fresh each day by Bixby Orchards in Berrien Springs – cotton candy, which we still make and sell on the stick, not in a bag, and water," Pierce says. "Our boys compete each year to make the biggest cotton candy. Sometimes they make them so big that the kids who buy it can barely be seen while they're eating it."
They go through approximately five bushels of apples every day.
"We have 48 pounds of caramel going all the time," she says. "People come back year after year for our caramel apples."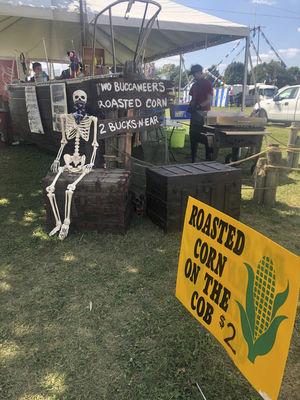 The Harris family of Baroda again will be steering their corn boat, Two Buccaneers, a play on "two bucks an ear," to the BCYF this year.
Owners Teri and Craig Harris, and their daughters, Abby, 18, and Mia, 15, will be helping, something they've been doing since they were 6 and 4. Helping them since the beginning is their niece, Kayla Harris.
"In the past, we've only done the Berrien County Youth Fair," says Teri Harris, noting she and her husband have full-time jobs. "This year, our daughters wanted to do the Cass County Fair, too, so we let them."
The family sells all sorts of corn, including corn on the cob, Nibble Its (corn off the cob) and elite (corn with mayonnaise, lime and chili powder).
"We'll also have a new corn offering this year," Harris says. "My husband also created El Chupacabra, corn with a spicy sauce of mayonnaise, sour cream, garlic and Sriracha sauce, spicy red pepper and crushed Fiery Hot Cheetos."
Teri Harris says they started Two Buccaneers after her Craig's brother died.
"They'd always gone to the fair as kids and showed rabbits," she says. "And my husband always dreamed of having a food truck. He thought it would be fun. Then, when his brother died, he felt he really need to do it – that life was too short, and you never know what might happen."
They started with a 30-foot boat. They hacked off 10 feet of it, hollowed out the middle, built a floor and attached it to a trailer. They place two large grills alongside the boat, and roast corn all day.
Their corn comes from Hollywood Farms. Teri Harris says owners Don and Donna Evans bring them a trailer full of freshly picked corn each day.
"I tell people the week of fair is the hardest, longest week of the year," Teri Harris says. "It's also the most fun."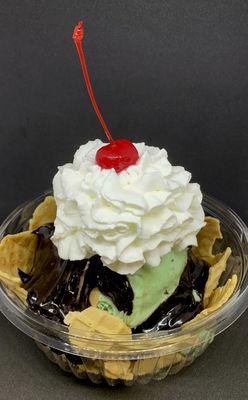 Wagner's Good Dips offers regular and deluxe waffles, the latter are dipped in chocolate and rolled in peanuts or sprinkles, three types of floats – root beer, orange crush and Boston Coolers, a classic Detroit drink made with Vernors Ginger Ale – and shakes made with any Hudsonville ice cream flavor they sell.
"We also have hot fudge brownie sundaes, a waffle bowl and a banana split," says Denise Wagner, who will be at the BCYF for the seventh time.
"We offer 14 flavors. Mint Chocolate Chip, Deer Traxx, Cookies n Cream, Grand Traverse Cherry Fudge and Blue Moon are just a few of the flavors," she says. "Our sundae toppings include hot fudge (some of the best around, we're told), caramel, strawberry, pineapple and chocolate syrup. We make shakes, malts, floats and banana splits."
They also offer shaved ice with a choice of up to three of 13 different flavorings – the most popular being Blue Raspberry. They can even make it "Hawaiian style" with a scoop of ice cream at the bottom of the cup.
"And lastly, we have raw cookie dough," Wagner says. "It's egg free and the flour is super-heated so it's safe to eat before baking. You can have a scoop of it by itself, add a scoop of the ice cream of your choice, or go all out and make it into a dough/ice cream sundae."
This will be the first year at the fair for Joe Racht, owner of Hawaiian Ice and Creamery.
"There's a waiting list," he says, noting they will be featuring a twist on Hawaiian shaved ice. "It's frozen shaved cream. It's a huge trend in New York, and one of the fastest growing dessert trends."
Also known as shaved snow, snow cream, fluff ice, milk snow and, because its roots are Taiwanese as well as Hawaiian, xue hua bing (snow flower), it's only been around for a few years. The craze started in Los Angeles and headed east.
Like shaved ice, you start with frozen cream, which is shaved into long curls, and then add a selection of toppings, including cereals like Cocoa Pebbles, Fruity Pebbles or Captain Crunch; fruit; candies, like Reese's Peanut Butter Cups, Kit Kat Bars, Oreos and Butterfingers; and other toppings – think condensed milk, caramel, butterscotch and chocolate.
Shuler Dairy is offering ice cream sundaes and shakes, funnel cakes and soft drinks.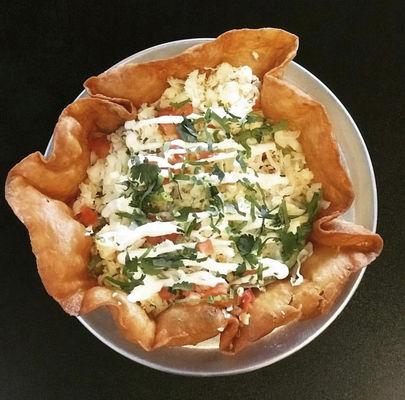 "Our Burrito Loco is our most popular burrito, consisting of ground beef, chicken, steak, beans, lettuce, tomato, onion, cilantro, cheese and sour cream," says Gabriela Morales, whose parents, Jose and Ana Mendez, own El Amigo Pepe in Niles, and also have had a food truck at the BCYF. "Our menu there consists of tacos, burritos, including the Burrito Loco, and quesadillas – all made fresh to order.
"We also have a vegetarian option," she says. "In that was use refried beans, and we're hoping to get a fair price on avocados to offer as well. People can ask for no cheese or sour cream on anything."
---
Do you want to recreate great fair food at home? Here are a few to get you through until next year's BCYF:
Boston Cooler
2-3 small scoops well-softened (or soft serve) vanilla ice cream
In a tall, well-chilled glass, blend together the Vernors and ice cream. It's OK if the mixture is a little chunky so it maintains its frothy texture.
You can use a blender, but some of the fizz might be lost.
Deep Fried Cheese Bites
1 1/4 cups all-purpose flour, divided
1 pound cheese curds, or cubed cheddar cheese
Place 1/4 cup flour in a large resealable plastic bag. Add cheese curds, a few pieces at a time, and shake to coat.
In an electric skillet or deep fryer, heat oil to 375 degrees.
Meanwhile, in a large bowl, whisk beer and remaining flour. Dip cheese curds, a few at a time, into the batter, and fry for 2-3 minutes on each side, or until golden brown.
Chocolate-Covered Bacon
12 thick-sliced bacon strips (about 1 pound)
6 ounces white candy coating, coarsely chopped
Optional toppings: chopped dried apple chips, apricots and crystallized ginger, finely chopped pecans and pistachios, toasted coconut, kosher salt, brown sugar, cayenne pepper and coarsely ground black pepper
1 cup semisweet chocolate chips
Heat oven to 400 degrees.
Thread bacon strips, weaving back and forth, onto 12, 12-inch soaked wooden skewers. Place on a rack in a large baking pan.
Bake until crisp, 20-25 minutes. Drain on paper towels. Cool completely.
In a microwave, melt candy coating, stirring until smooth. Brush onto both sides of six bacon strips. Sprinkle with toppings as desired. Place on a waxed paper-lined baking sheet.
In a microwave, melt chocolate chips and shortening, stirring until smooth. Brush onto both sides of remaining bacon. Decorate as desired.
Refrigerate until set. Store in refrigerator.